CaliforniaMama Sunday Oct 14 10:08 AM

October 14, 2012 - Endeavour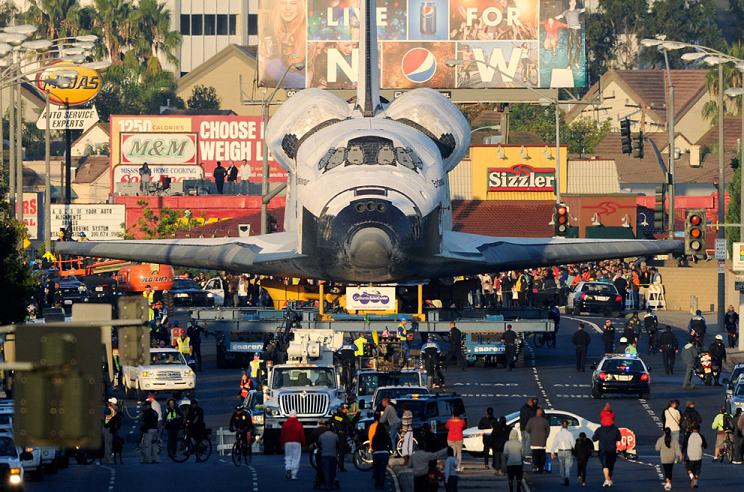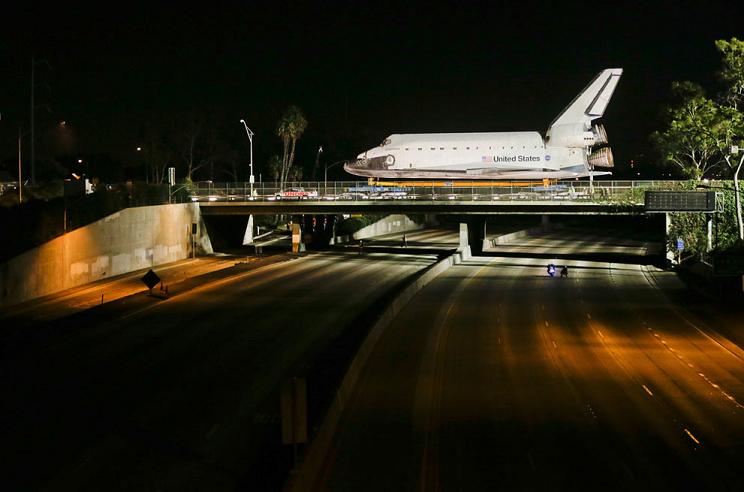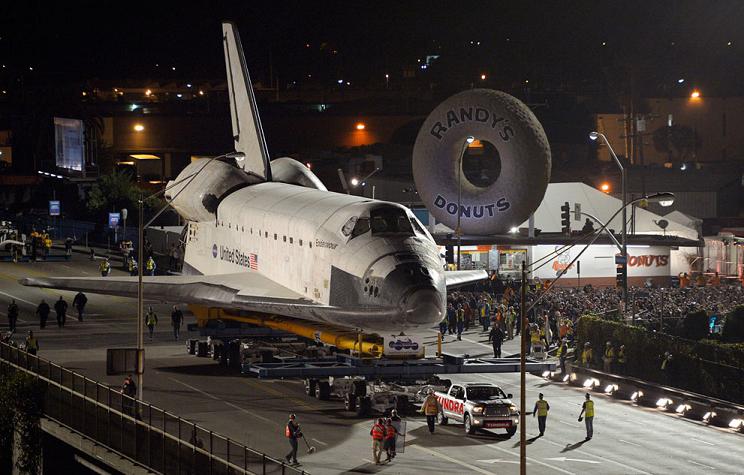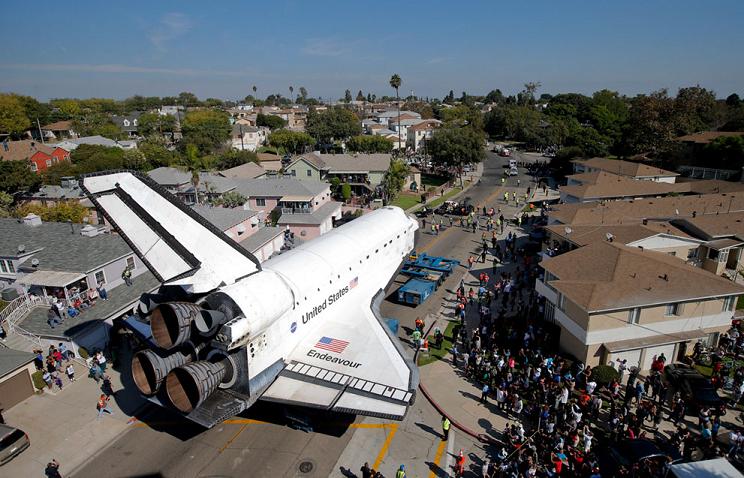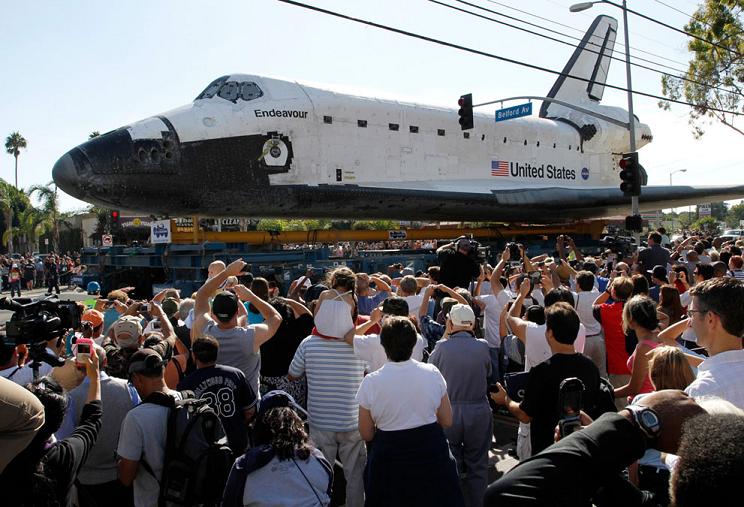 Yesterday, Endeavor took its final journey through the streets of LA on its way to its final home at the California Science Center in South Los Angeles.

In Focus/The Atlantic

---

xoxoxoBruce Sunday Oct 14 10:35 AM

And only stopped to film a Toyota commercial.

---

Trilby Sunday Oct 14 10:55 AM

Let's go to Sizzler!

then I want a donut.

---

newtimer Sunday Oct 14 11:38 AM

---

Adak Sunday Oct 14 05:58 PM

You don't appreciate just how BIG that baby is, until you see it up close like that. Wow!

And the spaceship was dwarfed by the auxiliary fuel tan!

Can you imagine some street gang trying to auction off the Endeavor, on Craig's List, or sell it to a Pawn shop?

---

xoxoxoBruce Sunday Oct 14 09:37 PM

Actually there is a step by step plan to steal it.

---

glatt Monday Oct 15 08:26 AM

---

infinite monkey Monday Oct 15 08:29 AM

It's all about Randy's Donuts.

Well, I'm still bitter that the National Museum of the USAF didn't get a shuttle. It's only the Birthplace of Aviation. Why should the home of the Wright Brothers get to have a shuttle? Hmmmph.

---

Lamplighter Monday Oct 15 09:52 AM

... because NASA didn't really go to the moon.

It was all done on a movie stage, and the Air Force didn't want to be any part of it.

---

xoxoxoBruce Monday Oct 15 11:26 AM

I know I'm an old fart, and maybe a little too nostalgic, but I have a great deal of reverence for the space program. That said, I find this stunt offensive.

---

Spexxvet Monday Oct 15 11:35 AM

---

glatt Monday Oct 15 11:42 AM

When the shuttle flew over this region, it flew over my son's elementary school, and the kids spontaneously broke into a chant of USA..USA..USA.

When I heard that, I was both happy and sad. Happy that the kids were excited about something, but sad that they were chanting in pride of their country ending manned spaceflight.

SpaceX's Dragon makes me a little optimistic, but it just isn't the same.

---

CzinZumerzet Monday Oct 15 04:58 PM

Years and years ago (I am quite elderly

) I was one of the many thousands who lined the River Thames embankments to watch this lovely craft being flown home from the Paris Airshow. It was piggy-backing a jumbo I think and the pilots brough it as low and slow as they could and I do remember it being a truly emotional event.

When our Concordes were taken out of the air one of them flew across my town to reach the airfield where it began its amazing life. It's still parked at the end of the runway - rotting - falling apart.

So pleased to see this wonderful vehicle going home to get some respect.

---

xoxoxoBruce Tuesday Oct 16 12:14 AM



While the mars stuff is amazing technologically, I think we'd get better bang for the buck directing that scientific curiosity/resources at the Earth.

---

CaliforniaMama Tuesday Oct 16 12:51 PM

I've been wondering for a long time - what DOES the space program do now.

I know we can use the money at home, but I think we have a responsability to explore space as well, just as we do the oceans. We need to map it and understand just what we are looking at so we don't get blind-sided by something we didn't think to look for.


---

Lamplighter Tuesday Oct 16 01:02 PM

What did the space program do ?
... innovation to solve a big, new problem
... turn the routine over to private enterprise
... squabble with bean-counters over costs

What does the space program do now ?
... look for a big new problem (Mars), rinse, repeat

---

xoxoxoBruce Tuesday Oct 16 01:02 PM

Because it strikes me as, in order to film a commercial, toyota interrupting the funeral procession of Abraham Lincoln.
It is a funeral procession, a funeral for the manned space program, which was one of the crowning achievements of the United States/science & technology/mankind, in the twentieth century.

---

BigV Tuesday Oct 16 10:46 PM

Well put.

---

Coign Friday Oct 19 02:05 PM

My mom just sent me this link in an e-mail. As she put it, "and you thought moving furniture was a hassle?"

http://framework.latimes.com/2012/10...ek-across-l-a/

---

BigV Friday Oct 19 05:28 PM

that was super cool, please pass on my thanks to your mom.

---

sandypossum Monday Oct 22 01:14 AM

Have not had a chance to visit iotd for ages, and saw this header. Oh how disappointing! I thought it was going to be about my favourite TV detective, old grumpy-bums Inspector Morse...

---

ZenGum Monday Oct 22 01:48 AM

Hiya!

How've ya been, SandyPoss?

---

sandypossum Wednesday Oct 24 08:48 AM



BTW, Gardening Australia has a comp on at the moment (in their mag) for the weirdest thing you've ever dug up, and I've entered the Stones With Faces, including photos and a link to that rather vigorous iotd thread. Surely surely surely if there is any justice it HAS to be mine!

So what's new over in SA?

---

infinite monkey Wednesday Oct 24 09:03 AM

sandy...let us know how that goes! Is there any way to view the contest/entrants?

---

ZenGum Wednesday Oct 24 07:04 PM

---

SPUCK Thursday Oct 25 06:34 AM




---

sandypossum Saturday Oct 27 04:00 AM

Don't think there's a way to view the contestants. Tried to find them too but I can't even see mention of the comp on the website. I get their hard copy monthly magazine as well and it was advertised in there. I shall most certainly let you know if I have any luck. I always record the show, so if it ends up on the telly I will, um, ask someone who can do that sort of thing to turn my HDD recording into something that can be posted.

As for YOU Spuck, who needs that foreign elctrosity stuff? Here in Australia's dairy belt we have cows on treadmills running our interwebs.

After a truly crap month, I thought I'd come back to the Cellar and even post a few responses on different and I have to say that it's been a bit like stepping back into a pub where I know a lot of the locals. It would be a hoot to actually meet some of the other Aussie Cellarites one day, or even visiting-from-yonder Cellarites. Do we have a thread for anything like that?

---

SPUCK Sunday Oct 28 06:16 AM

Guess we need a giant video chat room.

---

sandypossum Tuesday Oct 30 10:51 AM

---

Griff Tuesday Oct 30 11:53 AM

Bloody third world power and information systems, would have been something to address if we ever needed an economic stimulus.

---

glatt Tuesday Oct 30 02:08 PM

That was my big complaint during the stimulus. Only "shovel ready" projects were being done. I wanted some infrastructure work to be done. It would have delayed the stimulus impact by a year or more, but it would have been more useful that repainting the stop lines at all the nation's intersections.

---

ZenGum Tuesday Oct 30 07:31 PM

CoughNationalBroadbandNetworkCough.

Shhh. Enough politics on this board already.

Ohh, look, shiny object!

---

sandypossum Tuesday Oct 30 07:40 PM

The Australian Govt has this thing called the "Broadband Guarantee" which supposedly ensures that we in the sticks can all get an equivalent service to our urban comrades. In reality it is the equivalent of the worst sort of broadband service, at the absolute standard price. So none of that competitive pricing stuff. Until we got off the satellite dish we were paying $50 a month for 1GB, and it was not exactly fast.

On the other hand, I can see that a lot of public services just aren't feasible in Australia. We have a very, very large area with most of the population in just a few small areas of that. The majority of the country is sparsely populated, so having good public transport, roads, broadband, even mobile phone coverage is economically and logistically impractical. On the other hand, the important things, like medical service and education have always been pretty good no matter where you are. We have good rural schools, good rural hospitals and every small town has a football field (of course!) which doubles as a helipad for medical flights to a specialist city hospital. And in the more remote areas we have the Flying Doctors, and the School of the Air has been going for almost a century.

Fast, cheap interwebs would be lovely, but any interwebs is good.

---

Griff Wednesday Oct 31 07:03 AM

Our phone company/ISP is up for sale so they're pretending to be profitable by not doing any service work. We had spotty internet and no phone for 5 days last month.

---
Your reply here?

The Cellar Image of the Day is just a section of a larger web community: a bunch of interesting folks talking about everything. Add your two cents to IotD by joining the Cellar.