CaliforniaMama Friday Oct 12 10:36 AM

October 12, 2012 - Bluebird of Happiness

Remember those birthday cards with the sentiment
"May the Bluebird of Happiness
[do the dirty deed] on your cake?"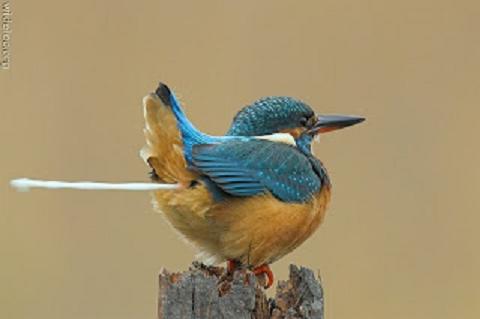 Thanks to The Creepshow! for providing
me with this most emphatic visual to end my week.

---

infinite monkey Friday Oct 12 10:37 AM



---

CaliforniaMama Friday Oct 12 10:54 AM

The good news is I made my deadline (sort of, in a cheating sort of way, but it will fly) and the bad news is that the Year of H-E-Double-L just got a new wind.

I had a lousy childhood and a pretty messed up young adulthood, but then it seemed like the scale of life was balancing out.

Had kids the hard way (adopted) and it seemed I was paying dues all over again and now the rug's been yanked out from under me. This is just not what I expected, you know?

I know this isn't the place to dump, but I keep my pecker up everywhere else, so thank's for letting me vent a little.

(Hubby went off on a mid-life crisis mixed with a bipolar episode for a year and a half, with a walk on the wild side south of the equator, and now that he is mentally returning to himself his freedom-loving therapists are all about him "finding his true path." I guess 25 years of bliss, re-enhanced and re-inforced at every turn with omens of every flavor, isn't a good enough path in their eyes. It's not hubby I'm worred about so much as it's the therapists convincing him he wants something "better." He's a bandwagon kind of guy and heaven only knows which wagon he'll land upon. I'm just feeling a bit raw right now, and oh so tired of being yanked about.)

---

infinite monkey Friday Oct 12 10:56 AM



Hang in there, CaliMa.

I know that is a trite thing to say. I'm not good at knowing what to say. But I do know that you sure do bring a lot to this board...and we care about you.

---

CaliforniaMama Friday Oct 12 02:01 PM



Just what I needed to put a smile on my face this morning!





You guys always make me laugh . . . or at least smile!

You all help keep me going and I really appreciate it!!

---

Scriveyn Friday Oct 12 03:56 PMIg Nobel Prize on the research of Fluid Dynamics in penguins.

---

limey Friday Oct 12 04:58 PM


What Infi said. It's true, teh Cellar would be a less interesting and warm place without you.

---

orthodoc Friday Oct 12 05:09 PM

Hang on, CM, tie a knot in that rope and hang on ... you bring something special to this place. Vent anytime. And know that you're appreciated.

---

xoxoxoBruce Friday Oct 12 07:09 PM

One of Spexxvet's kin even made something for you.

---

Adak Friday Oct 12 07:32 PM

Give yourself a big pat on the back, CM. Sounds like you've done things up well, even when others didn't. Be the better place for hubby to hang his hat if you still want him, as it sounds like you do.

Sometimes people don't have the sense that God gave to geese, but sometimes they know what's good for them. Maybe Hubby will as well.

Has he been tested for HIV, etc., btw?

---

Griff Saturday Oct 13 07:43 AM

---
Your reply here?

The Cellar Image of the Day is just a section of a larger web community: a bunch of interesting folks talking about everything. Add your two cents to IotD by joining the Cellar.