CaliforniaMama Thursday Oct 4 02:37 PM

October 4, 2012 - Barbara Manatee

In the land of the children there is a place where veggies talk and sing to us. I have to admit, they are funny and very entertaining, with adult humor sprinkled throughout without ruining it for the kiddos.

This one is about a manatee whose name is Barbara. Isn't she a looker?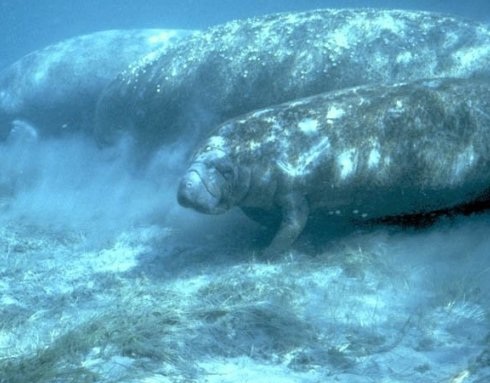 Quote:

This group of three West Indian manatees (Trichechus manatus) was photographed while feeding on seagrass.

Larry the Cucumber is in love with Barbara Manatee, a character in a TV show. He dances with a Barbara Manatee stuffie and sings along with the TV show . . .

Barbara Manatee (Manatee, Manatee).
you are the one for me (one for me, one for me)
sent from up above (up above, up above)
you are the one i love (i love, i love, i love)



Live manatee image credit here.

---

Sundae Thursday Oct 4 03:15 PM

Not to be confused with a manitou.
Although I imagine sharing a house with either would be uncomfortable.

---

limey Thursday Oct 4 03:17 PM

Or a Manilow ...




Sent by thought transference

---

Sheldonrs Thursday Oct 4 03:47 PM

or Man-O-War, which is a horse of a different color.

---

ZenGum Thursday Oct 4 07:37 PM

As a horse of colour, I object to that remark.

---

Clodfobble Thursday Oct 4 09:10 PM

He's a card-carrying member of the NAACP - the National Association for the Advancement of Colored Ponies.

---

footfootfoot Friday Oct 5 02:51 PM

Oh, the Barbara's cousin, Hugh...

---

ZenGum Friday Oct 5 07:56 PM



I c wat u did thar.

---

Sperlock Friday Oct 5 11:54 PM

How does Hugh Manatee feel about that?

---

footfootfoot Saturday Oct 6 06:12 PM

---

BigV Monday Oct 8 02:53 PM

Hugh Manatee is outraged that Ana molested Barbara.


Quote:

(CBS) ST. PETERSBURG, Fla. -- A woman turned herself in to authorities Tuesday after she was captured in a photograph taking an apparent joyride on a manatee at a Florida park, CBS affiliate WKMG reports.

PICTURES: Fla. woman photographed riding manatee

Officials said 52-year-old Ana Gutierrez contacted the Pinellas County Sheriff's Office and admitted to riding the manatee at Fort De Soto Park.

Deputies were called to the park Sunday afternoon when they received reports of a woman apparently riding a manatee, the Orlando Sentinel reported. Authorities weren't able to find the woman when they arrived at the area, but witnesses described to them what happened and took pictures of the incident.

The manatee is classified as an endangered species in Florida. The Florida Manatee Sanctuary Act makes it a second-degree misdemeanor to intentionally "molest, harass, or disturb" any manatee, according to the Sentinel.

Attachment 41093

---

coolcat Monday Oct 8 07:58 PM
---

Lamplighter Monday Oct 8 08:33 PM

FTW

This whole thread was just a set up for Coolcat's post...

Congrats !

---

Griff Monday Oct 8 09:47 PM

This thread is won.

---

SPUCK Thursday Oct 11 06:12 AM

Truly.

---
Your reply here?

The Cellar Image of the Day is just a section of a larger web community: a bunch of interesting folks talking about everything. Add your two cents to IotD by joining the Cellar.