CaliforniaMama Sunday Aug 26 01:00 PM

August 26, 2012 - Underwater Sculpture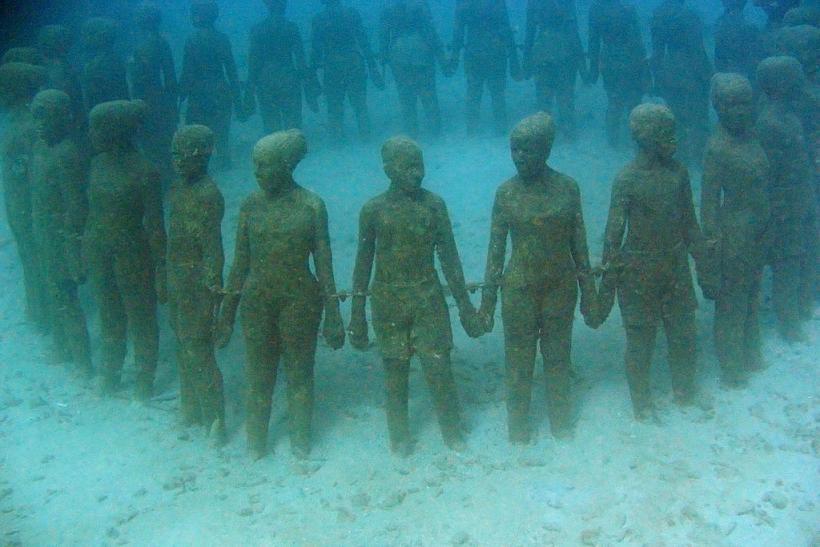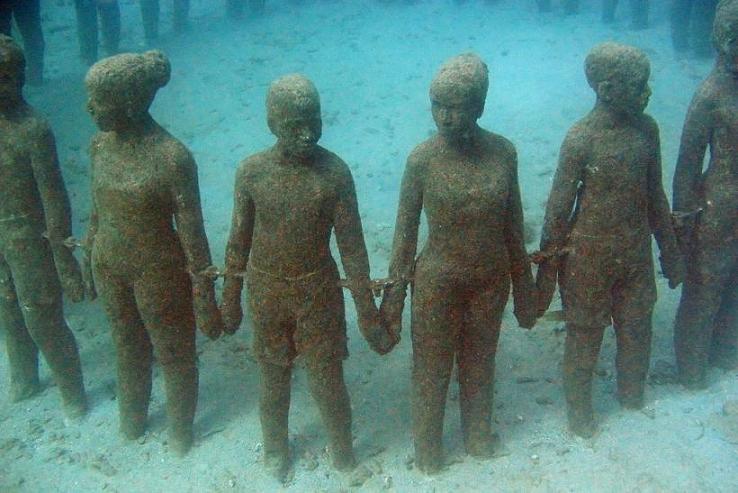 Woondu
---

Gravdigr Sunday Aug 26 01:38 PM

Imagine how spooky that would be if you weren't aware of the sculpture park, and just happened to swim up on this ring of 'people' chained together...

---

richlevy Sunday Aug 26 04:11 PM

Wasn't there a horror movie (and a sequel) where a guy did that with (formerly) live women?

---

Trilby Sunday Aug 26 05:07 PM

I have a lot of difficulty with stuff like this. I don't see it as art or sculpture or anything but weirdness you get paid/attention for. I know, I know - I'm a rube; but I know what I like and I DON'T like this. It's creepy for creepiness' sake.

Art should elevate. This is hoakum.

---

ZenGum Sunday Aug 26 08:14 PM

Would it help if you knew that this is a tribute/memorial for those very many slaves who were thrown overboard during the Atlantic passage, either because they had become sick, rations were short, or a storm was endangering the ship?

---

richlevy Sunday Aug 26 09:18 PM "Amazing Grace" was involved in the slave trade before he repented.

---

CaliforniaMama Sunday Aug 26 09:41 PM

My son (13) walked by and said that he had seen the sculptures on National Geographic. He said they are made by some guy and sunk in the water to make reefs for the fishes. He described some other sculptures, a shark, a big fish, etc. He said the guy put holes in the sculptures so the fish and other sea creatures could crawl in and get comfy.

(I just got in and have not verified his information.)

---

CaliforniaMama Sunday Aug 26 09:43 PM

---

CaliforniaMama Sunday Aug 26 10:47 PM

Wow, this guy is prolific! Check out some of his other work.

---

smillie Monday Aug 27 08:46 AM

There was a period of time where transporting slaves was illegal and if caught the ship was confiscated and the captain and crew went to prison. A ship with no slaves on board was safe. So the slavers would chain all the slaves together and to an anchor so when they were they thought they were going to be boarded by the navy they would cut loose the anchor and all legal evidence when overboard. The ship would still be stinking of slaves but with no slaves aboard the slavers couldn't be prosecuted.

---

Trilby Monday Aug 27 08:52 AM

I am disappoint.

And disgust.

---

Adak Monday Aug 27 06:15 PM

Any captain would know that the chained together slaves would immediately sink beneath the surface, since the slaves were burdened by the considerable weight of their chains, wrist, and leg irons.

No captain would risk losing a very valuable anchor, when it wasn't needed.

---

xoxoxoBruce Tuesday Aug 28 01:54 PM

You're probably right about not wasting a valuable iron ship's anchor. But smillie said, "an anchor", which could have been nothing but a fishnet full of rocks, designated to sink jettisoned slaves. Come to think of it, those shackles and chains were pretty pricey too. They probably removed as many as they could and still insure the cargo could be jettisoned safely.

---

Razzmatazz13 Monday Sep 3 08:09 PMcabin by the lake?

---
Your reply here?

The Cellar Image of the Day is just a section of a larger web community: a bunch of interesting folks talking about everything. Add your two cents to IotD by joining the Cellar.