CaliforniaMama Sunday Aug 19 07:29 PM

August 19, 2012 - Magical Umbrella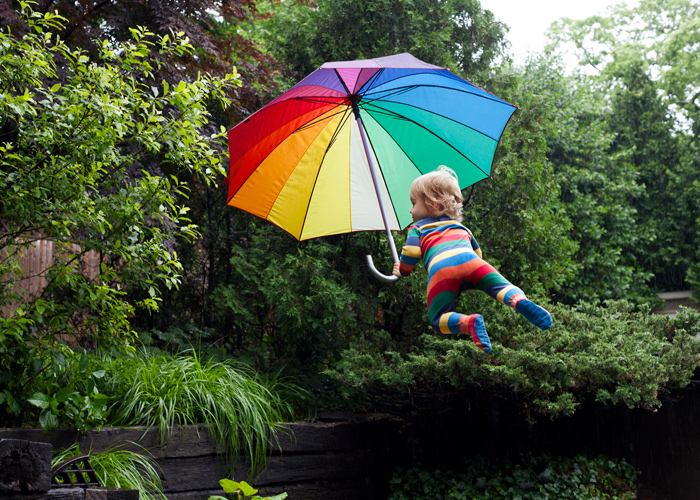 Image by Rachel Hulin

Hulin, who is a professional photographer, poses Henry in settings that make it look like he is flying. While Hulin doesn't want to give away the technique she uses to achieve the effect, she promises that no babies were harmed during the photo sessions. (from thefw.com)

Her first book featuring The Flying Series called Flying Henry— A children's photography book about a flying baby — will be published by powerHouse in April 2013.

---

SPUCK Monday Aug 20 06:28 AM

The technique called P h o t o s h o p...

---

ZenGum Monday Aug 20 08:10 AM

Double Complete Rainbows! Right Across The Sky!

---

glatt Monday Aug 20 08:44 AMIt's not so hard. Of course, if you take the time to match the costume to the umbrella, and take the picture in a pretty environment instead of next to the neighbor's driveway, the results are prettier. But then it doesn't look like a spontaneous snapshot.

---

CaliforniaMama Monday Aug 20 09:39 AM

Attention all nay-sayers: this image is obviously manipulated and was never meant to be passed on as a one-shot.

It is still a cute image and fun to look at!

---

Clodfobble Monday Aug 20 09:45 AM

So what's the trick, glatt?

---

glatt Monday Aug 20 09:53 AM

You put the camera on a tripod. You put the camera on manual exposure mode so the exposure stays the same from one picture to the next. You take a picture of the background. Then you send the kids in with a step ladder and take a picture of them doing some pose on a step ladder, making sure none of their body is behind the ladder. Then you open the background image in GIMP, and create a new layer and paste the image of the kids into that new layer. And you get out the eraser tool and erase the ladder. The background image will show through where the ladder was. Just make sure that when you create the new layer, you do it as a transparent layer.

It's easier than typing this post. The hard part is carrying the tripod and ladder outside, and then putting them away again.

---

footfootfoot Monday Aug 20 10:55 AM

Most of the ads you see today are done that way. It's a very popular technique.

---

glatt Monday Aug 20 11:20 AM

Here's another one I did. This one, I had to paint my son's shirt back in right at his gut because he was lying on the top of the ladder too far over, and when I erased the ladder, I erased a huge chunk of his gut. So if you look closely, you can see his gut looks a little weird. But I really like the way the rest of the image looks. They posed well for this one. He was really precarious up there, so his acting is only partial acting.

The camera was on our front porch, and you can see the geraniums in the foreground on the porch railing.
Attachment 40118

---

Clodfobble Monday Aug 20 01:29 PM

Oh okay, it's still a Photoshop GIMP editing thing. I thought maybe there was some special analog film technique and/or kid bouncing in the air thing that you were doing.

---

footfootfoot Monday Aug 20 02:21 PM

That would be an awesome spouse prank for when one parent is off on a trip solo and the other parent is emailing photos of "what we've been up to."

Massive potential, Glatt.

---

glatt Monday Aug 20 03:23 PM

Yeah! I could get out the extension ladder and make it look like the kids were jumping out the second floor window with sheets for parachutes. Or helium balloons.

---

footfootfoot Monday Aug 20 04:24 PM

I like the way your mind works

---

BigV Monday Aug 20 07:39 PM

too much work if you ask me!



---

ZenGum Monday Aug 20 08:46 PM

yeah, what's with this "look like" business, ya softy.

---

CaliforniaMama Wednesday Aug 22 09:37 AM

I'll bet this baby wasn't in the air at all. Look how he is holding the umbrella. My guess is that he was crawling on the floor.

---

BigV Wednesday Aug 22 10:39 AM

not on the floor. on steps, likely on the ladder or on some steplike blocks. knee/shin, then up one step, hand and handle, then up one step, and the two points of the umbrella's ribs. the steps don't have to be level, hm?

---

Sundae Wednesday Aug 22 01:20 PM

Excuse me, am I the only one getting the important information from this post?



Do your magic on me.

---

BigV Wednesday Aug 22 01:29 PM

He could do it, but you won't like it.

You do it yourself every time you send us a picture of your new hairstyle. magically erasing a huge chunk of your gut.... like your trunk and pelvis and legs.

---

enlilttal Wednesday Aug 22 02:52 PM

erymnrunc

My brother suggested I might like this blog. He was totally right. This post truly made my day. You can not imagine simply how much time I had spent for this info! Thanks! Bumedeagree
Oh my goodness! an incredible article dude. Thank you Nonetheless I am experiencing concern with ur rss . Don't know why Unable to subscribe to it. Is there anyone getting an identical rss downside? Anyone who knows kindly respond. Thnkx Bumedeagree
I am usually to blogging and i really admire your content. The article has actually peaks my interest. I am going to bookmark your website and preserve checking for brand new information. Bumedeagree
Hi my family member! I wish to say that this post is awesome, great written and include approximately all vital infos. I'd like to peer extra posts like this .

---
Your reply here?

The Cellar Image of the Day is just a section of a larger web community: a bunch of interesting folks talking about everything. Add your two cents to IotD by joining the Cellar.