CaliforniaMama Tuesday Aug 14 01:56 PM

August 14, 2012 - Nightmare Alert!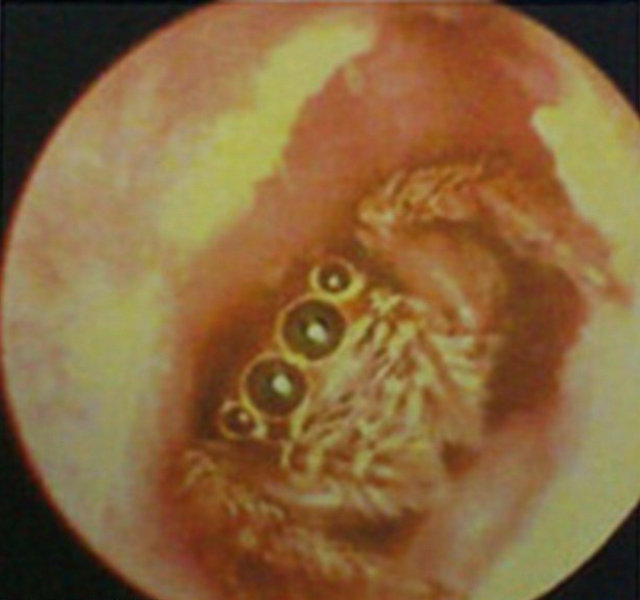 This little spider crawled into a woman's ear while she was napping and lived there for five days!

The doctor debated ways of getting the critter out - he was worried that if he tweezered the patient would get bit - and finally settled on pouring saline in the ear to encourage the squatter to <ahem> bug off.

via Geekologie

---

Sundae Tuesday Aug 14 03:18 PM

Spiders are good hiders.

---

Big Sarge Tuesday Aug 14 03:31 PM

Awww, hell. Why did you have to post this? I'm going to have to sleep with earplugs now

---

Sheldonrs Tuesday Aug 14 05:27 PM

Quote:

Originally Posted by

Big Sarge

Awww, hell. Why did you have to post this? I'm going to have to sleep with earplugs now

They like tight places. You might need a buttplug too. lol

---

Wombat Tuesday Aug 14 06:10 PM

Why didn't the doc just dangle a fly-on-a-string outside her ear?

---

Big Sarge Wednesday Aug 15 12:20 AM

thanks sheldon. i'm at camp shelby, which is spider heaven, and now you got my thinking about that. people shouldn't be allowed to post some of this stuff!!

---

ZenGum Wednesday Aug 15 12:52 AM

I think I've told the story before... but ...

At the alternative festival I like to go to, a French-speaking guy came in to first aid with "somezing in my ear".

Otoscope confirmed ... something ...


He was laid (held) down while oil was trickled in to his ear. The docs were expecting this to drown the crittur so it would float out or be tweezed out, but instead a 5 centimeter long centipede crawled out of the guy's ear and down his cheek.



Now, botfly larva...

---

SPUCK Wednesday Aug 15 06:57 AM

Why'd they chase that spider out. She could've be free of ear bugs.

Spider looks like it has about a million headlights on the hood.

---

Trilby Wednesday Aug 15 07:47 AM

See, to me, this is disgusting and alarming and horrifying and as close to the abyss as I ever want to get. IF a creature was in MY ear you'd damn well have to straight-jacket me, give me IV ativan push (and push it FAST motherfkker) then give me ten days inpatient to work out my issue with having a freaking spider in my EAR.

GAWD.

---

BigV Wednesday Aug 15 12:21 PM

Far more people suffer and die from mosquitoes than from spiders. Ingeniously, you'll never hear from mosquitoes again.

---

Undertoad Wednesday Aug 15 12:31 PM

I posted this guy from my windowsill in 2008. Looks like the same bastard.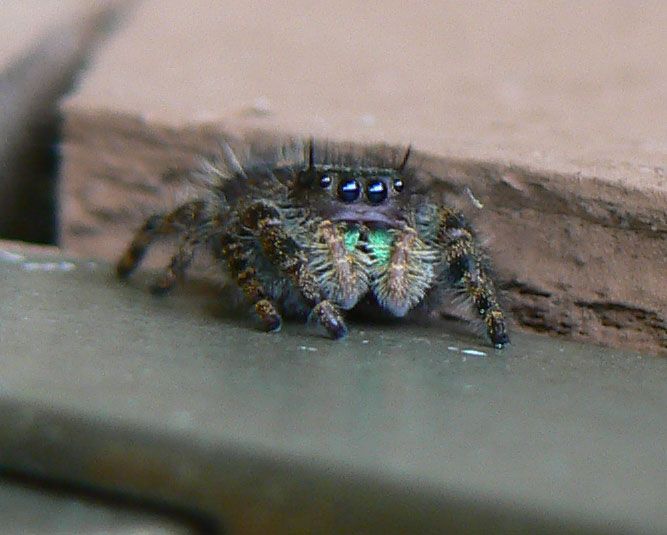 ---

BigV Wednesday Aug 15 12:40 PM

It does!!

---

BigV Wednesday Aug 15 12:41 PM

Hey Mike! Welcome to the cellar!

---

HeyMikeBrown Wednesday Aug 15 12:42 PM

A biologist I follow on Twitter (@pzmyers) tweeted about this when someone brought it to his attention. PZ refers to the spider as a 'salticid' and says they're '...Active hunters; not likely to snuggle down for days like that, or let themselves get trapped' (August 12).

Not suggesting he's correct, but my childhood memory is populated with stories of bug infested hair-dos and the like.

Mike

---

Trilby Wednesday Aug 15 02:44 PM

Hi Mike, welcome!

A "salticid" - does that mean the spider likes...salt??

---
Your reply here?

The Cellar Image of the Day is just a section of a larger web community: a bunch of interesting folks talking about everything. Add your two cents to IotD by joining the Cellar.