CaliforniaMama Tuesday Jul 24 11:39 AM

July 24, 2012 - RIP Mr. Bee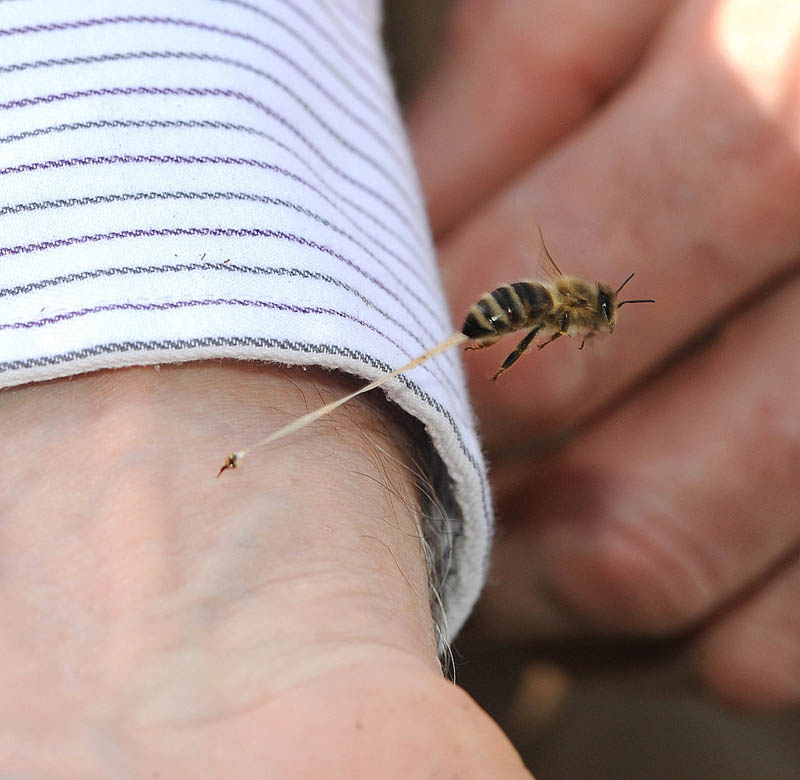 THE HONEYBEE'S FINAL STING




Quote:

If you've ever wondered why honeybees tend to die after stinging someone this picture says it all. In an incredible capture by Kathy Keatley Garvey, a UC Davis Communications Specialist in the Department of Enomology, we see a bee stinging a person's arm and then attempting to fly away as the stinger remains lodged in the victim. That trail of goo you see? It's actually the bee's abdominal tissue. The remarkable capture netted Garvey the first-place gold feature photo award in an Association for Communication Excellence competition.

An opportune time came for Garvey to capture this photo when she was walking with a friend and a bee came close to him and starting buzzing in a high-pitch. She said that's normally a telltale sign that a bee's about to sting, so she readied her camera and snapped four photos.

The images represented the progression of the sting, but the most interesting part was that the bee's abdominal tissue that lingered behind, she said.

Read more here: http://www.sacbee.com/2012/06/13/455...#storylink=cpy

Photograph by Kathy Keatley Garvey

Thanks to Twisted Sifter for posting this image.

---

glatt Tuesday Jul 24 11:44 AM

Awesome. That's an outstanding picture!

---

BigV Tuesday Jul 24 12:03 PM

story in the sacremento bee. cute.

---

Griff Tuesday Jul 24 02:24 PM

Wow! Great catch.

---

Happy Monkey Tuesday Jul 24 02:51 PM

It's a hard life out there for a bee.




---

Sundae Tuesday Jul 24 03:10 PM

I've always known that when a bee stings it dies - it's something I've passed on to my (non-allergic) children, so they understand that a sting is not the end of their world and not likely to be undertaken lightly.

But that photo is great.
If you can call any death-by-unravelling-intenstine photo great.

Nasty way to go.

---

Ibby Tuesday Jul 24 06:18 PM

http://chuckpalahniuk.net/features/shorts/guts/



Quote:

Inhale.

Take in as much air as you can.

This story should last about as long as you can hold your breath, and then just a little bit longer. So listen as fast as you can.

Not a story for the squeamish, but...

---

CaliforniaMama Tuesday Jul 24 07:35 PMA word to the wise . . .



I'm trying to decide at what age I should have my sons read this . . .

---

Wombat Tuesday Jul 24 08:05 PM

That is some story

---

footfootfoot Tuesday Jul 24 08:06 PMYeah, Wolf posted that a few years ago. I thought it sounded familiar then I got to the pearl diving part.

---

Ibby Tuesday Jul 24 08:07 PM

---

jimhelm Tuesday Jul 24 08:50 PM

Chuck has the most twisted imagination I've ever imagined

---

Trilby Tuesday Jul 24 09:07 PM

Um. Ew.

---

BigV Wednesday Jul 25 12:59 AM

You do have to admit "Pearl diving" takes guts.

---

SPUCK Wednesday Jul 25 07:15 AM

Bee picture is lame.

I can imagine that idiot, the late Mr. Garvey, "The rattlesnake's buzzing tail got more strident - so he took out his camera and fiddled." Who hangs around to see someone stung?


---

footfootfoot Wednesday Jul 25 07:50 AM

---

Gravdigr Wednesday Jul 25 02:27 PM

Quote:

That dog was fucking nuts.

---
Your reply here?

The Cellar Image of the Day is just a section of a larger web community: a bunch of interesting folks talking about everything. Add your two cents to IotD by joining the Cellar.