CaliforniaMama Monday Jul 23 12:32 PM

July 23, 2012 - Glass Eels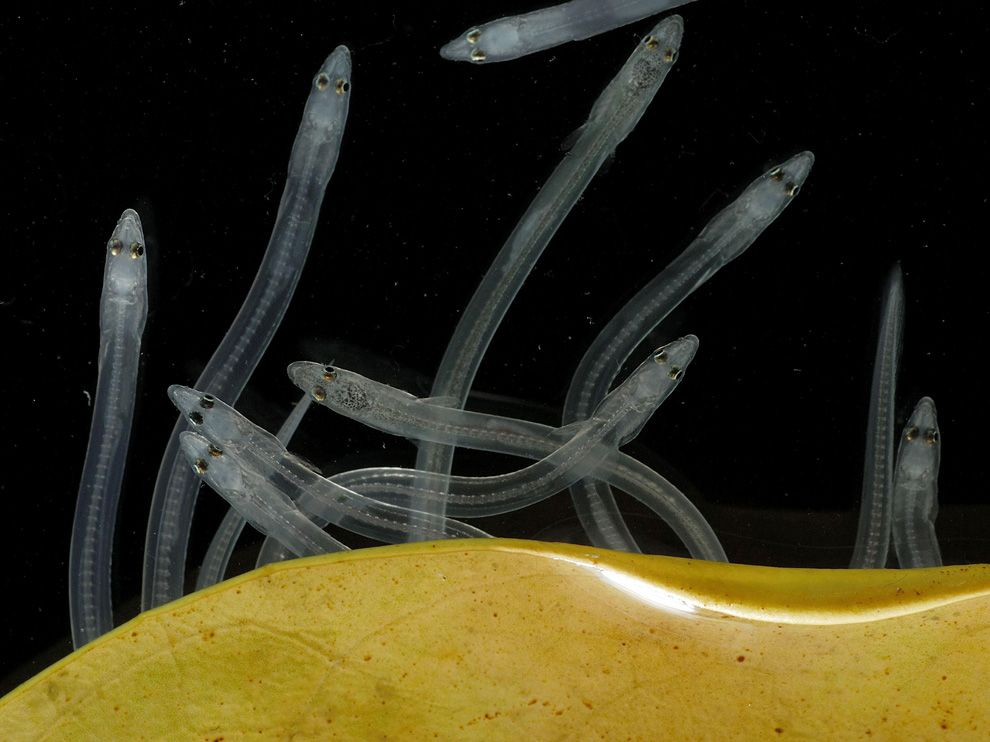 ---

Happy Monkey Monday Jul 23 12:50 PM

I don't mind eels
Except at meals.
And the way they feels.

---

Sundae Monday Jul 23 01:12 PM

Wouldn't get a decent sized portion of jellied eels out of that lot!

---

Nirvana Monday Jul 23 02:20 PM

reminds me of a movie where this guy was fishing for eels with a horse head. GAK! Can't remember the name of the movie ...

---

glatt Monday Jul 23 02:30 PM

The Tin Drum had a scene like that. Messed up movie.

---

Diaphone Jim Monday Jul 23 07:59 PM

I have had to fight to get some recent images to open, this one included.
I think I may have finally gotten it by enabling third party cookies.
Why should the IOTD need third party cookies?

---

Undertoad Monday Jul 23 08:34 PM

I don't think this is anything Cellar-related. The image is hosted on cellar.org so there are no third parties involved.

---

jimhelm Monday Jul 23 09:08 PM

they look like the things from Matrx 2 or 3.

---

SPUCK Tuesday Jul 24 06:22 AM

Glass eels.. Way classier than the common Plastic eels.

---

ZenGum Tuesday Jul 24 06:58 AM

Despite all the progress of feminism, eel catching remains a male-dominated industry, and now we know why.

It's the glass eeling, folks, and it is time to change.


I'm here till Sunday. Try the unagi.

---

DanaC Tuesday Jul 24 07:18 AM

Oh dear. Zen, that was really goodbad.

---

newtimer Tuesday Jul 24 08:32 AM

It doesn't seem right to refer to them as seafood when you cannot see them.

---

CaliforniaMama Tuesday Jul 24 11:22 AM

I'd be afraid to touch them. What if they break?

---

classicman Tuesday Jul 24 11:35 AM

Glass Eels Hit $950 Per Pound

---

Sundae Tuesday Jul 24 03:15 PM

Are they being served with a crepe there?

---

Gravdigr Wednesday Jul 25 03:32 PM







Attachment 39843

from boatinglocal.com

---

glatt Wednesday Jul 25 03:59 PM

Wow, compare that with $2/pound for lobster.

---

classicman Wednesday Jul 25 09:45 PM

Dried morels are $230 a pound and I thought that was ridiculous.

---

Trilby Wednesday Jul 25 10:01 PM

That is totally disgusting.

Ugh.

---

Ibby Wednesday Jul 25 10:51 PM

almost as cool as the Glass Frog:

---

SPUCK Friday Jul 27 06:54 AM

It's probably one of those things where a pound of glass eels will fill a wheelbarrow.

---

xoxoxoBruce Sunday Jul 29 09:43 AM

MA eel-evator


---

Sundae Sunday Jul 29 09:48 AM

Har-witch. Snicker.
Harridge.

---

CaliforniaMama Sunday Jul 29 07:34 PM



Wow. I don't think I'll be volunteering for that any time soon.

What was the ONE he counted separately?

---

xoxoxoBruce Sunday Jul 29 10:56 PM

---

Sundae Monday Jul 30 07:48 AM

---
Your reply here?

The Cellar Image of the Day is just a section of a larger web community: a bunch of interesting folks talking about everything. Add your two cents to IotD by joining the Cellar.