CaliforniaMama Monday Jun 4 10:50 AM

June 4, 2012 - Queen Elizabeth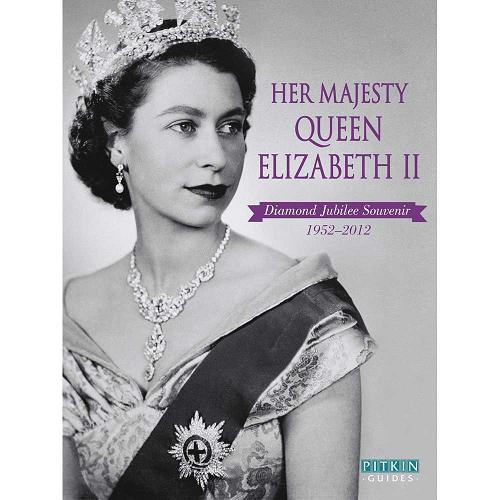 This regal portrait is the cover of Her Majesty Queen Elizabeth II: Diamond Jubilee Souvenir which can be purchased from Historical Royal Palaces.

From the souvenir description: Her Majesty Queen Elizabeth II celebrates 60 years as British Sovereign in 2012. With the exception of Queen Victoria, who reigned for 63 years, she is the longest-serving monarch, acknowledged worldwide for the duties she has performed with grace and dignity.




---

DanaC Monday Jun 4 04:45 PM

Yeah. We're in the middle of a 4 day holiday (two days of weekend, followed by two 'Bank Holidays'.

The village is full of flags, and there have been street parties all over the country.

---

limey Monday Jun 4 05:58 PM

Beacons being lit up and down the country as I type ...
More shenanigans tomorrow. I get to play

in the brass band at our local street party ...

---

DanaC Monday Jun 4 06:28 PM

I generally find myself slightly conflicted about this sort of thing. On the one hand, anything that gets whole communities acting together and celebrating a well-meaning and inclusive brand of patriotism is no bad thing. And as a historian working on 18th and early 19th centuries I feel a strong sense of continuity and connection through events like the Jubilee. A direct line back to a time when that British identity was being forged in a form we would recognise as similar to our own. A time when the royal family was engaging in an incredible marketing and spin project. And a time when national and civic processional display was an intrinsic part of our culture.

On the other hand, at a political and moral level I see no fucking reason whatsoever why I should be 'subject' to a monarch. And yes, it's true, theyhave very little actual power and influence, but they hold a truly important constitutional role: they have the Royal Prerogative. It is that simple fact that means a British prime minister does not have to seek the permission of Parliament in order to go to war.

The existence of the monarch and the Royal Prerogative hands an amazing amount of executive power to the Prime Minister. In reality, the political system applies checks and balances, but theoretically the PM has powers that third world despots would consider acceptable. Because the Prime Minister is the Queen's Prime Minister, not the people's.

---

Trilby Monday Jun 4 06:33 PM

This has been a pretty ok sort of royal family. Not a patch
on the Tudors though. The Tudors were your Woodstock.

---

limey Monday Jun 4 06:34 PM

Me too, like what Dana said. But I like playing the

!

---

xoxoxoBruce Monday Jun 4 06:43 PM

Any excuse for a party, limey?

---

Rhianne Monday Jun 4 07:02 PM

I think that there have been valid reasons for a country to have a king, a queen and a royal family. But that was hundreds of years ago. We don't need them anymore. I'd like them to go. All of them. Today.

---

ZenGum Tuesday Jun 5 06:03 AM

Is it just me, or is that tuba Limey is playing farting "69" out the bell?



Queen Liz is just a bit of decoration for us. Technically she chooses the Governor General from a shortlist, and this person has the power to dismiss the government and call an election; but a precedent has been established that you can give her a list of one name and let her choose from that.

Culturally, having a monarch does maintain our bond with the British culture that is the foundation of modern Australian culture; it provides a continuity during a time of cultural diversification. That and the cricket and rugby. And the language.

---

glatt Tuesday Jun 5 08:49 AM

I'm glad you have a Queen. It's fun. You have the castles, and palaces, and events, and ceremonies. The tourists have something cool to go see.

When I went to Windsor, we went to the Windsor farm shop, and got butter and ice cream produced by Her Royal Highness's cows. So it's not like they don't do something to pull their own weight. And I bet they bring in way more money than they cost, just through tourism.

You have the royal parks you can stroll through. They are really nice.

It's not like she has any real power. If she tried to exert any real power, the government would eliminate her role.

But having said all that, I'm glad you have the queen, and we don't. Our identity is all wrapped up in throwing off the yoke of the crown.

---

CaliforniaMama Tuesday Jun 5 09:58 AM

---

DanaC Tuesday Jun 5 10:07 AM



But yeah. Crowns and castles are fun. So are princes and princesses. But we are not a fucking theme park ya know?

---

glatt Tuesday Jun 5 10:17 AM

---

Undertoad Tuesday Jun 5 10:28 AM

you do have that ferris wheel

---

jimhelm Tuesday Jun 5 10:41 AM


AND TOY SOLDIERS!

---

glatt Tuesday Jun 5 11:36 AM

At the Tower, the toy soldiers have real arms. I don't know if they are loaded.
Attachment 38953

---

DanaC Tuesday Jun 5 12:06 PM

They're real soldiers dressed as toy soldiers

---

Rhianne Tuesday Jun 5 02:39 PM

They kill a hundred bears in Canada each year to make those silly hats.

---

DanaC Tuesday Jun 5 03:10 PM

Don't see why they can't use fake fur nowadays.

Justheard Jimmy Carr describe the jubilee as "a four day weekend, where we all pretend to care about someone else's nana".


[eta] I go through an arc with the coverage of stuff like this. Starts off mildly irritating. Then some of it gets through (there have been some really nice events celebrating Britishness and togetherness and all that stuff, and the historical connection is always something that gets me at a gut level), then it starts to annoy again as it effectively takes over television and radio for fucking ages.

Some of it's really interesting. Some of it is inspiring. But some of it is vapid and trite and some of it is insulting.

---

glatt Tuesday Jun 5 04:36 PM

It's been a year, that's for sure.

The royal wedding, and the jubilee, and next the Olympics. We've been getting a lot more British exposure in the last year or so than we have since Di died.

---

Sundae Wednesday Jun 6 04:45 AM

Hey, it brought Dad and I together, so it was all worth it for me.
Oh, no, wait. That probably had more to do with Mum flying to the other side of the world...

(Okay, a mixture of the two)

I thought it was all jolly good fun, with rain and Royal masks and frocks and horses and rain and John Barrowman and hats and commentators pedantically saying "the Union Flag" (although it is okay to call it the Union Jack even when it isn't flying on a ship) and rain and sausage rolls and all that and everything.

I don't mind being a subject.
I'd rather be ruled by the Queen than the CEO of a big American franchise.

---

DanaC Wednesday Jun 6 05:49 AM

How'd you feel about being ruled by Wills or Harry?


I actually don't much mind the Queen herself. But the idea of being 'subject' to her descendants, good or bad, is just a little sickmaking.

---

Sundae Wednesday Jun 6 06:25 AM

I've no probs with that either.
They're more dedicated to the country than the fat-cat asset strippers currently in Parliament. Even if Wills is losing his hair I trust him more with the family silver than I do William Hague.

And as for Harry, well you know I've always had a soft spot for a ginger.

Someone is always going to be deciding my future. Living in Bucks I don't even have a vote that counts.
I'm a prole and will take my bread and circuses and enjoy.

---

DanaC Wednesday Jun 6 06:53 AM

Fair enough:p

---

CaliforniaMama Wednesday Jun 6 09:44 AM

---

CaliforniaMama Wednesday Jun 6 10:24 AM

It seems we Americans have become numb to our own ruling hierarchies.

---

CaliforniaMama Wednesday Jun 6 10:32 AM

I just realized that our church is also celebrating their 60th this year.

---

glatt Wednesday Jun 6 10:43 AM

---

Sundae Wednesday Jun 6 10:51 AM

Glatt has it.
And beautifully worded too.

The only thing I might add is that the constituency (voting district) I live in is true-blue Tory (Conservative Party) all the way and has been since before we obtained universal suffrage.

I vote.
Because Women died for the right for me to do so.
But my vote is worthless because the Conservative majority here is unassailable.

---

Stormieweather Wednesday Jun 6 11:12 AM

That is admirable, Sundae. I firmly believe in voting, even if the vote will be lost in a sea of opposition.

My mom and dad used to fight every election, because one was Republican and one was Democrat. My dad said that if they didn't vote the same party, that it was useless to do it at all since they washed each other out. But I believe we should all make our positions known at the voting booth, it helps keep us invested in what is happening in our country, politically.

---

xoxoxoBruce Thursday Jun 7 12:21 AM

---

BigV Thursday Jun 7 11:01 PM

ouch.

---

glatt Friday Jun 8 08:46 AM

yeah, yeah, yeah

---

DanaC Saturday Jun 9 09:28 AM

Fireworks over the palace.

http://uk.news.yahoo.com/photos/the-...339169359.html

---
Your reply here?

The Cellar Image of the Day is just a section of a larger web community: a bunch of interesting folks talking about everything. Add your two cents to IotD by joining the Cellar.