CaliforniaMama Wednesday May 16 02:29 PM

May 16, 2012 - Real Life Super Heroes (?)

Rubberboy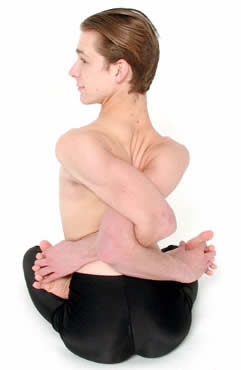 Okay, so he is the most flexible guy around. How does that make him a super hero?

Magnetic man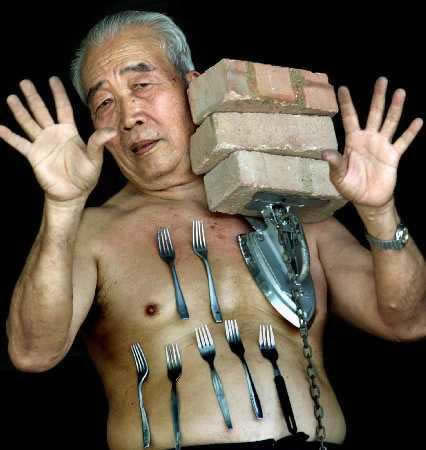 Stuff sticks to this guy and so strong is the attraction that he put an iron plate on his belly, attached a hook with chain and pulled a car 20 meters.

Okay, so maybe this guy could come in handy.

For more amazing people and a videos of Rubberboy, jump on over to Oddee. Enjoy!

---

xoxoxoBruce Wednesday May 16 02:50 PM

Sigh... the difference between freaks and Super Heroes... or any kind of heroes... has been blurred by "reality" TV.

---

newtimer Thursday May 17 10:09 AM

Who keeps their iron on a chain?

---

infinite monkey Thursday May 17 10:10 AM

He stole it from the counter at the First Third Iron Bank, FDIC.

---

Happy Monkey Thursday May 17 11:54 AM

The Iron Bank of Braavos?

---

dmg1969 Thursday May 17 12:50 PM

If he's THAT magnetic, why does he need a band for his watch? Can't he just stick the watch face to his wrist?

---

classicman Thursday May 17 01:28 PM

---

Sheldonrs Thursday May 17 02:22 PM

I saw a TV show a while back with the magneto guy. They found no evidence that he was magnetic. His skin is just sticky from the oil and sweat.

---

classicman Thursday May 17 02:46 PM

Since the cats out of the bag ...


Quote:

Liew Thow Lin (Chinese: 劉少林) of Malaysia is known as the "Magnet Man" (Chinese: 磁人),[1] or "Mr. Magnet"[2] because he has the ability to stick metal objects to his body.

Liew has performed in many charity events showing his ability.[citation needed] He can make metal objects, weighing up to 2 kg each, up to 36 kg total,[2] stick to his skin. He has also pulled a car using this ability.[3]

Liew's ability is not due to any source of magnetism. Scientists from Malaysia's University of Technology found no magnetic field in Lin's body, but did determine that his skin exhibits very high levels of friction,[2] providing a "suction effect".[3]
The trait appears to be genetic, appearing in Lin's three grandchildren.[2]



---

Sundae Thursday May 17 03:03 PM

Suction Man!
He can come round and hoover my rug anytime, the old superhero.

---

infinite monkey Thursday May 17 03:12 PM

I was like wtf is skin friction. Well I'll be a monkey's aunt...found this article:



Quote:

The skin over most of the body is relatively smooth. 'Friction Ridges', however, are found on the digits, palms and soles. They are called 'friction' ridges because of their biological function to assist in our ability to grasp and hold onto objects. They have been compared to fine lines found in corduroy, however unlike corduroy, ridges vary in length and width, branch off, end suddenly and, for the most part, flow in concert with each other to form distinct patterns. The ridge path can sometimes be quite fragmented...so much so as to show what appears to be individual ridge "units" present on the volar surface. There are approximately 2,700 ridge "units" per square inch of friction skin. Each ridge "unit" corresponds to one primary epidermal ridge (glandular fold) formed directly beneath each pore opening.

http://ridgesandfurrows.homestead.co...tion_skin.html

---

xoxoxoBruce Friday May 18 12:32 AM

Quote:

Originally Posted by

dmg1969

If he's THAT magnetic, why does he need a band for his watch? Can't he just stick the watch face to his wrist?

Stainless.

---

classicman Friday May 18 01:06 AM

---

SPUCK Friday May 18 05:54 AM

Of course since the background is flat black he could be lying on his back and we'd never know.

---

ZenGum Friday May 18 08:48 AM

I'd like to see him try to get on a plane like that.

---

Sundae Friday May 18 11:43 AM

On his back?

---

Undertoad Friday May 18 02:27 PM

This is a repeat from October 2001!

---

monster Friday May 18 10:35 PM

---

SPUCK Monday May 21 06:23 AM

In an ambulance! Riding a chicken. Holding a baby's arm.

---
Your reply here?

The Cellar Image of the Day is just a section of a larger web community: a bunch of interesting folks talking about everything. Add your two cents to IotD by joining the Cellar.