sandypossum Friday May 11 11:16 PM

May 12, 2012 Easter Island heads have bodies!

If it was April 1st I would have laughed at the gullibility of others. Or am I the last person on the planet to hear about this?

Easter Island Statue Project

---

BigV Friday May 11 11:29 PM

next to last, at best.

whoa.

---

Sundae Saturday May 12 03:55 AM

I'm in the I Didn't Know Club too.
Wow. Didn't the statues kill off the population in the end?

---

sandypossum Saturday May 12 04:15 AM

---

DanaC Saturday May 12 06:41 AM

Or Garbage Pail Kids...

---

jimhelm Saturday May 12 10:41 AM

Unfortunately, the giant stone people civilization ended right in the middle of this cruel torture. They had planned to kill these statues in a most gruesome manner... luckily for these statues, the great big stone lawn mower had yet to be brought out.

---

GunMaster357 Saturday May 12 03:50 PM

I was in the know but shut my gob since other people would have called me a liar.

---

burns334 Saturday May 12 05:14 PM

Who knew? just heads confused me enough!

---

jimhelm Saturday May 12 05:36 PM

Quote:

Also, we found strong evidence of how the ancient carvers manipulated the statue to raise it upright, pivot it and drop it in a hole 1 m deep cut in bedrock. The process left scars and indents on the statue surface. When seen on statues lying on roads, these same sorts of scars have been interpreted by others as evidence of upright transport methods. Our excavation, however, clearly shows that such damage could have been caused in the quarry.

so, they were made at a quarry, transported to the site, and dropped into holes? why would they do that?

---

jimhelm Saturday May 12 05:38 PM

I guess people used to have a LOT more free time on their hands.

---

Rhianne Saturday May 12 06:03 PM

Quote:

Originally Posted by

jimhelm

I guess people used to have a LOT more free time on their hands.

Maybe the internet was down that day.

---

Gravdigr Sunday May 13 03:02 PM

Maybe they represent invaders, and the statues are the invaders buried up to their necks in effigy?

---

Clodfobble Sunday May 13 04:11 PM

Maybe they used to be entirely buried. Maybe they are actually sarcophagi with corpses sealed inside.

---

ZenGum Sunday May 13 08:26 PM

Oh come on, people, do you think it is mere coincidence that we've dug up giant stone monsters just in time for December 2012?

I, for one, run screaming in terror from our new basaltic overlords.

---

Trilby Sunday May 13 08:57 PM

Zactly what i was thinking. How many signs do you people need?

---

CaliforniaMama Sunday May 13 10:20 PM

Check it out!!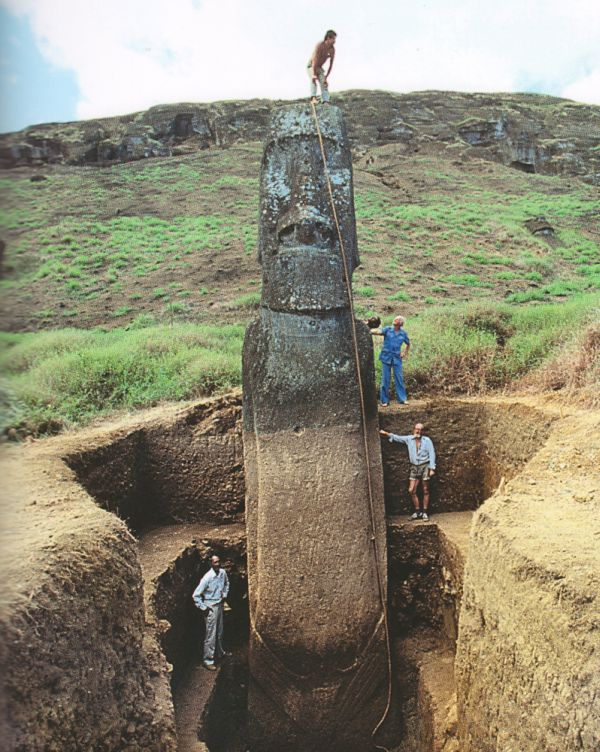 Courtesy of Disclose.TV

---

classicman Monday May 14 12:19 AM

Thats amazing. How come no ones reported this in over a year?

---

sandypossum Monday May 14 12:36 AM

I got the link from a FB friend, and one of her other friends called hoax, so I checked it out some more. I started with the Wikipedia page about them. I agree that Wiki is fallible, however, follow the links and the evidence is overwhelming that they really do all have bodies

Quote:

Though moai are whole-body statues, they are commonly referred to as "Easter Island heads"

. Most of the moai on the island are in fact fully visible. The reason we think of them as just heads is that when photographers first got to the island all but the partly buried ones (the ones you generally think of ) had toppled. The heads had not as they were kept upright by... being half buried. They've since been set upright again - not a simple job. Some were probably toppled by earthquakes, some probably by rival clans. Landslides due to the earthquakes are probably the cause of the "heads" being "buried" as well. I get the impression that so many of them have been uncovered and set upright for quite a while, and the excavation is rather the last step in the restoration project. It's actually pretty cool that they were buried, as it has been able to preserve the fine details lost on the exposed ones. My guess is that they've become a bit of an internet sensation right now just because someone posted a photo in the right place at the right time and... whhhhhhooooosh! Everywhere. Rapa Nui has long been on my bucket list!

---

classicman Monday May 14 12:57 AM

Do we even know if they were intentionally buried?

---

glatt Monday May 14 09:12 AM

I seriously considered doing it about 15 years ago when I took a trip to Australia and New Zealand, but it's not on the way at all. It's not on the way to anywhere.

From Australia, it looks like it's about a two day trip to get there, including a long layover in Santiago where the only flights to the Island come from.
Attachment 38744

---

ToastyOhs Tuesday May 15 10:25 AM

A disturbing number of parallels can be drawn between the fall of their civilization and where first world nations are headed.

That's some Captain Planet crap right there.

---

Clodfobble Tuesday May 15 05:54 PM

What, like, they started eating too much McDonald's and couldn't turn off the internet porn?

In seriousness, I'd like to know about some of these parallels, as I know absolutely nothing about the Easter Island culture.

---
Your reply here?

The Cellar Image of the Day is just a section of a larger web community: a bunch of interesting folks talking about everything. Add your two cents to IotD by joining the Cellar.