CaliforniaMama Saturday Apr 21 08:58 PM

April 21, 2012 Definitely Not Grass Fed

Inspired by the "April 25, 2011 Grass Fed?" image: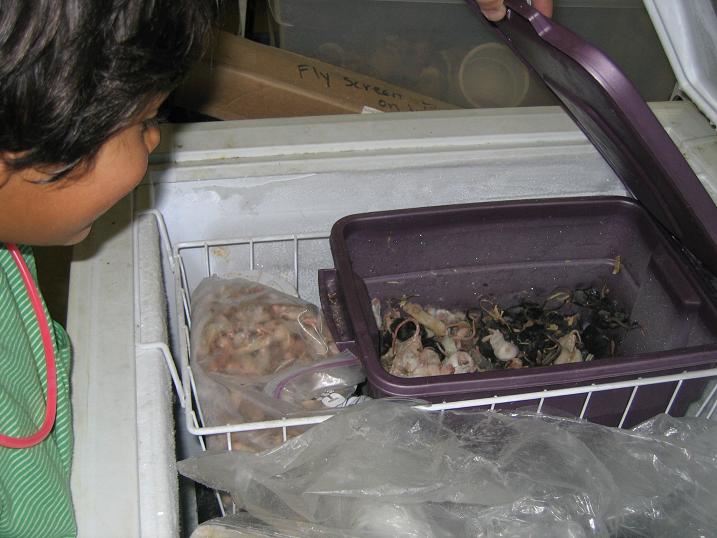 Taken at a behind the scenes night at our local zoo. This freezer was full of all kinds of treats for the residents of the zoo. Very fun for my then-7-year-old sons!!

In case you can't decipher what is in the bin: they are frozen mice. Instant snack food!


Photo credit: California Mama

---

Gravdigr Sunday Apr 22 09:58 AM

Mousicles?

Made me think of this:

Attachment 38397

---

ZenGum Sunday Apr 22 10:08 AM

Are they Kobe mice?

---

SPUCK Monday Apr 23 07:05 AM

My cousins had a Boa. One time we got a rat that the boa wouldn't eat so we put the rat in the freezer in box expecting it to curl up and freeze as they always did. The next day my aunt opens the freezer and is face to face with this large rat! He didn't freeze. He'd shredded his box and made a cozy nest. Then start chowing down on the various frozen goodies surrounding him.

McGyver the Rat.

---

BigV Monday Apr 23 09:28 AM

---

BigV Monday Apr 23 09:28 AM

---

Gravdigr Monday Apr 23 04:47 PM

Mice cubes!!

---

wolf Monday Apr 23 08:52 PM

My cow orker was telling me about his son's fondness for snakes and how he enthusiastically thaws out the mice to feed the thing.

Oh, boy.

---

ZenGum Monday Apr 23 08:58 PM

I've heard a story about how a person's pet python was fed on frozen mice that had been re-warmed in the microwave, to the point it developed a Pavlovian reaction to the "bing" of the microwave, and this became a problem when they were using the microwave for anything else.

Hmm. It was funnier when I heard it.

---

limey Tuesday Apr 24 04:27 AM

---

Sundae Tuesday Apr 24 07:00 AM
Snakes eat meeces. Room temp not frozen.
Seems to be logical to thaw them out, no?

---

SPUCK Tuesday Apr 24 07:20 AM




Another rat story:

I used to breed rats for my Boa. Rats being rats would sometimes have a population explosion. I'd freeze the rats and individually wrap them in little baggies then stack them like cord wood in the Garage Freezer. Well the garage was part of a studio we rented to college students. I was about 12?

Anyway students being students the guy snoops in our freezer.

One day I'm walking by and the guy is "pisssssT! Hey kid!!" ing at me. I come over to him not knowing what he wants, "yeah"? He drags me over to the freezer, opens it and points, sort of frantically, at the stack of nice straight, rolled-up rats with their tails sticking out neatly. He asks, "What are those!!??!". It just popped into my head as he asked. I answered, "Ratsickles". To keep him from seeing me break down in heaving laughter I didn't say another thing. I just turned and left.

I'm sure he thought we were the Adams family.

---

Sundae Tuesday Apr 24 07:33 AM
It picks up sound waves.

It might have been responding to the clunk of the microwave door anyway.

---

Gravdigr Tuesday Apr 24 06:42 PM

---

Sundae Wednesday Apr 25 09:34 AM

From what I understand, snakes will pick up the vibrations of movement around them.
Which is different from hearing, say, a song on the radio.

I don't claim full understanding. I just remember reading that they are not deaf, but not having an outer ear they rely on vibration more than sound.

I admit the above may be mangled gobbledegook to someone who really understands this stuff and am happy to be corrected

---

Gravdigr Friday Apr 27 03:02 PM

---

infinite monkey Friday Apr 27 03:05 PM

Gook? That's WACIST!

Ban them! Ban them NOW.

Or tomorrow. Or next month.

*shrugs* Turns out I don't really care.

---

ZenGum Friday Apr 27 07:43 PM

Ear pick up vibrations through the air.

Snakes feel vibrations through the ground / floor.

That's why that snake in Cairns didn't realise the spider was coming for it!

---

xoxoxoBruce Friday Apr 27 08:29 PM

Uh, it was a tree snake.

---

ZenGum Saturday Apr 28 05:38 AM

Which is why it couldn't feel the enormous thud of the spider's footfalls. Do try to keep up.

---
Your reply here?

The Cellar Image of the Day is just a section of a larger web community: a bunch of interesting folks talking about everything. Add your two cents to IotD by joining the Cellar.