CaliforniaMama Monday Mar 26 11:59 AM

March 26, 2012 Gaudí's Tomatoes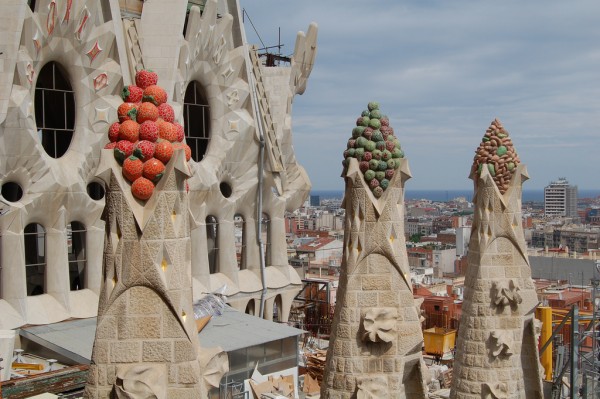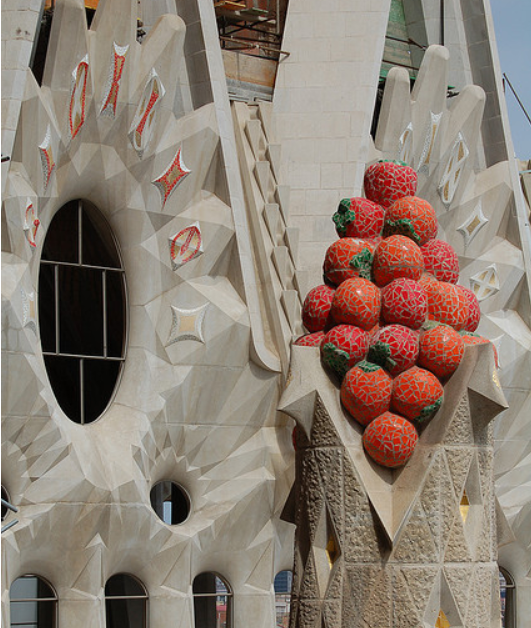 Those are tomatoes that top the tower of Gaudi's La Sagrada Familia, in Barcelona, Spain.

Image credit: gracecat

---

Trilby Monday Mar 26 01:36 PM

Barcelona is the crazy with the architecture.

---

Lamplighter Monday Mar 26 01:46 PM

Those in the sun get ripe faster.

---

Sundae Monday Mar 26 02:26 PM

George Orwell described the unfinished church as



Quote:

... one of the most hideous buildings in the world. It has four crenallated spires exactly the shape of hock bottles... I think the Anarchists showed bad taste in not blowing it up when they had the chance.



---

sandypossum Tuesday Mar 27 09:58 AM

It's even more fantastic up close and personal. We visited it about 8 years ago. Wherever you are in it (in the main hall of the cathedral; up the top of one of the steeples; on one of the bridges connecting the steeples; on a balcony hanging out of one of the steeples) you can see so many wonderful little details that you can only see close up. There are little snails, and birds and flowers... some carved in stone, some with mosaic covering. You could only see them close up, not from the ground.

Gaudi was completed obsessed with it, and he was pretty loopy in his last years by the sound of it, but it doesn't change the fact that this is the most wonderful building I've ever seen up close, and that includes some beauties like the Taj Mahal and the Forbidden City. I prefer its assymetry and random bits of beauty to the streamlined, rhythmic beauty of the older monuments.

---

SPUCK Thursday Mar 29 06:56 AM

Thanks for describing that SP.

---

bbuilder Thursday Mar 29 12:14 PM

I love that architects are so creative, but I just have to wonder how many starving kids could we feed or people could we educate if we just toned it down a little bit and did something a little more practical.

---

Griff Thursday Mar 29 06:54 PM

I'd guess we'd feed fewer kids if creativity went unsought and unrewarded.

---

sandypossum Friday Mar 30 01:18 AM

Quote:

Originally Posted by

bbuilder

I just have to wonder how many starving kids could we feed or people could we educate if we just toned it down a little bit and did something a little more practical.

All of the costs of the Sagrada Familia are covered by donation for that specific purpose. These days that also includes the entrance fees to visit it. You could just as easily ask if all the entrance fees paid to blockbuster movies could not have been better spent on starving children (although I feel some sympathy with that view as well).

I agree in general with your feelings, though, bbuilder - the first thing I thought when I went to both the Taj Mahal and the Forbidden City was "wow, how many man hours of labour and lives would this have cost?" Cathedrals to a lesser extent, as at least they are there - at least in theory - for the poor as well as for the rich, whereas palaces, mausoleums etc were/are for the ruling class only. In days of yore it would have been one of the few things the population would have found worthy of putting in lots of joint effort to create something superb, utilising the skills of the best carpenters, stone masons, artists, etc etc. No doubt the clergy were keener than the poor, of course, but even the poor were usually believers and got to use the building. Furthermore, I think the people who built cathedrals were paid for their work, and even if not, at least you would have been clocking up points for the afterlife. Building the Taj Mahal or Forbidden City, on the other hand, would have been purely for the glory or use of the one who commissioned it.

I also rather like the fact that the Sagrada Familia has an estimated finishing date of 2028. I don't know of any other building that started last century with a building schedule of over 100 years. It's all done quickly now, and the buildings are also not intended to last more than, say 50 years. A few centuries ago monumental buildings were made to last "forever" and took almost as long to build.

When it's finally finished, we (me and other half) have already agreed that we will go and see it again.

---
Your reply here?

The Cellar Image of the Day is just a section of a larger web community: a bunch of interesting folks talking about everything. Add your two cents to IotD by joining the Cellar.