Undertoad Friday Feb 17 10:51 PM

Feb 18, 2012: Owlet being fed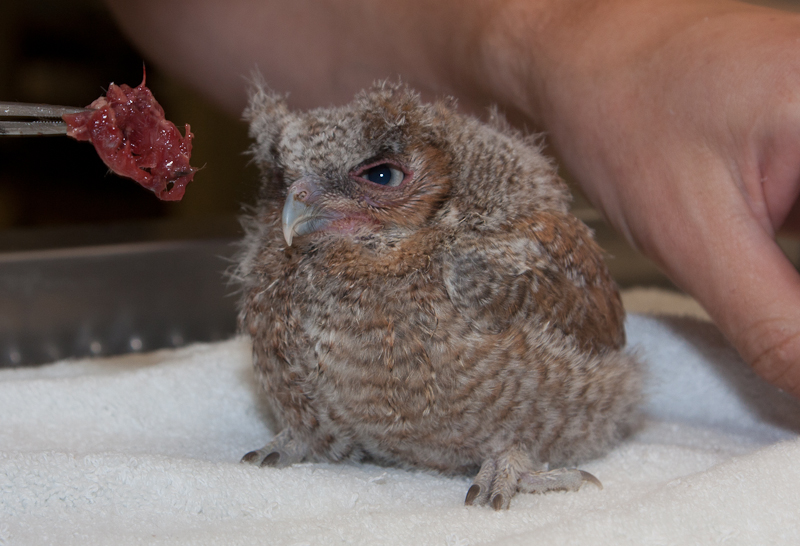 At the Schuylkill Center they have a wildlife rehabilitation clinic for wild animals in trouble, and I assume this is one such case, as I have no further information on the image.

But as we know, all baby beasts are cute... except for owls. Owls are assholes, and baby owls are grumpy even when getting a free meal of their favorite meats.

---

zippyt Saturday Feb 18 12:14 AM

NOM NOM NOM !!!
OWlette cutlets ???

---

Sundae Saturday Feb 18 03:03 AM

Owl Ice Cream.

---

SPUCK Saturday Feb 18 06:51 AM

He's spherical!

---

footfootfoot Saturday Feb 18 09:50 AM

I never ate an owl, but when I was in the Azores I went to a small restaurant in the hills on one of the small islands and had an entree that was described to me as "little birds" (My Portuguese consists of Obrigado) So I ate a plateful of what might have been sparrows or grackles, battered and fried. No feet or beaks. Sort like avian sardines.

---

burns334 Saturday Feb 18 10:06 AM

I like Him!

---

Griff Saturday Feb 18 10:17 AM

I was in that neighborhood yesterday.

---

Sundae Saturday Feb 18 12:26 PM
Sounds like your birds were larger though.

---

footfootfoot Saturday Feb 18 02:56 PM

I'm not a bird expert. They were tiny, maybe the size of two walnuts end to end at the most, and not much fatter around.

---

Sundae Saturday Feb 18 03:28 PM

NOT quail.
Canaries

---

jimhelm Saturday Feb 18 05:31 PM
---

Aliantha Saturday Feb 18 05:43 PM

I didn't open this thread yesterday because I thought it might make me vomit.

I'm glad i didn't. It would have.

---

Happy Monkey Saturday Feb 18 10:41 PM

I found a baby owl when I was a kid. We kept it for a few days before giving it to a professional.

Pretty cute. Like two white weeples stacked.

---

ZenGum Saturday Feb 18 11:41 PM

Ow-let me alone!

---

Sundae Sunday Feb 19 06:13 AM

Weeples? Sounds tearful.

---

footfootfoot Sunday Feb 19 10:15 AM

Weeples wopple but they don't fowl down

---

sandypossum Tuesday Feb 21 01:49 AM

We once rescued a baby magpie (the swoop-and-remove-your-eye Australian kind, not the twee nick-your-baubles European kind) and fed it bits of meat with chopsticks. It would grab the meat and deftly flick it straight back into your face. Ungrateful beastie.

---

glatt Tuesday Feb 21 09:15 AM

We rescued a baby robin once when I was a wee lad, but it didn't want to eat the grass we were giving it, so it died after a day or so. Oops.

You would think my parents would have known better.

---

Sundae Tuesday Feb 21 10:14 AM

Pshaw - my parents brought me up to believe cats drank milk, the best food for hedgehogs was food and milk, dogs should have store bought chocolate as a treat and generally lived on table scraps.

Oh and a free treat for rabbits was clover. We used to gather handfuls of it for her. And if any lettuce was going brown it went straight to her. She lived beyond her expected years, but that was obviously just luck.

I've no doubt we caused all our pets (and/ or wildlife) problems back then. Life was cheap. Hence the lack of cycle helmets.

---

BigV Tuesday Feb 21 02:17 PM

FTR, I love the adjective "twee". Thanks!

---

Aliantha Tuesday Feb 21 06:31 PM

We hand raised a magpie when I was a kid too. It was kind of lovely really. This bird really became one of the family. It used to roam around the house (which gave mum the shits because of the shit) and it also used to like sharing the dog's dry food. The dog didn't like 'Maggie' (as we so imaginatively named him) much because the bird loved biting the dogs ears. He used to put up with it though which was lucky for the Magpie.

Eventually he grew enough feathers and flew off with the local birds who had become quite tame also thanks to our Maggie.

---

footfootfoot Tuesday Feb 21 09:02 PM


---

Nirvana Thursday Feb 23 10:18 PM
---

footfootfoot Thursday Feb 23 10:24 PM

lmao, Nirvana

---

richlevy Thursday Feb 23 10:59 PM

---

monster Friday Feb 24 01:41 PM

I rescued a baby duckbilled platypus and nursed it back to health on a diet of frazzles and Ribena. It still sends me postcards from time to time.

---

infinite monkey Friday Feb 24 02:02 PM

Them things are real? I thought them duckbilled platypi was fictional, like unicorns and Justin Bieber.

---

Sundae Friday Feb 24 02:12 PM

---

monster Friday Feb 24 02:19 PM

---

Sundae Friday Feb 24 02:37 PM

Eunuchs, like bearded ladies were sacred to St Leonard.

---

CaliforniaMama Friday Mar 2 02:57 PM

How fun!

---
Your reply here?

The Cellar Image of the Day is just a section of a larger web community: a bunch of interesting folks talking about everything. Add your two cents to IotD by joining the Cellar.