CaliforniaMama Wednesday Feb 8 10:29 AM

February 9, 2012 Liter of Light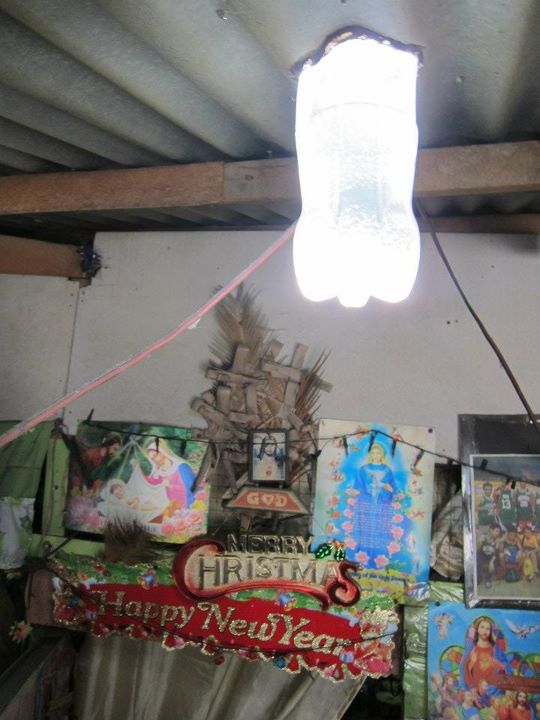 Bottle of Light

The greatest Christmas present for this family is the gift of light. This light requires no electricity. It is completely "green" and sustainable. It costs next to nothing to make and is easy to install.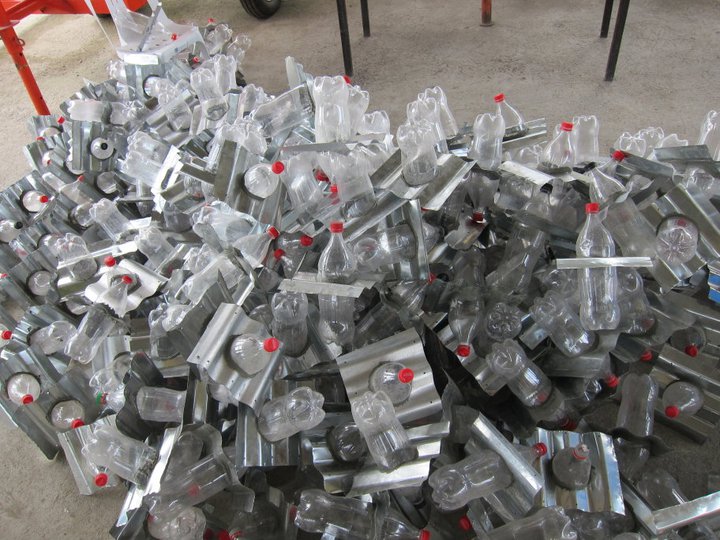 It all starts with a clean, used soda bottle inserted into a sheet metal or corrugated roofing metal flange. Here is a pile of bottles waiting to be installed.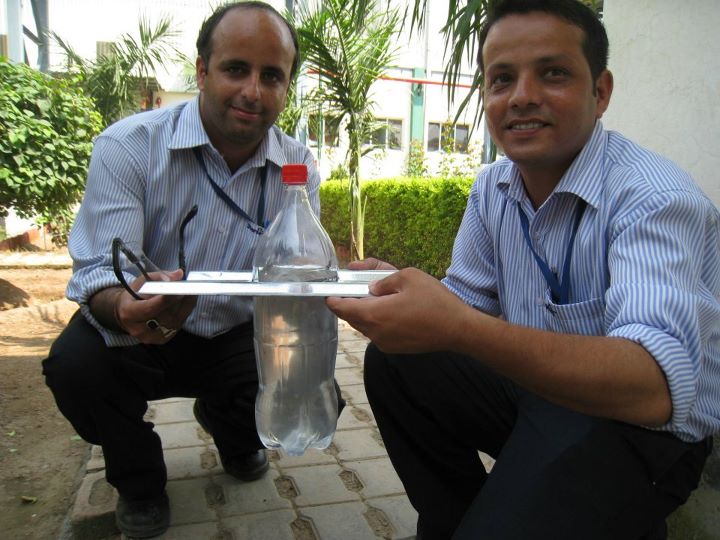 Take an up close look at the simplicity of the construction.

(Not shown)

The bottle is filled with filtered water with a little bleach added. The bottle is then sealed shut.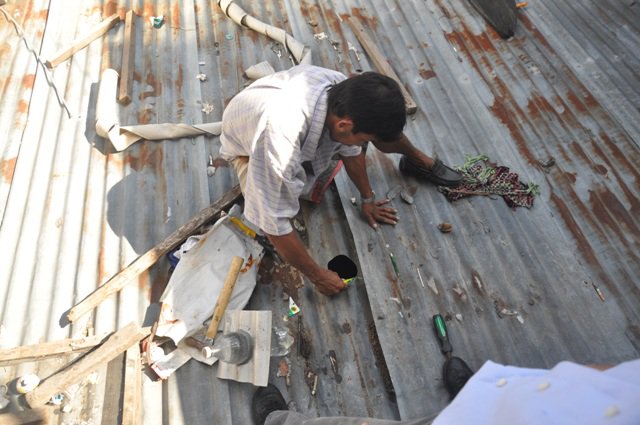 A hole is cut in the roof. The bottle is inserted through the hole. The metal flange is sealed. Light has been installed!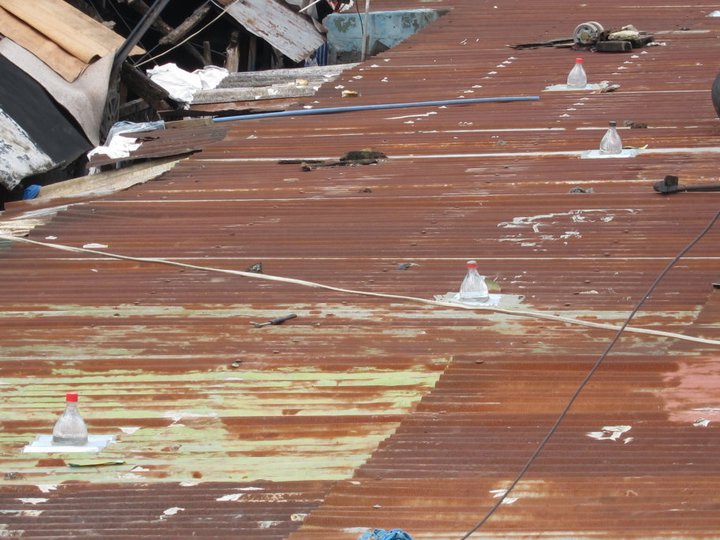 Topside, the bottles are very low profile.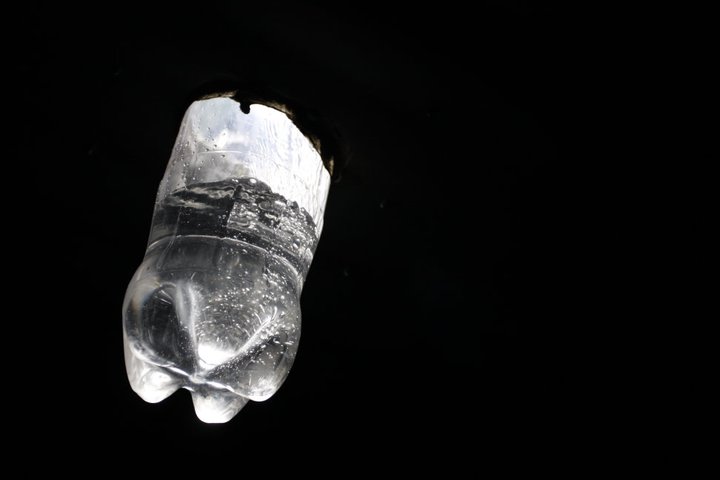 Let there be light!


How to make a bottle of light


Do you know that millions of families still live in the dark? MyShelter Foundation aims to brighten up one million homes in the Philippines by 2012. Find more photos and details at: Liter of Light

---

Scriveyn Wednesday Feb 8 10:38 AM

Moonshine in a bottle








also serviceable are milk cartons:

Attachment 37233

---

zippyt Wednesday Feb 8 11:08 AM

I posted a Vid about this a while back ,
Brilliant idea !!!!

---

glatt Wednesday Feb 8 11:11 AM

Yeah. I like this one a lot. Simple, cheap, effective.

---

Gravdigr Wednesday Feb 8 03:34 PM

Agreed.

But, I'd mount them cap-end down. That way, if ya need a warm shower...(a quick, warm shower)

---

Sundae Wednesday Feb 8 03:41 PM

Wait.
Merkins don't even use the word litre.
How come you get to change the spelling?

---

infinite monkey Wednesday Feb 8 03:42 PM

Thread tape. Very important.

---

infinite monkey Wednesday Feb 8 03:52 PM



We do use the word, though.

---

HungLikeJesus Wednesday Feb 8 04:11 PM

We think we're e-liter.

---

Wombat Wednesday Feb 8 04:53 PM

Great idea!

Why does it need to be filled with water? If it was rinsed and allowed to dry completely before being capped, wouldn't that work?

---

HungLikeJesus Wednesday Feb 8 04:57 PM

I think most of the light would reflect back without the water.

---

Clodfobble Wednesday Feb 8 07:07 PM

Yes, the water disperses the light. Also, the last time these things came up someone was thinking that the bleach was somehow important in the light-scattering... but it's just to keep the bottle from growing mold.

---

Flint Thursday Feb 9 12:39 AM

---

SPUCK Friday Feb 10 06:40 AM

Bunch of ill litre ates!

---

monster Friday Feb 10 08:24 AM

We use this principle camping -we place a flashlight next to the water jug to increase illumination at night.


god, I am old and dull

---

glatt Friday Feb 10 08:45 AM

It's a neat tip. Not dull. I can picture it right now.

Actually, I've seen lights in camping stores designed to go with Nalgene water bottles to do just that. It's a flashlight built into the cap and it shines down into the bottle.

---

xoxoxoBruce Saturday Feb 11 05:27 PM

It's an olde idea.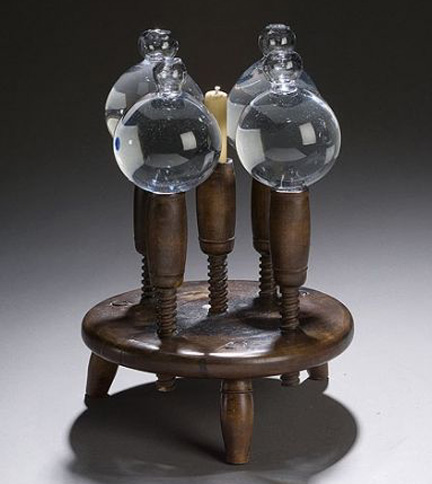 ---

wolf Saturday Feb 11 09:19 PM

It's like a modern deck prism. Cool.

---

Griff Saturday Feb 11 10:41 PM

That is right smart.

---

classicman Saturday Feb 11 11:09 PM

I find the design fascinating.
For example, the supports holding up the orbs are designed like screws
so that as the candle burns they can be lowered.
(at least that's my guess.)


ETA - Just noticed the candle holder is the same way... hmm.

---

Happy Monkey Saturday Feb 11 11:34 PM

That, plus you can aim them.

---

classicman Saturday Feb 11 11:46 PM

I was thinking that also. But wasn't sure how the light shone through them.

---

Gravdigr Sunday Feb 12 06:24 PM



---

Happy Monkey Sunday Feb 12 06:30 PM

You set all the globes to the desired heights for the full candle, then raise the candle periodically, as it burns down.

---

Sundae Monday Feb 13 01:13 PM

---

CaliforniaMama Sunday Feb 19 12:37 AM

I just spells it like I's sees it!

---
Your reply here?

The Cellar Image of the Day is just a section of a larger web community: a bunch of interesting folks talking about everything. Add your two cents to IotD by joining the Cellar.