CaliforniaMama Monday Feb 6 02:42 PM

February 6, 2012 Centaur of Tymfi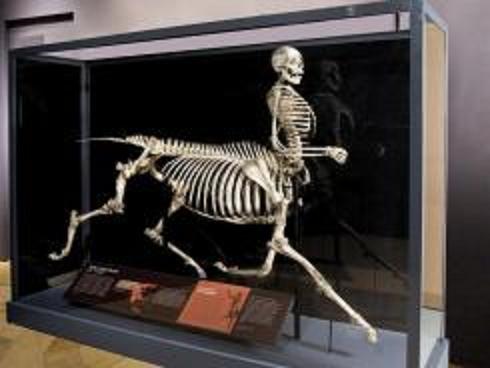 The "Centaur of Tymfi" stands proudly on display at Tucson's International Wildlife Museum. Also on display are the bones of a cyclops, a griffin and a unicorn.

What? You don't believe me? Look at the image. It really is on display.

Entitled "Mythological Wildlife," the exhibit aims to make folks think about how we know what is real. Hmmm. How do we know?

Once upon a time, mythology was science, accepted as part of the natural history world as perceived by the ancients.

Imagine how it must have seemed when they saw a man on horseback for the first time. They didn't see two different creatures. They saw one new and scary creature and called it a centaur.

The skull of a prehistoric elephant called a mastodon, tipped on its side, might resemble the skull of a one-eyed giant they named a cyclops.



Classicman

---

Lamplighter Monday Feb 6 03:05 PM

And don't forget the "jackalope"...

---

Sundae Monday Feb 6 04:47 PM

Pictures of real jackalopes make me cry.
Have to remember to post that in the "Jackalopes That Make You Cry" thread.

---

Lamplighter Monday Feb 6 04:52 PM

They are limited to the western U.S., so you'll have to travel far to see one IRL.

---

Wombat Tuesday Feb 7 05:17 PM

Two ribcages means two sets of lungs and two hearts?

---

classicman Tuesday Feb 7 05:25 PM

Entitled "Mythological Wildlife,"

---

SPUCK Wednesday Feb 8 06:32 AM

Hey Moma. Could you please use bigger fonts than 0.00004 pitch. I can't read it with my ancient


s.



Quote:

You can highlight with quoting

or

color

or

bigger letters

or bold

or italians

or fonts.

Thanks.

---

classicman Wednesday Feb 8 11:35 AM??? lol ???

---

infinite monkey Wednesday Feb 8 11:52 AM

Like, maybe, having Italians standing there with magnifying glasses?

---

classicman Wednesday Feb 8 11:58 AM

Shuddup! I just found out I need bifocals...

wtf? When did I get THAT old? :'(

---

glatt Wednesday Feb 8 12:23 PM

CooperVision Biofinity Multifocal contact lenses. They are wonderful.

---

classicman Wednesday Feb 8 01:48 PM

Thanks glatt ... I'll ask about them. My problem is that although I wear contacts when active, I hate to wear them everyday. They rotate and irritate my left eye. I have scar tissue from an injury years ago. My eye has scar tissue in it which created a "bump." Contacts usually don't stay in the proper place on the eyeball itself.

---

glatt Wednesday Feb 8 01:54 PM

Too bad. These are good contact lenses, but they are still contact lenses.

---

BigV Wednesday Feb 8 02:57 PM

Oh, and I enthusiastically second SPUCK'S remarks, Bigger fonts, please. TIA!

---

SPUCK Friday Feb 10 06:35 AM

LOL. I misspelled it then started to correct it. Then decided what-the-hell, leave it and see if anyone notices.

I should've known better with this crow.

---

BigV Friday Feb 10 11:00 AM

You're a crow?

---

Lamplighter Friday Feb 10 12:56 PM

His word was acronym

---
Your reply here?

The Cellar Image of the Day is just a section of a larger web community: a bunch of interesting folks talking about everything. Add your two cents to IotD by joining the Cellar.