xoxoxoBruce Monday Jan 23 01:12 AM

Jan 23, 2012: Crab Balls

Put away the seafood sauce, you don't want to eat these crab balls.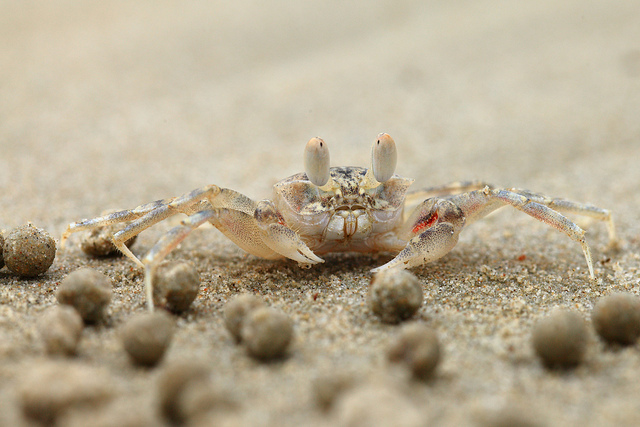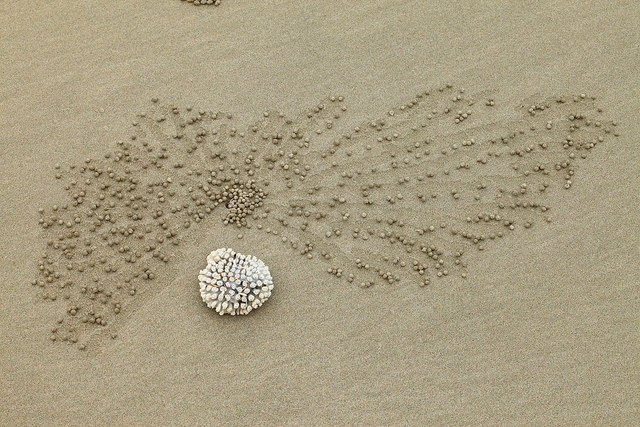 Then the tide comes in and they start all over again.


Makes me wonder if some will evolve enough to dig above the high water mark, but maybe the sand's not wet enough to dig.

The Ark in Space via Kuriositas

---

ZenGum Monday Jan 23 01:33 AM

I've seen little fellers like that in mud flats in far north Queensland.

It isn't clear in this pic, but the ones I saw arranged their balls (ahem) so as to leave unobstucted paths back to their holes, so they could bolt to safety quickly.

---

Aliantha Monday Jan 23 01:45 AM

There are heaps of soldier crabs around here. They are very interesting watch.

---

SPUCK Monday Jan 23 06:31 AM

Screwy eyes!

---

Griff Monday Jan 23 06:46 AM

Cool!

---

sandypossum Monday Jan 23 07:11 AM

We have them all over the beaches in Waratah Bay too (near Wilsons Prom in Victoria). They're mostly tiny, but their crab balls make fabulous patterns all over the beach.

---

footfootfoot Monday Jan 23 09:03 AM

How do you get their legs apart?

---

glatt Monday Jan 23 09:19 AM

These pictures made me think of the similarities with mine tailings, so I did a Google image search to find a picture that would show off those similarities. Don't do Google image searches for mine tailings. It's too depressing.

---

Trilby Monday Jan 23 11:00 AM

Do soldier crabs have guns? Or weapons?

---

Clodfobble Monday Jan 23 12:29 PM

The claws don't impress you?

---

Sundae Monday Jan 23 12:39 PM

I liking this Engrish.

---

monster Monday Jan 23 01:07 PM

crabs? balls?

---

Sundae Monday Jan 23 01:12 PM

Monster has found pubic lice.
Don't get to say that every day.

---

Aliantha Monday Jan 23 06:39 PM

That looks like eyelashes to me...

---

Gravdigr Monday Jan 23 07:09 PM

---

dave74 Tuesday Jan 24 12:21 AM

Crab Ejecta but Sand Dollars better!

Got to see crab ball ejects in Mexico and Malaysia. Same random thrown pattern, sometimes with access paths. But on Cherating Beach (Malaysia's East coast) there were hairy sand dollars that cruised just below the wet sand, forming abstract patters and looking weird.

---

xoxoxoBruce Tuesday Jan 24 12:26 AM

They cruise under the sand? Cool, I'd like to see pictures of that if you have some, dave74. Oh, and welcome.

---

HungLikeJesus Tuesday Jan 24 09:56 AM

I hope you stick around longer than Dave1 through Dave73.

---

Ibby Tuesday Jan 24 07:36 PM

I've seen them before. Are they only in Malaysia and Australia? I musta seen 'em in Port Douglas i guess.

---

xoxoxoBruce Wednesday Jan 25 02:32 AM

He didn't say only, just those are the two places he saw them.

---

ZenGum Wednesday Jan 25 05:54 AM

You might well have seen them in Port Douglas.

---

CaliforniaMama Thursday Jan 26 11:33 AM

---

SPUCK Friday Jan 27 05:29 AM

Eeeeeew.

---

BigV Friday Jan 27 02:38 PM

Attachment 37031

---

SPUCK Saturday Jan 28 06:07 AM

Oh yeah!! Totally.


Mmmm burgers...

---
Your reply here?

The Cellar Image of the Day is just a section of a larger web community: a bunch of interesting folks talking about everything. Add your two cents to IotD by joining the Cellar.