CaliforniaMama Tuesday Dec 6 12:16 PM

December 6, 2011 Japanese Garden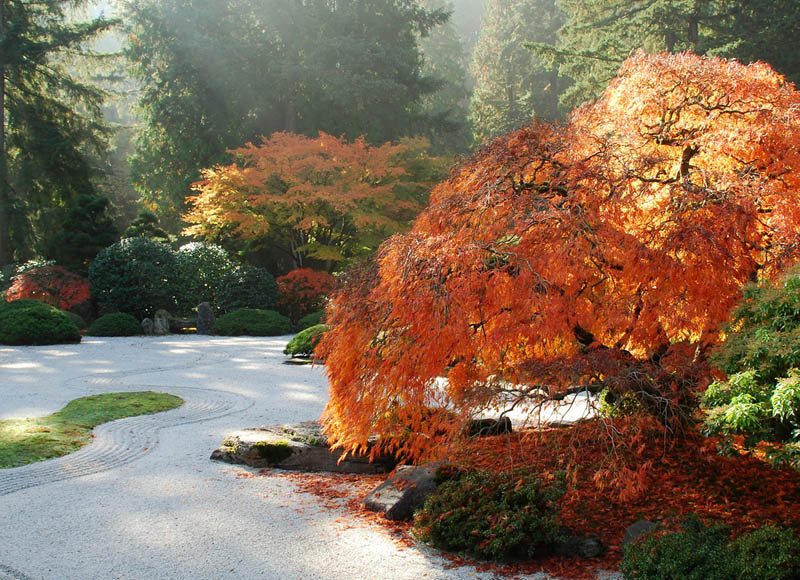 This stunning Japanese garden is in Portland, Oregon.

Traditionally, the art of creating a Japanese garden was passed down from sensei to apprentice. That is starting to change. Now the art can be learned in a trade school.

The garden above is a rock garden or dry landscape. In Japanese, it is called karesansui. There is no water in this type of garden. Sand or gravel is used to represent the water elements instead. Stone and shaped shrubs represent mountains and other land elements. Moss represents land that is covered with forest.

Karesansui gardens are often, but not always, meant to be viewed from a single vantage point, from a seated position.

Photograph by Stephen Gray

via Twisted Sifter

---

Spexxvet Tuesday Dec 6 12:48 PM

Somebody get the m-effing leaves out of the m-effing sand trap!

---

Trilby Tuesday Dec 6 01:20 PM

having that hit of orange on my eye perked me up.

Orange is gooooood color.

---

Lamplighter Tuesday Dec 6 02:07 PM

These Japanese Gardens were developed in the old animal display areas of the old Portland Zoo.

The new Zoo is on the other side of the park, and there's a small gauge train that runs between them.
The gardens are well worth the visit at any time of the year,
and there are great views of Portland down below the hillside.
We Portlanders are very proud of Washington Park.

---

richlevy Tuesday Dec 6 08:39 PM

I think I have a picture of that same tea garden on the inside of my tea chest at work. I found it on the Internet, got permission from the photographer, and made a large picture. The one I have is of a bridge and the foliage is various shades of green, which matches the tea chest and the walls of my cube.

---

xoxoxoBruce Tuesday Dec 6 08:51 PM

Philly's got a wet one.

---

ZenGum Tuesday Dec 6 10:38 PM

That is very beautiful, but by Japanese standards, those leaves are a disgrace!

One temple I visited in Kyoto (Ginkakuji, I think, Silver temple) has about 30 gardeners, I saw four at work whose full-time job appeared to be using a dust-broom to remove fallen leaves from the moss beds.

I think that mayvbe they overdo these things. I like the leaves.

---

xoxoxoBruce Wednesday Dec 7 10:05 PM

Disgrace? The hell you say, thats the right way, the American way. What do you think WW II was about, anyway? Some raw materials or silly world domination shit? Pshaw!

---

ZenGum Wednesday Dec 7 10:10 PM

You razy decadent westerner! You rake reaves rike proper gardener! Order brings harmony! If nail stick up, get hammer down. Leaf fall down, get sweep away. Bonsai! Bonsai!




---

xoxoxoBruce Wednesday Dec 7 10:26 PM

No no, you see we won. And don't get on your high Kangaroo, because you were a co-conspirator.

---

monster Wednesday Dec 7 11:12 PM

I wanna see the Hello Kitty Tree....

---

Big Sarge Wednesday Dec 7 11:52 PM

So nice to focus on Japanese gardens at this time of year (70th Pearl Harbor Anniversary approaching)

---

xoxoxoBruce Thursday Dec 8 12:21 PM

In August, did you slap the Brits for burning Washington DC?

---

infinite monkey Thursday Dec 8 12:25 PM

Approaching? The 'date which will live in infamy' was almost over when you posted that.

---
Your reply here?

The Cellar Image of the Day is just a section of a larger web community: a bunch of interesting folks talking about everything. Add your two cents to IotD by joining the Cellar.