xoxoxoBruce Monday Nov 28 10:21 PM

Nov 29, 2011: Chatham, MA

I was visiting a friend in Chatham, MA, this past weekend. Most of you may not know, Chatham is on Cape Cod. It's a beautiful day, top down weather (my vehicle, not my friend), so we take a ride out Shore Road to the Chatham Lighthouse.

Shore Road is populated with mostly older houses, in either weathered cedar shingles (shakes) or painted gray with white trim. Most have tiny front yards, and many have white picket fences. I'm told they are owned by very old families, or have been bought by lesser millionaires who use them and sometime rent them for several thousand dollars a week.

And then...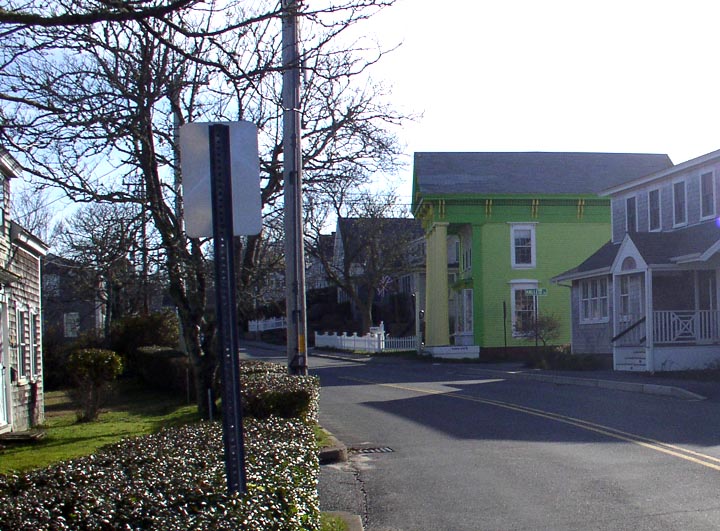 And from a dead end drive to the water...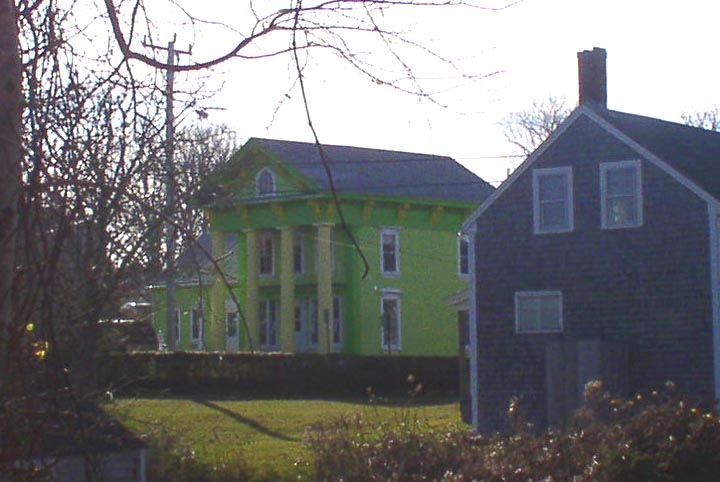 Sorry about the quality, shooting into the Sun.



The story I got, was somebody bought this house and applied for a permit to move it back from the street 10 feet. You can see the corner of the house comes right out to the curb. I checked out the back yard, and it'd pretty big for that neighborhood. So it's a reasonable request, as I see it, and shouldn't be a big deal except for the considerable expense to the owner.

But Nooooooooooooo!
The local We've-got-ours-fuck-you Committee turned down the permit application.

Hmmm, what to do...what to do???
They painted it yellow & green like my mother's '56 Chevy...
and donated it's use to <strike>Retarded<strike> Developmentally Challenged Support Groups...
from out of town.

Fuck me? Noooo, fuck YOU.



Now before you start in with what a wonderful thing to do for the Support Groups, stifle it. That's not the point.

---

monster Monday Nov 28 10:39 PM

they shoulda gone for poor as fuck economically challenged groups from Detroit and similar evirons. Some form of "rehab".....

---

monster Monday Nov 28 10:40 PM

and by "rehab" we mean see how much better pickings there are outside of our city? Now get the fuck out and stay out

---

footfootfoot Monday Nov 28 11:50 PM

I love "spite" houses. There should be a coffee table book of pictures of them with stories.

It would fucking sell out.

---

Trilby Tuesday Nov 29 07:55 AM

all we need to do is pitch the idea to a publishing house, get the $$$$$ for research (we'll have to do a cross-country trip and it will take around - what? - three years?) and then take another year to sort and file and voila! After four years of subsidized travelling and fun, we become celebrated authors and literally roll in money and accolades!

Let's do it!

---

Sundae Tuesday Nov 29 08:38 AM

Bri! It's the idea we've been waiting for!
Please say you already have me flagged as a Research Assistant?
An American roadtrip is right up my alley.

---

Trilby Tuesday Nov 29 08:53 AM



---

Sundae Tuesday Nov 29 09:00 AM

Yebbut, I'd be the furriner who charms the locals out of their stories.
There's no harm in telling this English lady about local disputes, not like anybody we know would get to hear...

Now. Who's driving?
No, silly question. It's Bruce.

---

infinite monkey Tuesday Nov 29 09:19 AM

Can I be the drunken companion you'd really like to get rid of but just don't have the heart to? The one who needs all the bathroom stops? And who you lose from time to time but I always seem to catch up in the next town?

We can start with the grandpappy of spite signs, here in my town:

(My Town) Protocol: Bend Over, Grab Ankles.

Erected by a disgruntled homeowner over the same sort of thing. I went by it after Thanksgiving. It's faded and worn but you can still read it! The city tried to make him take it down but the guy followed the rules on placement and erection.

---

Sundae Tuesday Nov 29 09:24 AM

Babba, we Strawberry Festival Queens travel together.
You're already on the list.

Although I think we're looking at an airstream trailer now.
Hey - we're going to need ice!

---

infinite monkey Tuesday Nov 29 09:26 AM

The world will never be the same!

What a hoot.

Come on, let's follow our bliss. I have nothing to lose!

---

blueboy56 Tuesday Nov 29 01:53 PM

Sorry, no photo, but the large sign on the front door of a cottage out here clearly said "GO AWAY". I loved it and am tempted to go to the local sign people and have one made for me.

---

Griff Tuesday Nov 29 04:39 PM

---

Trilby Tuesday Nov 29 04:44 PM

What? Is that a bra size req??

---

Diaphone Jim Tuesday Nov 29 07:06 PM

It is hard to believe some dickhead paid a million bucks for that crackerbox and then didn't like exactly where it was on the lot.

---

Griff Tuesday Nov 29 07:07 PM

Designated Driver

---

Aliantha Tuesday Nov 29 08:18 PM

That's the best (and most expensive) 'fuck you' I've ever seen.

---

aero geek Tuesday Nov 29 09:15 PM

Google map:

1 Hallett Lane, Chatham, MA, United States

and click the street view.

It's white when the image was taken. Before shot, I guess.

---

ZenGum Wednesday Nov 30 06:13 AM

[complete tangent]

A few day ago a mate and I wanted a pizza froma particualr shop but we couldn't remember the name of the shop, so we used google Earth street view to drive along looking for it. Got the name, googled for their menu, ordered pizzas all good. We had noticed on google street that there was some hard rubbish out for collection across the road, a white box like a microwave and some other junk.

When we went to get the pizza ... across the road ... hard rubbish out for collection, including a white chest of drawers and some other junk.

How often do they update that shit???

---

Spexxvet Wednesday Nov 30 02:56 PM

My house is still the original pic, from several years ago.

---

Griff Wednesday Nov 30 03:15 PM

---

ZenGum Wednesday Nov 30 06:07 PM

good point.

---

SPUCK Thursday Dec 1 07:10 AM

I'd have thought they could've come up with a more shocking paint job than lime green. Candy apple red. Or purple. Or International Orange.

Heard of "vibrating colors"? Paint the house with those so it even screws with peoples vision.




May something moving?




Or just go with a junk look:



Or




How about:

---

xoxoxoBruce Thursday Dec 1 07:18 AM

---

BigV Saturday Dec 3 01:03 PM
Attachment 35641

---

wolf Saturday Dec 3 02:36 PM

---

xoxoxoBruce Sunday Dec 4 10:46 AM

---
Your reply here?

The Cellar Image of the Day is just a section of a larger web community: a bunch of interesting folks talking about everything. Add your two cents to IotD by joining the Cellar.