CaliforniaMama Wednesday Nov 23 10:06 AM

November 23, 2011 Turkey Farm

(Apologies to peoples of the world - here is yet another American holiday.)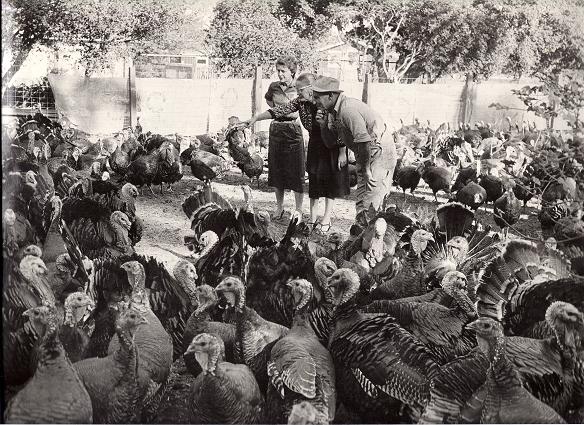 Before I was born, my aunt (my mother's oldest sister) and uncle owned a turkey farm. During the holidays, customers (pictured above) would come and pick out their turkey. My aunt, uncle, mom and other relatives would "dress" (pluck the feathers and all that) the turkeys and prepare them for the customers.

This photo was taken by the local newspaper photographer for a newspaper feature on the turkey farm. This was probably the mid 1950's.

My uncle immigrated from the Azores as a teenager. He had only a few dollars in his pocket. He obtained some kind of menial job. He saved what he could and used the money to buy a few turkey chicks. He raised the turkeys and sold them. He used the profit to buy twice as many chicks the next year, and so on, until he had a full-fledged farm.

When he felt he was making enough money, he went looking for a wife. People in the community told him about my grandmother, a young widow. He went calling. (Imagine having a man knock on your door to see if you would marry him when you'd never even met him before!)

She turned him down. She wasn't interested in marrying again. However, my aunt saw a good prospect and spoke up saying that she was available and interested. And so began a love story.

My uncle went looking for a widow with children and ended up with a much younger, beautiful, virgin bride. They lived happily together for more than 25 years.

He was my favorite uncle and my Godfather. I have his old-fashioned, hand-painted-on-curved-glass portrait hanging near my bed.

---

infinite monkey Wednesday Nov 23 10:10 AM

:applause:

That is wonderful, CaliMama. What a neat piece of personal history. Thank you for sharing that!

---

glatt Wednesday Nov 23 10:10 AM

Excellent IotD!

---

Spexxvet Wednesday Nov 23 11:05 AM

Personal IOTDs are the best IOTDs. Thanks.

---

Nirvana Wednesday Nov 23 11:10 AM

fabulous!

---

Griff Wednesday Nov 23 11:17 AM

Here is Harriet Jones PM the unflappable survivor.

---

classicman Wednesday Nov 23 12:13 PM

Thats a great story and a wonderful piece of history. Thanks for sharing Calimama.

---

Clodfobble Wednesday Nov 23 12:20 PM

---

dmg1969 Wednesday Nov 23 12:20 PM

Very cool, CaliforniaMama! And love the pic.

---

glatt Wednesday Nov 23 12:45 PM

When our firstborn was in daycare, she had an Indian lady taking care of her in her own home. We met the entire family, and they were very nice. Their marriage was an arranged one, and they genuinely loved each other. You could see it in the way they talked to one another and talked about themselves. They showed us their wedding pictures and talked about their arranged marriage about 15 years earlier. They said that they learned to love each other after being matched up by their parents. It was pretty neat.

---

infinite monkey Wednesday Nov 23 12:46 PM

Griff, is that your turkey? It's really cool looking!

Ya know, I miss the Muscovy Duck that used to hang around the river. In fact, I miss all the white ducks too. I don't know where they all went, but one by one they disappeared.

---

Griff Wednesday Nov 23 02:29 PM

Yeah, she's a Royal Palm. Nice bird.

---

BigV Wednesday Nov 23 02:55 PM

Seems like it would be pretty easy to catch an unflappable bird. Drumsticks, baby!

---

hipshot Wednesday Nov 23 10:10 PM

What a nice Thanksgiving tale (except for the turkeys...) Thanks for sharing.

Was the turkey farm in the Central Valley? I am in San Joaquin County, and we have quite a few turkey farms in the area.

---

aero geek Thursday Nov 24 12:29 AM

---

footfootfoot Thursday Nov 24 01:05 AM

The Azores were the best place I've ever visited. What a great story! Thanks for sharing that.

---

SPUCK Thursday Nov 24 06:50 AM

Nice story indeed.

There was a turkey farm up the road from me. We used to deer hunt (archery) next to it. There were always feathers everywhere. The farm had about 8,000 turkeys. They all roamed around in the fields and ate from a really long metal trough. We have lightning storms about once every two years here. They usually consist of about 5 bolts and that's it. The next year we arrived to hunt and there were no turkeys, lots of feathers, but no turkeys. We asked the guy where they were and he told us a bolt of lightning hit their trough. It killed about 85% of them so the guy threw in the towel. Really sad. Free range turkeys.. They aren't very common anymore.

---

CaliforniaMama Thursday Nov 24 08:33 AM

---

CaliforniaMama Thursday Nov 24 08:38 AM

It was the only one in town. Ask any old-timer or almost-old-timer and they usually remember Terry's Turkey Farm, along with an anecdote of getting a turkey or having eaten a turkey from there.

---

Griff Thursday Nov 24 08:50 AM

I'd like to get a little free range flock going. Pen raising turkeys makes for a lot of concentrated poo. Cool story Calimama it was a different time, even the turkeys were different no broad-breasted white there. The modern industrial turkey is a marvel putting on like 25-30 lbs from July to Thanksgiving, but the disease potential is pretty high.

---

sandypossum Friday Nov 25 04:03 AM

We have chooks, ducks, geese and guinea fowl. I've thought of getting some turkeys as they can be quite spectacular, but neither of us likes turkey meat, so it seems a little pointless.

---

CaliforniaMama Friday Nov 25 08:13 AM

What were turkeys like before?

---

Griff Friday Nov 25 08:51 AM

They grew much more slowly and didn't get terribly big. The birds in your picture look like Bronzes. Harriet Jones, a Royal Palm, is also a traditional breed bird, but less improved. She and the Bronzes are as capable of normal reproduction as the wild turkey they are all descended from. I helped butcher 75 broad-breasted whites at my uncles farm last week. He has been shortening the amount of time they spend on the farm. This year he took delivery of chicks the first week of July and all the birds were big enough to butcher. They seem to grow until their hearts give out, so it is important not to take delivery too early. They need human intervention to reproduce.

---
Your reply here?

The Cellar Image of the Day is just a section of a larger web community: a bunch of interesting folks talking about everything. Add your two cents to IotD by joining the Cellar.