sandypossum Monday Oct 31 03:13 AM

Oct 31, 2011: Stones with Faces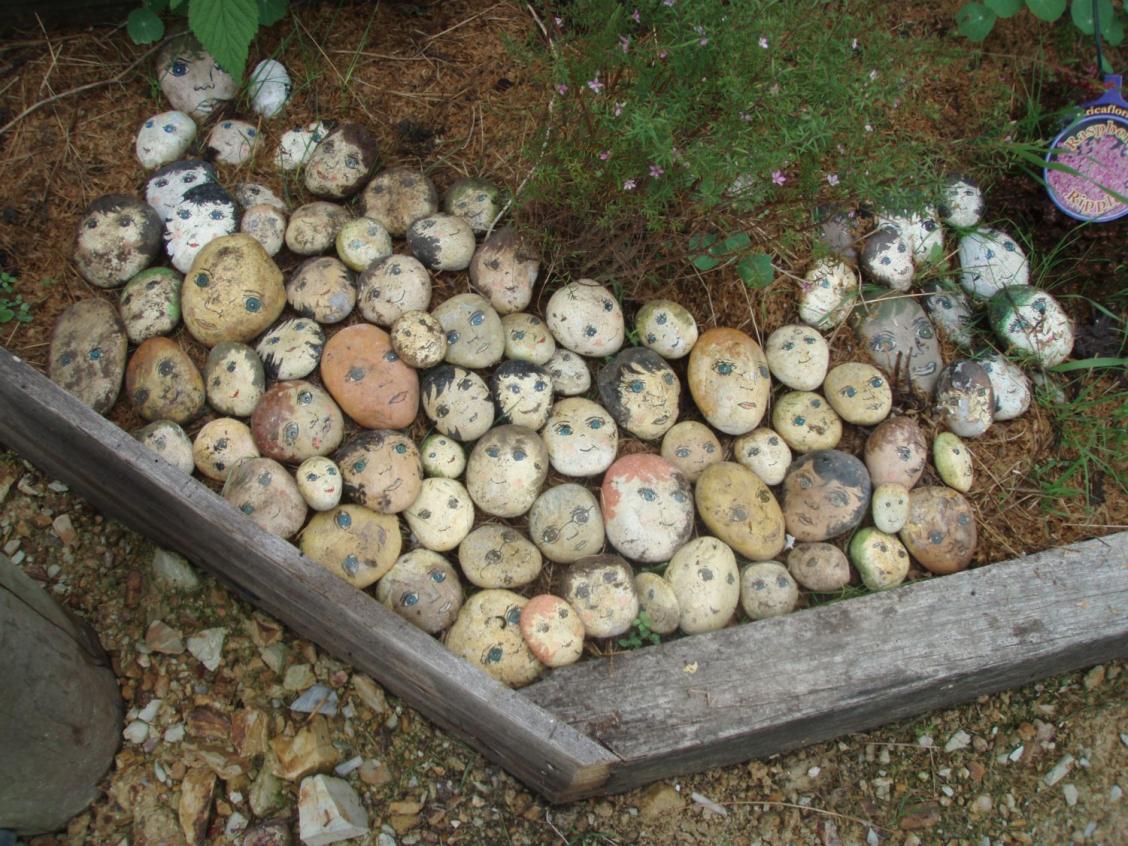 Is this okay as an IOtD?

We moved to our farm three years ago. Now and then we found a stone in the garden with a face painted on it. Cute, we thought. We imagined one of the previous owners had painted one for each person in their family and placed them around the garden. A few months ago we emptied the soil out of an old bath tub that was functioning as part of the old vegie garden. As I dug my hands into the soil I grabbed onto what I thought were potatoes, but they turned out to be more stones with faces. Lots of them, in all sorts of sizes. It was a tad creepy! And then last weekend, at the back of the wood shed, I found an old bucket, sunk into the ground, full of more stones with faces. Here's a shot of them. Why why why would you go to the bother of painting faces onto stones - all different - and then bury them? I feel a horror movie plot coming on...

---

sandypossum Monday Oct 31 03:15 AM

Could someone with more competence than me embed the photo please? It shows up in the thread, but not on the main IOtD page. Ta!

---

ogwen69 Monday Oct 31 04:47 AM

<IMG SRC="http://cellar.org/attachment.php?attachmentid=35016&stc=1&d=1320044948">

---

Trilby Monday Oct 31 07:01 AM

Why?

Voodoo.

Those are pretty cool, sandy. I think it's some sort of message...I like it. I might start doing it here at my house.

Those look like happy faces - not tortured, voodoo faces.

I think it's a good omen! Can you research the history of the farm?

---

infinite monkey Monday Oct 31 08:18 AM

Wow!

What a fun mystery!

---

glatt Monday Oct 31 08:23 AM

Creepy. A perfect IotD for Halloween.

---

Aliantha Monday Oct 31 08:25 AM

I think it's one for every body they buried in the yard.

Better not dig too deep!

---

sandypossum Monday Oct 31 08:49 AM



And some stones' paint is peeling off; what would be the meaning of that?

But seriously, I'm kind of concerned that exposure to the light may make them deteriorate. On the other hand, I can't bring myself to bury them again!

---

sandypossum Monday Oct 31 09:03 AM

I was wondering if they were a fad at some time long ago, like macrame. The style of the face painting looks old fashioned to me, but I wouldn't know how to date them.

---

Aliantha Monday Oct 31 09:11 AM

Do the words Wolf Creek mean anything to you?

---

wolf Monday Oct 31 09:14 AM

I'm just going to go right out on a limb and suggest someone with a major mental illness lived in that house at some time.

yeah, it's not much, but it's all I got.

As far as you know, was there a childless woman ever living in the house?

Oh, and let us know if you've disturbed the restless and probably malevolent spirit that those were keeping down, would you?

---

HungLikeJesus Monday Oct 31 09:50 AM

Yes, that's definitely creepy and appropriate for today. Thanks!

---

infinite monkey Monday Oct 31 10:01 AM

One halloween when I was in HS, we had grown pumpkins in the garden and had a bunch of them sitting on the front porch, for sale.

One night I heard some noise on the front porch. I turned the porch light on and looked out...most of the pumpkins had been carved (not even removing the innards, just some fast face making, and one that had the word "beer" carved into it) and they were all lined up facing the front door.

I thought it was pretty good. I'm pretty sure it was my neighber...the Neighbor "Hood" who I actually kind of liked even if everyone else called him Damian because he, well, looked like Damian!

---

CaliforniaMama Monday Oct 31 10:12 AM

The eyes are most striking to me. They seem so . . . I don't know . . . piercing?

It also seems like there is more than one rock of the same person, or there are several who look similar. Such as the girl with the dark whisps of hair.

I also see more than one race - such as the guy with the glasses in the 2nd row from the bottom. There seem to be two of him side by side.

I can imagine how weird it would be to think you are pulling up potatoes and you pull up these rocks! It does seem kind of creepy since you don't know the history.

It's amazing that they have stayed in such good condition after having been buried for so long. You would think the water and bacteria in the soil would have deteriorated the paints more than they did.

(Why did the initial post come out wider than the rest of the posts?)

---

footfootfoot Monday Oct 31 10:54 AM

Sandy, check out this link: http://en.wikipedia.org/wiki/Outsider_art

Have you heard of Outsider art? You could be sitting on a gold mine. Get that to a proper art gallery.

---

Clodfobble Monday Oct 31 11:23 AM

The burying to me suggests the desire to put it out of one's mind, to get rid of it but not in a destructive way. Many forms of therapy suggest turning a stressful event or person into a totem of some sort and physically removing or breaking it to help eliminate the mental fixation. I'm picturing a person--probably a woman--who has a difficult time with anger, or anxiety, and has been taught to habitually "bury" whatever issue is bothering her at a given time. Especially since many of the faces do seem to be repeats.

---

HungLikeJesus Monday Oct 31 11:32 AM

Some of them appear to be stained with blood.

---

Diaphone Jim Monday Oct 31 12:55 PM

The shape of the rocks is pretty uniform. Is there an obvious local source?
All blue eyes.
Simple technique, maybe minutes to produce.
I'd guess a kids' game with no value to prevent disposal in the yard.
By all means, let us know if you find anything more about them.

---

Trilby Monday Oct 31 01:49 PMsaid.

Voodoo.









they really are very cool. I'd have some local art person look at them like footy said. They are very...haunting

---

classicman Monday Oct 31 04:20 PM

That is so awesome. How very interesting.

---

Sundae Monday Oct 31 05:31 PM

What an amazing and timely IoTD.

Although if this was a film right now I'd be moaning at the screen, "Just move out! Please! Go!"
Keep yourself safe.

---

burns334 Monday Oct 31 06:57 PM

Rock face


My daughter created this one when she was a little girl, I keep it in the flower bed and think of her when I see it.

---

sandypossum Monday Oct 31 06:57 PM



We live in Fish Creek!





Incidentally, the majority seem to be female, but some are definnitely male.

And since you're our IotD gal:


---

sandypossum Monday Oct 31 07:00 PM

OMG burns334! It's good you know your daughter did that and that it gives you happy memories. If I had found one like that amongst my stones I would truly have seriously considered moving out!

---

burns334 Monday Oct 31 08:53 PM

Sandy, she was 12 or 13 yrs old and majored in art in college. I looked at your stones as just some child fooling around with paints. I'll show yours to her and see what she thinks. I'm not really sure she remembers the stone I have.

---

HungLikeJesus Monday Oct 31 09:08 PM

She was quite precocious.

---

ZenGum Monday Oct 31 10:29 PM

Wow, whoah, whooooo! Freaky, creepy, yet fascinating.

Building on what Wolf, Brianna and Clod have said, perhaps the mentally ill repressive woman doing symbolic self-psychotherapy was not just childless, but also had had a number of miscarriages.

[/makingstuffup]

---

sandypossum Monday Oct 31 11:51 PM

And hey, it just occurred to me that your daughter put Amy Winehouses's face on the stone! The shadow gives it a nice beehive hairdo.

Also, I just found this link, in particular the quote

Sometimes, when I read about some ancient curiosity being dug up, I wonder if it isn't anything significant or mystical at all, and is just something banal that somehow lasted better than other more significant things that were done at the time, e.g. maybe the cavemen kids used more durable paints to draw bison on the cave walls, and the ones the adults did - incredibly realistic ones, or ones with explanatory diagrams, got lost because they preferred to use other paint.

---

ZenGum Tuesday Nov 1 02:24 AM
Are there any unpainted but rounded stones on the farm? Or are the painted ones the only round ones?

I'm trying to establish whether the person grabbed whatever stones were handy, or went and got stones and brought them home to paint, or went somewhere and painted the stones and brought the finished ones back.

---

sandypossum Tuesday Nov 1 03:28 AM

I feel compelled to get to the bottom of this now for all of you as well as me! Will do my best in the next few weeks. I think if I phoned locals to ask they would put me on the "weird newcomers" list once and for all - we've only been here for 4 years.

---

limey Tuesday Nov 1 05:44 AM

This is so interesting! I want to know more!

---

CaliforniaMama Tuesday Nov 1 08:06 AM



I picture a male (in overalls), not quite a "man," who buried them surreptitiously. Maybe embarrassed, or to hide them, or to keep them safe in a "taking care of them" kind of way.

I can imagine them being painted as the happy souls of people who were possibly hurt in some way by the painter. He was sorry he hurt them or wanted to remember them in their happy, or nomal, way.

Or, maybe they are just people he loved and admired, but in a quiet, shy way.

(Ooooh, my imagination is running away with me!)

It feels very 1940-1950ish to me. Maybe even earlier.

I wonder if we'll ever know?

It is fun to see the different impressions we all have!

---

burns334 Tuesday Nov 1 09:18 AM

Sandy, I think they are just the medium the artist worked with, many of the faces are the same person, maybe you could sort them by person and see how many different people are there.

---

ZenGum Thursday Nov 3 10:33 PM

Very interesting idea.

Lay them all out on a table, in rows of similar faces. You'll see how many different ones there are, and how many times each one comes up, which would give you an idea of who/what this person was obsessing about most. Are there lots of childlike ones? Lots of adult-looking ones? male or female? That sort of thing.

ETA: please do this before 2012, or after it, but not during it. This is the sort of thing that could open a portal to an alternate dimension or something.
Don't arrange them in a pentacle. Please.

---

sandypossum Friday Nov 4 03:15 AM

I'll see about time to sort out the faces. It's farm here guys! A small one by Australian standards perhaps, but still a farm, with weeds and fencing and hanimals and so on.

One thing: I've noticed that the paint is definitely affected by being exposed to the sun and/or air. I've thought of burying them again, but then it will just happen all over again to someone else.

---

CaliforniaMama Friday Nov 4 09:51 AM

---

ZenGum Friday Nov 4 07:50 PM

Is it time to start calling them "soul-eggs" yet?



And perhaps you could drape a hessian bag or something over the stones to protect them from the sun, SP. I'd take care of these things until you've actually decide not to. Don't neglect them, I mean.

You wouldn't want to make them angry.

---

CaliforniaMama Saturday Nov 5 10:31 AM

It's probably some perfectly innocent thing, like some poor person was an invalid and passing their time painting, or recovering and painting. Then someone buried them because they were creeping them out.

Maybe someone thought that if they buried the rocks it would take the paint off of them and return them to regular rocks.

---

ZenGum Saturday Nov 5 08:00 PM

That's just what they want you to think...

---

Sundae Sunday Nov 6 05:06 PM

Zen

You are at least partly responsible for one of my disturbing dreams last night.
The other is an author with similar ideas, but sadly not delivered as succinctly.

Please desist or I shall have to sue you for distress.

Yrs sinc,
etc etc etc

---

Flint Sunday Nov 6 06:20 PM

Tail post, but did we ever figure this out?

---

ZenGum Monday Nov 7 01:14 AM

It's still a live mystery. It has only been a week.

It's a gneiss little puzzle, if we cobble together the evidence something should come up. Keep at it, shale be right.

---

sandypossum Monday Nov 7 02:05 AM

I live in rural Australia and things move slowly here. If I try to rush about and get people to tell me what they know about it, it just won't work. As I previously mentioned, I can't ask the last owner of this place as she is still suffering a sort of post traumatic stress at having had to leave this place and - even though it had nothing to do with us, we just bought the place - whenever I see her, her face freezes with a smile and then she flees, so I think I'd be pushing things if I asked about the stones, as it could indeed be something she, or her greater family, did here. I plan to suss it out with our neighbours and those of her friends that I know. I've already asked two lots of neighbours (and bear in mind that our neighbours are not all THAT close geographically) and they knew nothing of it. I considered getting the local newspaper to take a photo and ask in an article if anyone knew about them, but my worries about the last owner again make me hesitant.

Rest assured that I shall most definitely post a message as soon as I find out anything at all!

---

ZenGum Monday Nov 7 06:25 AM

I wouldn't do the newspaper thing. If this is to do with some personal psychotherapy, it would be very embarrassing to have it all come out publicly.

In fact, this might be why the previous own freaks out when she sees you. "She must have found them. Has she found them? How many has she found? Dear God, does she know?"

Sorry, Sundae.

---

wolf Monday Nov 7 07:19 PM

Can you get one of the neighbors that the previous owner isn't scared of to ask?

---

sandypossum Monday Nov 7 10:07 PM

Yes yes yes, people! I promise I will keep on trying!



---

Flint Monday Nov 7 11:30 PM

---

BigV Wednesday Nov 9 11:52 AM

I hated the original, also picnic at hanging rock.

---

Sundae Wednesday Nov 9 03:58 PM
Only some bizarre DVD footage of Nicholas Cage punching a woman.

---

sandypossum Thursday Nov 10 12:53 AM

Will see the ex-owner tonight at a meeting and will try my best to raise the issue with her in a casual sort of way... "Oh hi, would you like a biscuit with that cuppa, and what's with all the creepy stones with faces?" something like that.

Stay tuned.

---

ZenGum Thursday Nov 10 02:50 AM

Spooky movie ... Wickerman ... picnic at hanging rock.

I wouldn't raise the issue this time. Build rapport. If she comes out with it, great, if not, some other time.

ETA: or, sod it, bring a couple of the stones and drop them on the table. "WTF are these?"

---

Clodfobble Thursday Nov 10 09:38 AM

That's actually a good idea, Zen--bring just one with you, say you found it and wanted to give it back to her in case it was a little memento lost in the yard by one of her children (or nieces/nephews if she has no kids.) That way, she doesn't have to panic thinking you found all of them, if it turns out they're hers and she's embarrassed.

But you're half a day ahead of us, so I'm too late anyway. Eager to hear what she said, sandy!

---

BigV Thursday Nov 10 12:21 PM

---

Sundae Thursday Nov 10 02:53 PM

We know all there is to know about rocks in Australia.
Men At Work and Uluru.

---

sandypossum Thursday Nov 10 04:52 PM

(drum roll....)

Okay, so I went to the meeting, met said lady, and basically did what ZenGum suggested: pulled one of the stones out of my pocket, and said "o hai, WTF are these?" And she told me.

But my other half says it would just spoil everything if I told you. As Winnie-the-Pooh wisely pointed out: there is a moment just before you eat the honey that is better than actually eating the honey.

---

infinite monkey Thursday Nov 10 04:53 PM



sandy, you are awesome!

---

Undertoad Thursday Nov 10 07:21 PM

---

Aliantha Thursday Nov 10 07:41 PM

His farm is on the side of a mountain that was a fairly recently active (in geological terms) volcano, so there's rocks everywhere on his place. In order to create better grazing for his cattle and ease of access in the little bush basher he drives around in, he chucks all the rocks into piles about the place.

Anyway, I said that one day when a new age of civilization comes along, they'll find these piles of rocks and attribute some meaning to them rather than just say, hey, that's just a pile of rocks.

---

burns334 Thursday Nov 10 09:24 PM

Sandy, you've got us on the edge of our seats, do tell!!!!!!!!!

---

HungLikeJesus Thursday Nov 10 09:39 PM

SP - this must be important; burns334 has only posted 11 times in seven years, and four of those have been in this thread.

---

Aliantha Thursday Nov 10 09:48 PM

Maybe Burns is the owner of the stones and has been waiting all this time for this thread to appear...

---

ZenGum Thursday Nov 10 09:50 PM

Clearly, the truth was too terrible to know, and Sandy has been driven insane. She had one chance to tell us, but her soul is now in the possession of the stone-face god.

The truth will never come out.

---

Aliantha Thursday Nov 10 09:53 PM

unless burns tell us

---

ZenGum Thursday Nov 10 09:55 PM

Then we'll ALL be driven insane.

Well, more insane.

---

infinite monkey Thursday Nov 10 10:45 PM

There has to be a secret Phrase or soMething?

Imma try that.

---

HungLikeJesus Thursday Nov 10 10:47 PM

I keep thinking that this is a thread about Ronnie Wood.

---

sandypossum Friday Nov 11 12:32 AM

Did I ever mention that I have one Japanese and one German parent? (directly-from, not descendants-of) so that means I'm genetically inclined to enjoy watching people squirm



But the truth is that the response was so banal that it seems a shame to give it away when there are still some Cellarites who don't even realise yet that I know but am withholding. May I have just a little more squirm please?

I promise to tell tomorrow.

Oh, you're all going to feel so let down.

---

ZenGum Friday Nov 11 02:14 AM

You do realise, of course, that this simple explanation is just a cover story for what really happened.

Heck you'll probably think those stones are cute, maybe even bring a few inside, decorate the living room. All will be fine ... for a while ... until ... it ... begins ...

---

Trilby Friday Nov 11 07:14 AM

Sandy for the love of gawd please tell us!!!


PLEASE!

I need this in my insignificant little life so I don't just chuck it all in!

tell us! Please tell us!!!

No matter how 'banal' you think it is - it might have meaning for someone else!

tell!

---

infinite monkey Friday Nov 11 10:57 AM



You're killing us here, sandy!

I like banal. My whole life is banal! I'm thinking of changing my last name to Banal!

Telllllllllllllllllllll!

---

Spexxvet Friday Nov 11 03:10 PM

She said tomorrow. Now you two just keep quiet or you'll get no dessert.

---

Sundae Friday Nov 11 03:24 PM

Don't tell Sandy.
Honestly, I mean it.

You know, so there isn't anything spooky or dangerous about it.
But there is no reason we have to know, aside from curiousity.
And why should we be indulged?

Give us some mystery in our lives.
We have precious little these days.

---

sandypossum Friday Nov 11 08:00 PM

Sorry Sundae, I gave my word, so there's no going back!

Well, she looked at the stone and started smiling, and said she used to go down to the coast and collect buckets full of these stones. She used to paint animals on them - presumably to sell - but her 14 year old daughter (you were right, Burns) painted all the ones with faces. She said she made them into families, with different nationalities, and would play games with the different families of stones. She said there had been about 3 buckets full of the faces. She was surprised that I had found them though. I'm guessing this would have been about 30-40 years ago.

What I forgot to ask was how they came to be buried in the bath tub of soil.

I came home and went over to the stones to have another look at them, to see if I could pick out the various families, and... they were all lying face down. Now THAT is weird.

---

Nirvana Friday Nov 11 08:33 PM

SP this definitely a Stephen King book! Children of the Stone!

---

Clodfobble Saturday Nov 12 07:51 AM

What she neglected to mention, of course, is how her 14-year-old daugher tragically drowned in the bathtub!

And afterwards, the little stone families kept moving when no one was looking, and at night you could hear them sliding around on the ground, and a little girl's voice faintly laughing and playing with them, until they got so afraid that they buried the bathtub and all of the stones together in the ground to get away from them.

But they buried all three buckets of the stones with the bathtub, of course. There's no explanation for how so many of the stones got out into your garden, and under your house, and...

---

Sundae Saturday Nov 12 08:19 AM

OMG I am going to have to put this thread on ignore.

---

ZenGum Saturday Nov 12 05:58 PM



---

footfootfoot Saturday Nov 12 06:06 PM

Sounds like a case of pranksterish mates.

---

sandypossum Saturday Nov 12 07:30 PM

I forgot to tell you all that I also mentioned to the lady that I had posted it on an internet forum and that it had sparked a lively discussion about possible meanings. To my alarm, she said "oh I'd love to see that! Can you send me the link." Link? Not "can you show it to me" or "is there any way I could see that?" Oh dear. I realised that I had said things she might find appalling (eg about why she had to sell up) even if none of you know her. Not to mention the comments about dead babies.

So I sent her a link to the photo on my Flickr page and pasted in all the safe comments from all of you under it, and said alas she can't see the page as it is for members only. Now I can only hope she doesn't think to do a search for the website and find the IotD page.

And if she does... I'M SORRY! It wasn't meant to hurt or offend!

---

sandypossum Saturday Nov 12 07:36 PM

---

ZenGum Saturday Nov 12 07:45 PM

Oh god. Now you've really done it.


Seriously, I can imagine the stones being used for drainage in the bathtub, and likewise if the bucket had been used as a planter.

Back to the fun .. there's still enough ambiguity about why these stones were painted and buried for us to play with. Clod, that is creepy. I can hear the tinkling music-box.

---

sandypossum Sunday Nov 13 04:45 AM



Then we moved the steers to another paddock, and that paddock now has sheep in it. We heard it again. This time it turns out one of the sheep had started doing it. Either our animals have talents or a weird sense of humour.

BTW, we have some WWOOFers staying with us at the moment. Last night one of them, from the Netherlands, said she was once sent a stone with a face carved on one side, together with a sort of chain letter telling her she had to mail it on for good luck, otherwise bad luck blablabla. She didn't bother and kept the stone. So maybe...?

---

limey Sunday Nov 13 06:23 AM

OMG you have a steer with a friend called Porterhouse

---

sandypossum Sunday Nov 13 06:59 AM

---

limey Sunday Nov 13 07:07 AM

Brilliant!

---

infinite monkey Sunday Nov 13 11:26 AM

I, too, think there is way more to the story. Keep us posted. If you can. Muahuauahaaaa!

Oh, and my nieces had a couple cows a few years ago (cows meaning the entire cow genre, I don't know from cow/reproductive abilities names) and named them Chip and Lightbulb. But they ate 'em up yum.

---

burns334 Sunday Nov 13 11:57 AM

---

Clodfobble Sunday Nov 13 02:26 PM

You definitely should, burns!

---

sandypossum Sunday Nov 13 06:27 PMFish heads, fish heads, roly poly fish heads!

---

Flint Monday Nov 14 05:32 PM

---

Aliantha Monday Nov 14 06:41 PM

sandy, was that bathtub the one you were planking on earlier in the year???

---

HungLikeJesus Monday Nov 14 07:06 PM

---

Undertoad Monday Nov 14 07:15 PM

---

sandypossum Monday Nov 14 09:39 PM



---

HungLikeJesus Monday Nov 14 09:48 PM

I can't tell you until tomorrow.

---

Aliantha Monday Nov 14 11:03 PM

---

sandypossum Tuesday Nov 15 12:12 AM

---

ZenGum Tuesday Nov 15 01:22 AM

I'm surprised there hasn't been a stoned-off-your-face joke.

---

SPUCK Tuesday Nov 15 06:22 AM

Well we got our rocks off.

---

CaliforniaMama Tuesday Nov 15 09:39 AM

Too hard for me.

---

infinite monkey Tuesday Nov 15 09:40 AM

It's really aggregating!

---

CaliforniaMama Tuesday Nov 15 10:21 AM

Rock on!

---

Spexxvet Tuesday Nov 15 10:43 AM

I enjoyed A Nod's As Good As A Wink ... To A Blind Horse

---

infinite monkey Tuesday Nov 15 10:44 AM

Or Mix Jagged

---

CaliforniaMama Tuesday Nov 15 11:47 AM

---

HungLikeJesus Tuesday Nov 15 12:53 PM

---

sandypossum Tuesday Nov 15 11:44 PM

Silly me, of course! We had all the clues, but didn't put them together.



rock star of the top strata with a craggy face, who was stoned a lot, and, um, not that's it for me.

---

ZenGum Wednesday Nov 16 01:57 AM

So, we've heard that these stones were *allegedly* painted by a fourteen year old girl.

This does not explain why.

Nor does it explain the manner of their burial. The bathtub thing sounds like a cemetery!

So, this teenage girl, was she ... normal? Was she the sad lonely girl who made these stone because she had no friends? Was she mentally ill? Was she into, maybe satanism, witchcraft, or worse, born-again christianity? Are these her voodoo totems?

In the absence of hard facts (or specific numbers) I think we should just keep making shit up.

---

sandypossum Wednesday Nov 16 06:25 AM



(As long as this doesn't up with me having to ask the same woman if her daughter was a friendless nutter with religious issues.)

---

HungLikeJesus Wednesday Nov 16 08:27 AM

Did you give her a link to this thread?

---

infinite monkey Wednesday Nov 16 08:51 AM

---

sandypossum Wednesday Nov 16 10:09 PM

HungLikeJesus:





---

HungLikeJesus Wednesday Nov 16 10:51 PM

If you don't tell her she'll probably find out when she does the background check.

---

sandypossum Thursday Nov 17 12:14 AM

---

sandypossum Thursday Nov 17 07:10 AM

Got an email from the ex-owner today:





---

Lamplighter Thursday Nov 17 09:30 AM

What a nice email and great ending to the story !

---

Spexxvet Thursday Nov 17 10:38 AM

She sounds like a nice young lady.

---

CaliforniaMama Thursday Nov 17 11:01 AM

Whew!

She sounds like a really cool lady. Thankfully, she took it with good humor.

Thanks ever so much for the fun journey!!

---

infinite monkey Thursday Nov 17 06:37 PM

What a wonderful discovery and subsequent journey via the Cellar.

Thanks for sharing all this with us, sandy!

---
Your reply here?

The Cellar Image of the Day is just a section of a larger web community: a bunch of interesting folks talking about everything. Add your two cents to IotD by joining the Cellar.