CaliforniaMama Saturday Oct 29 11:01 AM

October 29, 2011 The Wet Mummy

Not your average Halloween mummy, but a real live Ming Dynasty mummy!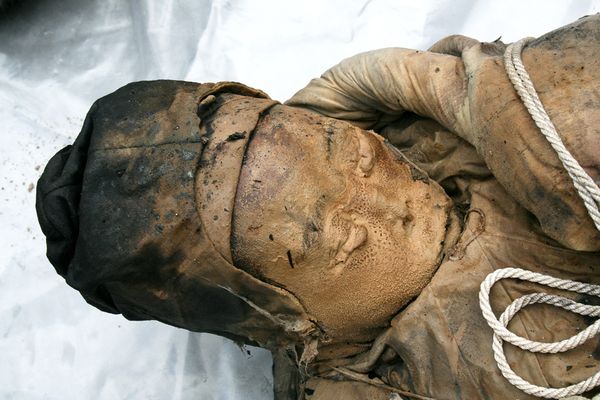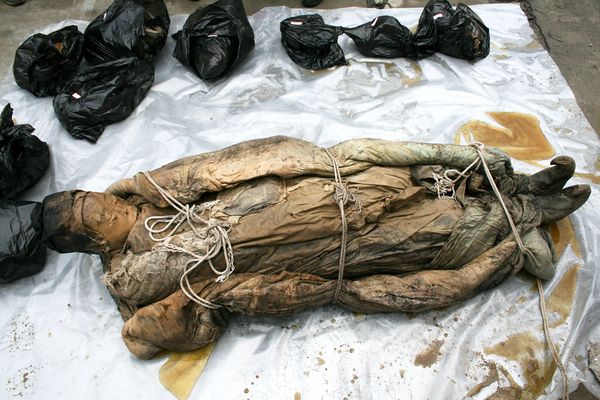 She was a young woman, and very modern with purple hair, probably from something in the water.

She was buried with her exorcism coin, but it didn't keep water from leaking into her coffin. Instead of rotting her body, though, the water actually preserved her, turning her into a wet mummy.

A wet mummy is made when the water lacks oxygen, preventing bacteria from breaking down the body.

Follow the link to see some other great pictures.

via National Geographic

Photograph from Fame Pictures/Barcroft

---

Sundae Saturday Oct 29 11:15 AM
Great IoTD though.

---

HungLikeJesus Saturday Oct 29 11:24 AM

But why is she wearing a bomber hat?

---

Gravdigr Saturday Oct 29 12:04 PM

I'll bet that was a unique scent when they opened that centuries-flooded coffin.



---

footfootfoot Saturday Oct 29 12:31 PM

Probably not much odor since there was no oxygen to contribute to decay.

600 years? Pffffft! It is to laugh.

÷tzi is 5300 years old.

---

CaliforniaMama Sunday Oct 30 10:58 AM

Especially Grandads. My heartfelt condolences. I've been there. Let him live in the memories.

Peace.

---

Coign Monday Oct 31 12:32 PM

I just watched Zombies: Living History on the History channel and they talked about how the Chinese would bind their dead so that they could not free themselves and come back to devour the living. Looks like they did a good job here. I just hope now that they excavated her, we don't see the Zompocaplyse start now.

---

Gravdigr Monday Oct 31 12:52 PM

The flesh from a genuine mummy is said to have a very distinct smell. It's smells like something very common, but, I can't for the life of me remember what it is.

---

wolf Monday Oct 31 01:46 PM

Pine trees?

---

infinite monkey Monday Oct 31 01:47 PM

Many parts are edible.

--Euell Gibbons

---

Sundae Monday Oct 31 04:24 PM

---

wolf Monday Oct 31 04:59 PM

Most of what I've found describing the scent involves the word "musty."

So, they don't smell like much of anything other than the cupboards they've been kept in in museum basements.

---

Sundae Monday Oct 31 05:14 PM

Seriously, though.
The first thing you do after digging up a centuries old body is to have a good sniff?

I retch if milk is on the turn.

ETA - googling suggests some smell of bitumin.
So creosote wasn't a bad stab in the dark.

---

footfootfoot Monday Oct 31 09:46 PM

Of course he remarries after a fortnight and his friends say he's made a mistake. He replies,
"No she won't come to haunt me or taunt me, I know. For I buried her face downward, she's a long way to go."

---

BigV Tuesday Nov 1 12:13 AM



---

BigV Tuesday Nov 1 12:16 AM
I'd posted this this morning, THANKS TO YOU, but hadn't refreshed the page since im's euell gibbons joke. (a good one). Now, I hit the post button, and I see my post (in the proper chronological order)... but

but what is (not) weird is that you had the same thought.

---

SPUCK Tuesday Nov 1 06:04 AM

---

Pete Zicato Wednesday Nov 2 04:55 PM

Rick: Is he supposed to look like that?
Evelyn: No, I've never seen a mummy look like this before. He's still... still...
Rick, Jonathan: ...juicy.

---
Your reply here?

The Cellar Image of the Day is just a section of a larger web community: a bunch of interesting folks talking about everything. Add your two cents to IotD by joining the Cellar.