CaliforniaMama Sunday Oct 16 07:36 AM

October 16, 2011 Sundae Shoppe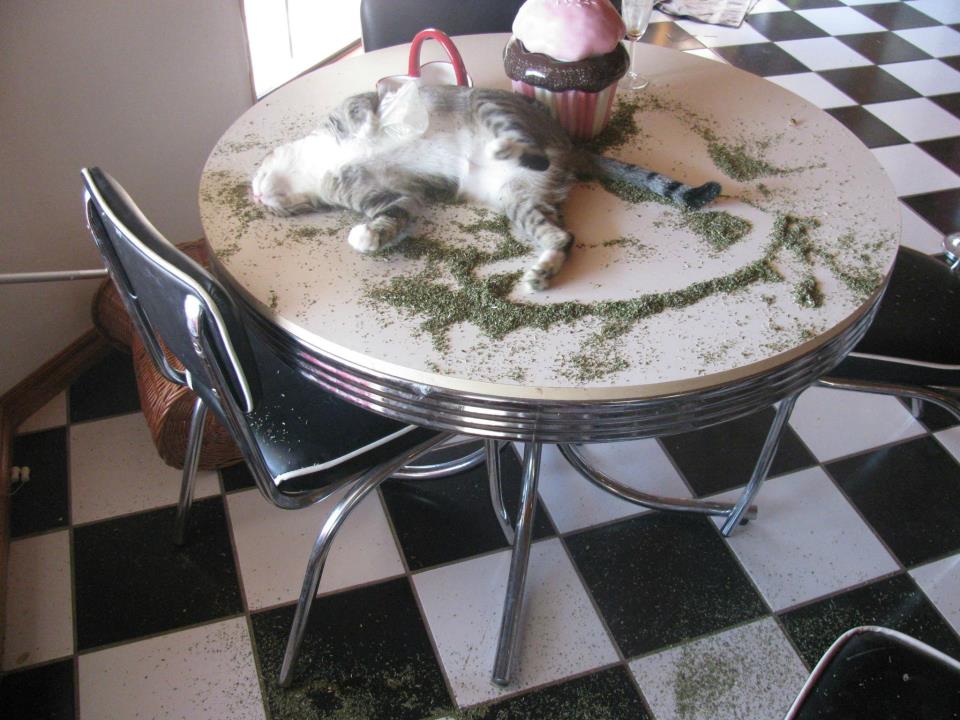 Enjoy your day!

via Neatorama

---

ZenGum Sunday Oct 16 07:39 AM

Waiter, there's a cat in my marijuana!

---

newtimer Sunday Oct 16 11:40 AM

"You would think that in a fancy restaurant at these prices you could keep the dead cats off the tables!"

- Steve Martin in The Jerk.

---

DanaC Sunday Oct 16 12:21 PM




---

Gravdigr Sunday Oct 16 06:48 PM

---

Gravdigr Sunday Oct 16 06:49 PM

Slick has no reaction whatsoever to catnip.

ETA: He don't like catnip, and he's lactose intolerant, pukes whenever he drinks more than a swallow or two of milk.

Slick as house cat = FAIL.

---

monster Sunday Oct 16 08:55 PM

Many cats are lactose intolerant. And of the six cats in my lifetime, only one was vaguely interested in catnip.

---

ZenGum Sunday Oct 16 09:07 PM

I just don't understand lactose intolerance.

You're a XXXXing mammal, you lived on milk for the first few months (or more) of your life, now you're all icky about it? WTF?

[never studied biology]

---

classicman Sunday Oct 16 11:08 PM

Cats shouldn't drink milk. Most cats are lactose intolerant & drinking milk usually results in an upset stomach and diarrhea.
Cat+milk=FAIL

---

jimhelm Sunday Oct 16 11:44 PM

Cow milk!

---

classicman Monday Oct 17 12:13 AM

Correct, I should have said that. I have heard that they can drink goats milk without the same issues, but I'm not positive.
Griff or Nirvana might know more.

---

DanaC Monday Oct 17 03:32 AM

Cow milk ain't right good for dogs either. Too much dairy and theyget bad tums.

---

bluecuracao Monday Oct 17 04:09 AM

Um yeah...don't give ur kittehs any milk.

But that looks about right if Bosco were surrounded by a pile of catnip.

---

SPUCK Monday Oct 17 05:18 AM

Stoner cat.

---

ZenGum Monday Oct 17 05:22 AM
stoner cat,
Does whatever a stoner cat does
can he swing - from a web?
No he can't - he's too stoned
Lookouuuuttttttt
stoner cat!

---

Griff Monday Oct 17 06:40 AM

My cat pisses all over the house if exposed to catnip.



Goats milk would probably be better for cats and dogs but I'd rather keep the milk for yogurt and cheese production. btw... Pete scored on her first try at an extra-sharp cheddar and her first attempt at a parmesan is underway results in several months.

---

CaliforniaMama Monday Oct 17 07:27 AM

One day, I noticed my three hand-raised kitties were very interested in something in the corner of the kitchen and I thought they might have cornered a mouse the way they were acting.

Upon further investigation, it was a baggie of catnip and they were alternately enjoying it and figuring out how to get the catnip out of the bag.

Note that said baggie had been sitting on the kitchen counter since I bought their first scratching thingy five years ago.

I guess my kitties have reached the age of indulgence.

---

infinite monkey Monday Oct 17 08:33 AM

Waiter, peering: it appears to be doing the backstroke.

---

DanaC Monday Oct 17 06:55 PM

I was trying to find a clip from The Man With Two Brains, whne the cat gets into the operating theatre.

I couldn't find it.

But I did find this:

If you're anticipating this clip is going to be somehow relevant or pertinent to the discussion at hand...it's not. But it is funny. And more importantly, I only just realised who the young guy shaving the patient is...It's only one of my favourite genre actors: Jeffrey Combs, innit.


Cool as fuck.

---
Your reply here?

The Cellar Image of the Day is just a section of a larger web community: a bunch of interesting folks talking about everything. Add your two cents to IotD by joining the Cellar.