CaliforniaMama Sunday Oct 9 01:56 PM

October 9, 2011 Flying Pinto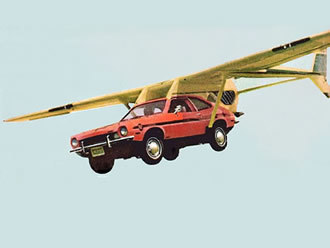 Image compliments of dirt bike dave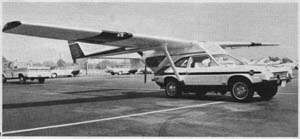 Image compliments of Roadable Times

In the early 1970's, Advanced Vehicle Engineers (AVE) of Oxnard, California, built a flying car called a Mizar. It was basically a Cessna Skymaster grafted to a Pinto.

In 1973, the engineers, Henry Smolinski and Hal Blake, took it for a test flight. The wings and car "ungrafted." What was seen was a Pinto flying through the air sans wings.

The Pinto crashed, ending the careers of the two engineers, as well as that of the flying car.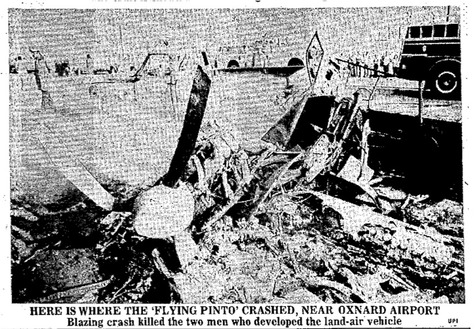 Originally discovered at (and image compliments of) Paleofuture.

---

BigV Sunday Oct 9 01:59 PM

They do tend to go up in flames, don't they, those Pintos.

There's one in the neighborhood painted blue with red, orange and yellow flames. Coming forward from the rear bumper.

Sad story though.

---

Trilby Sunday Oct 9 02:03 PM

I drove a robin's-egg blue pinto from '79-'82.

RIP, old girl. RIP.

---

Crimson Ghost Sunday Oct 9 02:24 PM

Right before the crash, did the passenger turn to the driver and say "I've always loved you"?

---

glatt Sunday Oct 9 02:28 PM

According to wikipedia:
"Even though the Pinto was a light car, the total aircraft was already slightly over gross weight without passengers or fuel. One observer reported that the wing struts were attached to the car with sheet-metal screws and that "...everything was really bad." However, in addition to poor design and loose parts, the National Transportation Safety Board reported that bad welds were partly responsible for the crash, with the right wing strut attachment failing at a body panel of the Pinto."

---

Undertoad Sunday Oct 9 02:58 PM

These gentlemen were not in any sense of the word "engineers". Unless they drove trains for a living.

---

newtimer Sunday Oct 9 03:07 PM

---

BigV Sunday Oct 9 03:35 PM

---

wolf Sunday Oct 9 11:06 PM

They should have used SuperGlue. As far as I know, that fellow is still hanging from the girder by his hardhat.

BigV, engineering is nowhere near as seat of the pants as it used to be. It's all computer model this and simulator that ... nobody wants to commit money on untested shit these days.

Now, of course, they probably weren't aeronautical engineers, just a couple of good ol' boys with a Pinto who bumbled onto half of a Cessna one day down the junkyard.

They were probably friends with the JATO unit guy.

---

Lamplighter Sunday Oct 9 11:08 PM

---

jimhelm Sunday Oct 9 11:11 PM

Did you just confuse classic man and Big V, or were you prefacing your statement with 'Classic'?

---

classicman Sunday Oct 9 11:33 PM

????????

---

Pico and ME Sunday Oct 9 11:40 PM

Its kinda like he put the post in the wrong thread or something.

---

classicman Monday Oct 10 12:13 AM

???????????? Who, Jim?

---

ZenGum Monday Oct 10 02:49 AM

Whau?

That car would have worked if McGyver had done it.

Please pretend I posted the video of the rich English eccentric who hurls old cars with a giant Trebuchet. That's a flying car, kind of.

---

wolf Monday Oct 10 09:49 AM

Actually, I did, then checked, edited, and thought no one would be the wiser.

---

classicman Monday Oct 10 04:00 PM

So what you are saying is "wolf eht htiw og"?

---

Pete Zicato Monday Oct 10 04:20 PM

I had a Pinto for a while. I didn't trust it on the ground. There's no way I would put one in the air.

---

Gravdigr Monday Oct 10 05:32 PM

The Digrs had a Pinto waaaaaaaay back yonder. Went to Pike's Peak in it. Throttle return spring (maybe accelerator pump) broke at the top of Pike's peak at the stables, we coasted alllllllllll the way to the bottom and right into a closed service station. There was a note on the door: "In case of emergency..." Popdigr called, and the guy came down and fixed us up.

Now, a flying Pinto...What could possibly go wrong?

---

SPUCK Wednesday Oct 12 05:05 AMdown in flames..

---

infinite monkey Wednesday Oct 12 11:49 AM

Unsafe At Any Speed Or Height.

My grandma was almost killed in a Pinto. She lived in our house for a few months, in a set-up hospital bed, recovering. Luckily, we got to keep her around a lot more years, may she now RIP.

---

BigV Wednesday Oct 12 02:16 PM

---
Your reply here?

The Cellar Image of the Day is just a section of a larger web community: a bunch of interesting folks talking about everything. Add your two cents to IotD by joining the Cellar.