CaliforniaMama Saturday Oct 8 08:42 AM

October 8, 2011 Freedom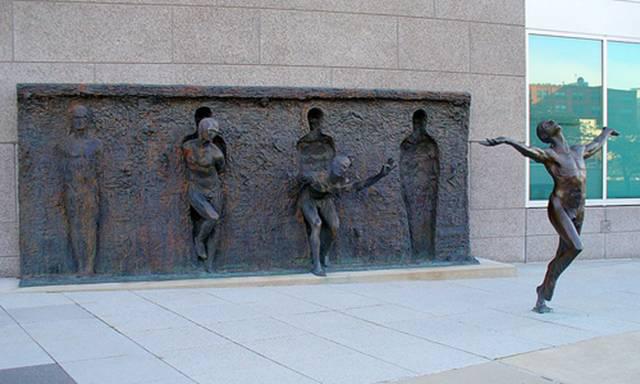 Quote:

I wanted to create a sculpture almost anyone, regardless of their background, could look at and instantly recognize that it is about the idea of struggling to break free. This sculpture is about the struggle for achievement of freedom through the creative process.

The artist: Zenos Frudakis

Discovered via: Creativity

---

CaliforniaMama Saturday Oct 8 08:47 AM

When I first saw this image of this sculpture, I was struck right away by the femininity of the motion, the graceful gestures and the yearning to break free.

Then I found the sculptor's website.

I looked at the image there of the same sculpture and I could not believe it was the same piece. Where was the grace and motion? It appears to be more of a struggle and a triumphant release.

It is amazing the difference a perspective can make . . .

---

Trilby Saturday Oct 8 08:48 AM

I really don't know how I feel about that.

I'm leaning towards "ick"

---

DanaC Saturday Oct 8 09:03 AM

I think it's magnificent. Really striking.

---

Griff Saturday Oct 8 09:09 AM

---

DanaC Saturday Oct 8 09:17 AM

Put ever so slightly in mind of some sculptures in Bolton, that loved as a kid.

I just googled and apparently they were by Jacob Epstein:

http://www.boltonmuseums.org.uk/coll...term=sculpture


Total tangent I know, and a different style, but this was always my favourite of his:

'Maquet for the TUC War Memorial':http://www.boltonmuseums.org.uk/coll...58p9/imageFile


[eta] Those images come up as too massive if I link to em.
Have changed to url

---

footfootfoot Saturday Oct 8 09:28 AM

---

CaliforniaMama Saturday Oct 8 10:25 AM

What makes you say that? (Just being curious, again.)

---

CaliforniaMama Saturday Oct 8 10:31 AM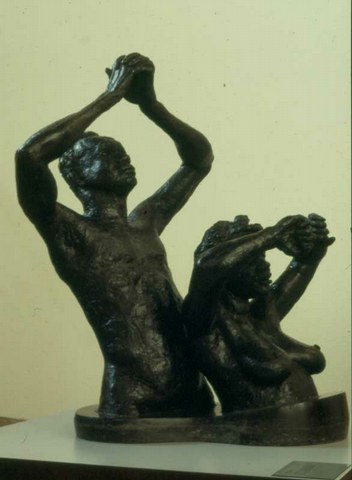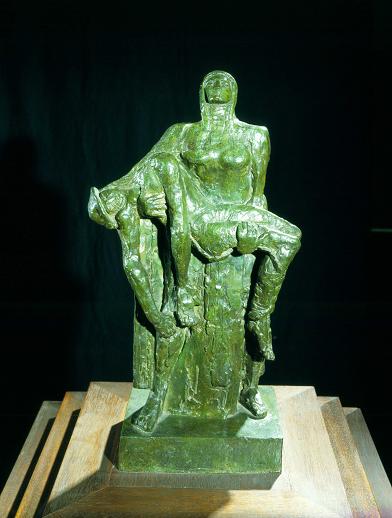 ---

newtimer Saturday Oct 8 11:42 AM

That sculpture of a monkey peeping around a Buddhist monk looked more realistic. I like that one better.

---

HungLikeJesus Saturday Oct 8 12:21 PM

What's freedom for? To know eternity.
I swear she cast a shadow white as stone.
But who would count eternity in days?
These old bones live to learn her wanton ways:
(I measure time by how a body sways).

---

BrilliantDisguise Saturday Oct 8 12:26 PM

I love it! Beautiful, graceful, exquisite.

---

Gravdigr Saturday Oct 8 02:22 PM

ETA:

---

Trilby Saturday Oct 8 04:28 PMrough. A rough-draft of a person and implies parthenogenesis.

it reminds me of a lump of mud turning into a frog.

I don't know why but I really don't like it. I see no grace, no beauty, no freedom. I see someone fleeing a horrible sci-fi monsters' lair.

dunno why. Yick.

---

BigV Saturday Oct 8 04:47 PM

---

ZenGum Saturday Oct 8 07:46 PM

Han Solo was the first thing I thought of.

I am not proud of this.


Oh and Grav ...

you're such a yob.

---

SPUCK Sunday Oct 9 05:07 AM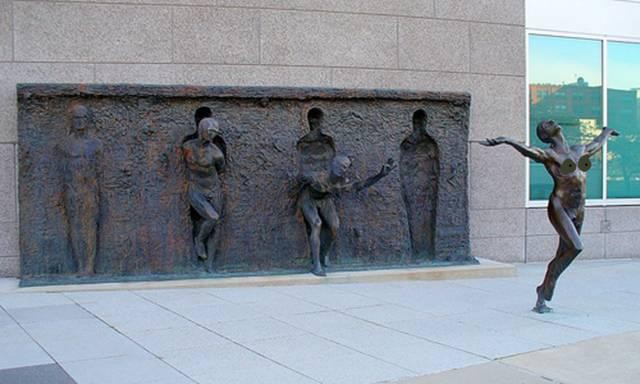 The photos don't show the rest of the sculpture. That guy still emerging, hand up, is trying to signal what's coming from the immediate right - a speeding Mack Truck - seen in the window reflection.

---

Gravdigr Sunday Oct 9 02:28 PM



---
Your reply here?

The Cellar Image of the Day is just a section of a larger web community: a bunch of interesting folks talking about everything. Add your two cents to IotD by joining the Cellar.