CaliforniaMama Wednesday Oct 5 10:30 AM

October 5, 2011 Rock Balancing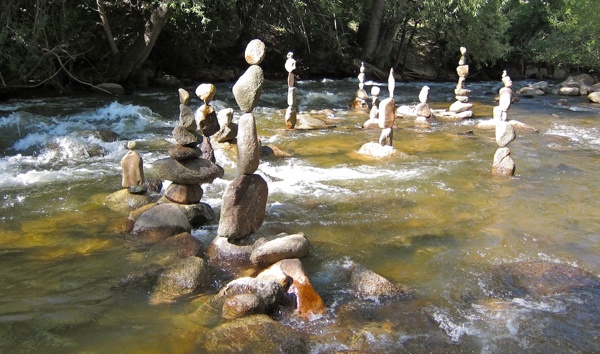 Mark Frauenfelder, of BoingBoing, was hanging out at Eben G. Fine Park, Boulder, CO, for a family reunion. He noticed these sculptures in the river and took the above picture thinking they were a permanent art installation.

He later discovered they were rock sulptures by Mike Grab of Gravity Glue.



Quote:

The formations act like beacons that inspire interactions with spirit. Intricately balanced rocks spur reactions ranging from disbelief to pure reverence as if they speak to your subconscious.

Mike lives in Boulder and balances rocks when he can. Check out his website for some fantastic images of balanced rocks.

His website also includes his philosophy of balancing rocks and hints on how to do it yourself.



Quote:

Many people liken the formations to people, and groups or "gardens" to communities of people. They describe a common sensation of increased energy dancing among the gardens.



---

glatt Wednesday Oct 5 10:49 AM

I know someone whose little kid saw one of these on a shoreline, was curious, so walked over to look at it more closely, touched it, and a heavy rock fell and smashed the kid's bare foot. These are one of those deceptively dangerous things. In hindsight it's obvious, but I bet you didn't look at these and immediately think "broken feet." It's good that these are out in a stream where they are relatively unreachable.

---

grynch Wednesday Oct 5 11:00 AM

not quite the same thing... but this is known as the cheesewring... a natural(?) stone formation in eastern Cornwall ( s.w. England )






another pic... for a bit of perspective...

---

BigV Wednesday Oct 5 11:04 AM

you're right grynch, not the same thing. But you still might break your foot.

---

grynch Wednesday Oct 5 11:06 AM

... not a budge

---

BigV Wednesday Oct 5 11:19 AM

You're not trying hard enough. Have you not seen 127 hours?

---

glatt Wednesday Oct 5 11:28 AM

that cheesewring is pretty cool.

---

Scriveyn Wednesday Oct 5 12:22 PM

Attachment 34351

---

Spexxvet Wednesday Oct 5 12:42 PM

---

grynch Wednesday Oct 5 02:46 PM

Scriv , when were you there ?

---

Trilby Wednesday Oct 5 02:50 PM

Those are cairns.

I haz one in mah backyard.

---

Gravdigr Wednesday Oct 5 03:11 PM

Clearly, this practice should be outlawed.

---

Gravdigr Wednesday Oct 5 03:13 PM

---

glatt Wednesday Oct 5 03:24 PM

But I do think that people should be mindful of what they are doing and how it may impact others, especially in a public place. I think these are kind of cool and the few that I've seen, I've enjoyed. But if they were everywhere, I'd probably get sick of them, especially if I were visiting some pristine back country stream and was trying to get away from signs of other people. These go against the idea of "leave no trace."

---

Trilby Wednesday Oct 5 03:40 PM

If I was strolling along this river and came to these stones i would wonder what

being had piled them thusly, call NATGEO TV to come do an entire story then start my own rock-based religion.

BTW - the guy who founded the church where the huge touchdown Jesus burnt to the ground after being hit by lightning - he died over the weekend. I wonder if they'll finish that new Jesus statue now?

---

Scriveyn Wednesday Oct 5 03:44 PM



---

wolf Wednesday Oct 5 05:28 PM

I saw a lot of rockpiling when I was up in Maine last year. I didn't do any myself, both because I am too lazy to gather likely looking rocks and my friend wasn't into doing it. There was important shopping and drinking we had to get to.

I have a different friend I am likely to go to Maine with again, perhaps she'll try it.

---

Pete Zicato Wednesday Oct 5 05:42 PM

That stream is moving pretty fast, for that matter.

---

Wombat Wednesday Oct 5 06:27 PM

I've balanced rocks in streams like that a couple of times. The first I did was in the upper pool at Edith Falls (Northern Territory, Australia). There was a submerged rock just a couple of millimetres below the surface and the water around it was flat and smooth, so my little pile of smooth round rocks was perfectly reflected and appeared to be hanging in the air above the water: very cool. The second time was in the upper reaches of the Murrumbidgee River (near Adaminaby, New South Wales, Australia), if the photo above had only one pile of rocks it would look pretty much exactly like mine did.

---

monster Wednesday Oct 5 08:54 PM

Cairns in the balancing rock-style are very popular here in ann arbor. I grew up with the huge-pile-of-stones-to-mark-the-route-in-the-lake-district style. I find it interesting that they are both called cairns given their completely different styles and functions.

I hiked a lot as a kid, and was always taught to add a stone to a cairn as I passed.

---

classicman Wednesday Oct 5 10:01 PM

When in Hawaii a few years ago we hiked to a "hidden pool" It was absolutely hell to get there, but when we arrived it was more than worth it. There were balanced rocks on a little island in the middle of this pool. It was amazing. I still cannot imagine how people actually got there to do it.

---

grynch Thursday Oct 6 01:20 AM
It's fallen the fate if so many and closed - must be two years now

---

SPUCK Thursday Oct 6 05:39 AM

---

Trilby Thursday Oct 6 07:15 AM

---

CaliforniaMama Thursday Oct 6 09:09 AM

Guess what - the church's choir is called - you ready for this? The Fire Choir - Worship on Fire!

I guess they prophesied that one!!

They set up a Facebook page for the rebuild, but it hasn't seen much action.

The church's website has a Jesus Cam, but right now it is off line.

---

Scriveyn Thursday Oct 6 10:57 AM

---

grynch Thursday Oct 6 01:34 PM

That was the London and yes it's a shame ( I'd hate to be driving those lanes after a couple of pints at the next nearest local )

---

Sundae Thursday Oct 6 02:36 PM
I do get that now I work in a school.

But I would hope most parents would try to instill a "look don't touch" for unusual objects seen in nature. They might be sculpture, religious totems or dangerously balanced rocks. Not to mention nests, hives, actual animals etc.

Sad the kid got a broken foot (realy nasty if it was multiple bones). Glad it wasn't worse.

---

classicman Thursday Oct 6 03:55 PM

Bet that kid learned his lesson though. Tough way to do it. I'm sure he think twice next time.

---

CaliforniaMama Friday Oct 7 09:20 AMsomething in them, I have noticed/learned that:

A) Some parents believe in free range parenting. Not only do they loosely watch their children, they don't seem to see anything wrong with touching works of art.

More than once, I have had to physically restrain my dear hubby while children-who-are-old-enough-to-know-better are touching the surface of a painting in a museum.

Although, I must admit it was one of mine that almost knocked that sculpture off its pedestal. You would be amazed how the heart beats while watching a pedestal rock to and fro. My goodness, I've just broken a sweat thinking about it!

B) Not all children connect cause with effect.

I remember touching the surface of the iron because I was curious to see what something felt like that could made fabric so flat and smooth.

After my mother finished bandaging my hand, I touched it with my other hand, because I didn't get how heat could make something flat like that. There must be something I missed the first time.

Yes, I do remember actually thinking like that. Some people did say I was a strange child . . .

The worst part is that my mother hoped I would one day get the children I deserved. See Item A.

---

classicman Friday Oct 7 02:52 PM

I hear ya Mama ... I to have a couple boys.

---
Your reply here?

The Cellar Image of the Day is just a section of a larger web community: a bunch of interesting folks talking about everything. Add your two cents to IotD by joining the Cellar.