CaliforniaMama Sunday Oct 2 09:56 AM

October 2, 2011 Men of the Stacks

Men of the Stacks is a project that is geared toward changing the public's conception of librarians as tight-bunned, glass-wearing, introverted ladies. Instead, they give us Zack: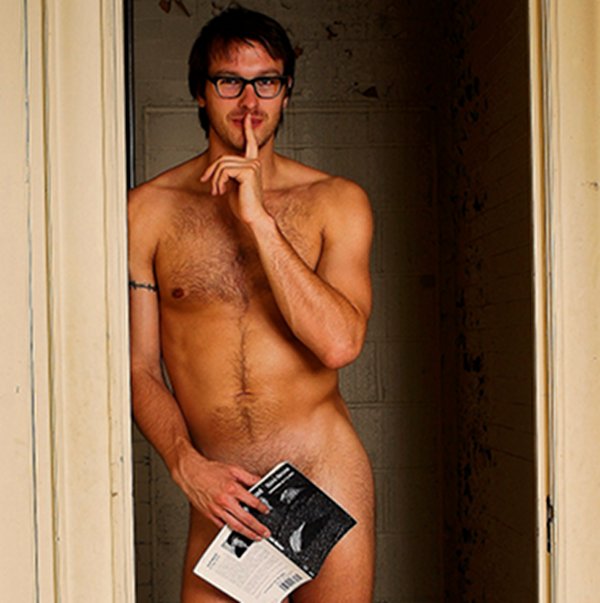 Image credit: Men of the Stacks

Story via Flavorwire

---

Sundae Sunday Oct 2 10:03 AM

Man looks like he's tight-bunned!

---

Griff Sunday Oct 2 10:04 AM

This is not my librarian fantasy.

---

infinite monkey Sunday Oct 2 10:23 AM

What's he reading?

A guy I know used to work at the library. He is a bodybuilder/longhair/musician type. His brother called him Conan the Librarian.

---

infinite monkey Sunday Oct 2 10:23 AM

Doesn't he look like Ibram?

In the face, I mean?

---

Sundae Sunday Oct 2 10:28 AM
Because of course you're right.
And that makes it feel incestuous and/ or cradle snatching.

No, wait. Delete any reference to snatch from that sentence.

He is a handsome lad though.
Either one.

---

infinite monkey Sunday Oct 2 10:29 AM

Handsome indeed!

---

newtimer Sunday Oct 2 11:25 AM

It's bad enough when people use a booger as a bookmark. But this is worse!

---

Trilby Sunday Oct 2 12:03 PM

I wanna know what he's reading, too.

maybe it's really, really good.

---

Nirvana Sunday Oct 2 02:40 PM

Umm his penis is reading he is shushing!

---

Gravdigr Sunday Oct 2 05:35 PM

Let's see how honest we all are.

What would have been said if I had posted a picture of a similarly unclothed female? Mind you, the pics I posted were much MUCH tamer than this one. And it wasn't in the IOTD either. And I remember what was said, and by whom.

Now, let's see where this goes.



---

monster Sunday Oct 2 05:49 PM

Well depends what your reason for posting it was..... here it backs up a story that is interesting and current. Did you do that at all?

I tend to feel that this is not so IotD-worthy as other recent images. However, Calimama is doing a fine job of keeping the IotD going and is not posting several images in places where they just don't belong for no reason other than she's horny and wants to share the joy.

---

Gravdigr Sunday Oct 2 05:59 PM

So this IOTD is safe for work then?

---

classicman Sunday Oct 2 07:38 PM

of course. What isn't safe about it?

---

glatt Sunday Oct 2 08:51 PM

I don't think it's terribly safe for work, but it is the weekend, so I wasn't sensitive to that when I saw it earlier today. I wouldn't want my boss seeing that on my screen, and if I could edit titles of threads, I'd put a NSFW tag on it.
*shrug*

---

classicman Sunday Oct 2 09:57 PM

Its the book innit, glatt?

---

Aliantha Sunday Oct 2 10:17 PM

Maybe needs an NSFW tag, but as has been mentioned, I'm not going to criticize someone for doing a pretty good job of keeping this particular forum running.

I think he's quite a nice looking bloke, and I don't think he looks like Ibram at all, so I shall continue to feast my eyes.



eta: Grav, I think you should let it go mate. That was a long time ago and I can't see there's anything to be achieved by bringing it up again.

---

ZenGum Monday Oct 3 07:40 AM

I worked in a uni library for three years, part time.

There were lots of uptight middle-aged women.

There was a reasonable mix of regular shapes and sizes.

There was one bloke who was shaped like a wedge. He was a national champion long-distance kayak racer. His idea of a holiday was to go from Cairns to "the tip" of Cape Yorke by kayak. This is about 900 kms, with sharks and salt water crocs.

He was good value on book moves - he'd lift a whole shelf of books by squeezing from the ends, accordion-style.

---

Gravdigr Monday Oct 3 10:09 AM

---

jimhelm Monday Oct 3 10:22 AM

oh please. you do post some funny stuff, but when you whine like a bitch... you just sound like a loser who blames the world for being unfair. Like Whitey is holding you down. MAN UP, dood.

---

Sheldonrs Monday Oct 3 10:37 AM

Makes me wish I was still a librarian.

---

Sundae Monday Oct 3 11:43 AMYou don't get "similarly unclothed" men and women.
In summer, in my town, male labourers work topless. Others walk around topless.
To the extent that pubs have signs outside saying that Shirts Must Be Worn.

I have never, ever, in my (nearly) 40 years, seen any woman walking around topless. On occasional beaches, beside some pools, yes. But on the High Street? No.

For the rest, Monster said it eloquently enough.

I may have been one of the people that raised the point previously.
I believe I am honest and this does not disprove that.

---

monster Monday Oct 3 01:52 PM



---

Gravdigr Monday Oct 3 05:24 PM


---

Gravdigr Monday Oct 3 05:24 PM

I think I limited out!!

---

Pico and ME Monday Oct 3 05:35 PM

you know yourself so well

---

Gravdigr Monday Oct 3 05:41 PM

---
Your reply here?

The Cellar Image of the Day is just a section of a larger web community: a bunch of interesting folks talking about everything. Add your two cents to IotD by joining the Cellar.