glatt Wednesday Sep 28 03:10 PM

September 29, 2011 Washington Monument Engineers

On August 23, an earthquake hit the Mid-Atlantic region. It was fairly big by East Coast standards, and it caused moderate damage to the Washington Monument. The Monument is basically just a bunch of blocks stacked on top of one another, reaching 555 feet high, and is not really designed to withstand earthquakes. It has been closed since the earthquake for safety reasons and a perimeter around the base is now fenced off.

The National Park Service is hoping to re-open the monument one day, but first it must inspect each and every block and joint on the exterior. The mortar between the stone blocks is relatively soft compared to the blocks themselves and much of the mortar between the joints fell out during the quake. With winter coming, the worry is that water will get into the damaged joints, freeze, and damage the blocks even more.

Enter the "difficult access team" from engineering firm Wiss, Janney, Elstner Associates. These 4 engineers, hired by the NPS, are repelling down each face of the monument, cataloging the damage and doing emergency weatherization.

I just had to take a walk over there on my lunch hour and snap some pictures. There were around 100 people doing the same thing.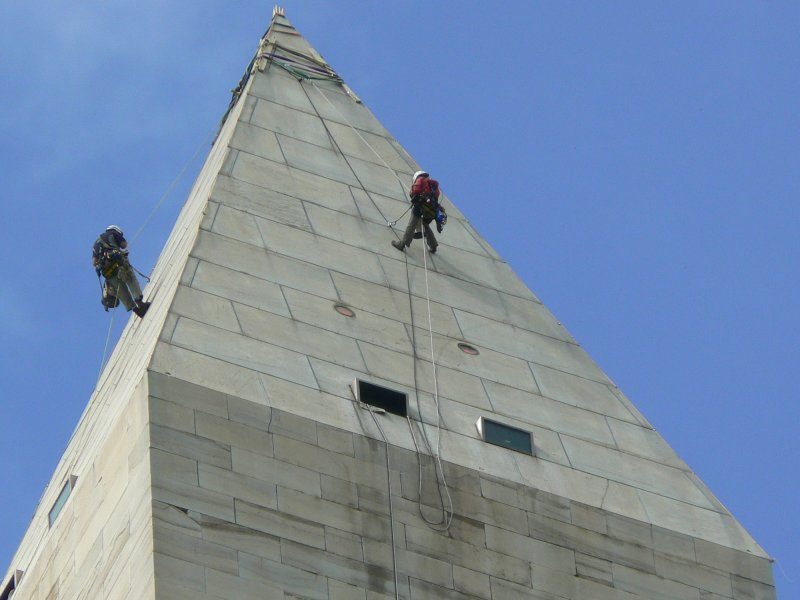 We need to zoom out a little for some perspective.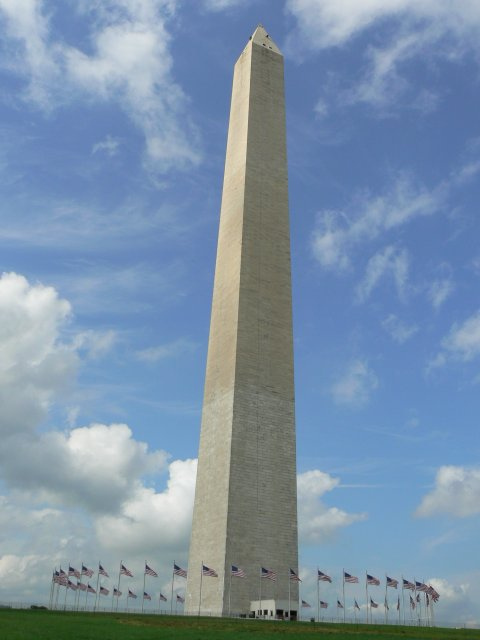 Here you can see one of the engineers actually working on the joint under a broken marble block.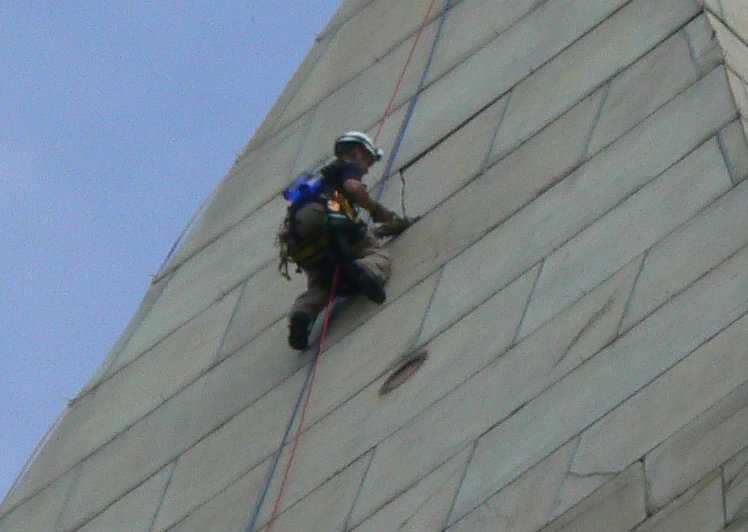 ---

Undertoad Wednesday Sep 28 03:23 PM

Nicely done sir!

"We've secretly replaced George's safety harness with new Folger's Crystals... let's see what he thinks!"

---

BigV Wednesday Sep 28 03:36 PM

those blocks look like they're the same proportions as a domino, a large rectangle, relatively thin for its area.

---

glatt Wednesday Sep 28 04:04 PM

Yeah, it's pretty amazing none of them fell off during the quake. I guess they are wedged in there pretty tight.

I really could have used a pair of binoculars, but one thing I could see was that each one of these guys had a bucket clipped to them. I think they were removing loose mortar chunks and putting them in their bucket to bring them inside and down the stairs rather than drop them to the sidewalk below.

Also, they had dropped ropes down the sides of the monument, but for some of them, the ropes didn't reach the ground and were a good 50 feet from the ground. Not much use. Although now that I think of it, the ropes were also looped inside the windows just below them, so maybe there was enough slack there to account for reaching the ground.

---

HungLikeJesus Wednesday Sep 28 06:35 PM

You know, I've never really paid attention. What's the Washington Monument used for? Is that how we communicate with the space aliens?

---

ZenGum Wednesday Sep 28 09:29 PM

No capital city is complete without a generous supply of giant dicks.

---

CaliforniaMama Thursday Sep 29 08:14 AM

Wow! Great pics!

My first impression was "Cool, we have our own pyramid."

Then I wondered how in the world they got the ropes on the top of the point. That was some lassoing job!

---

glatt Thursday Sep 29 08:46 AM

There was a short article in the paper this morning. Some interesting tidbits:
-of the 4 engineers, there were 2 men and 2 women
-they carried iPads containing all the relevant data from the big renovation done about a decade ago
-they carried digital cameras to document everything, (and I saw them taking each other's pictures.)
-they carried rubber mallets for tapping on each block to listen for any hollow sounds that might indicate hidden cracks
-they also had a small collection of trowels and other masonry tools

---

Sundae Thursday Sep 29 10:01 AM

I wouldn't do that job for all the money in the world.
It's making my flesh creep just looking.

Fascinating though. Great thread, Glatt.

---

infinite monkey Thursday Sep 29 10:18 AM

---

infinite monkey Thursday Sep 29 10:20 AM



I bet they make beaucoup bucks, too.

---

Diaphone Jim Thursday Sep 29 12:04 PM

Good job! I can't remember an IOTD actually generated by an IOTD'er.

I've been there and wore myself out walking DOWN the stairs.

"Not really designed to withstand earthquakes." What an understatement.

I'm amazed it did, but there has to be more than just "stacking" involved.

---

Happy Monkey Thursday Sep 29 12:13 PM

---

Undertoad Thursday Sep 29 12:28 PM

The only other IOTD I remember taken by one of us was

http://cellar.org/showthread.php?t=7543

Whale Penis, by staceyv

---

jimhelm Thursday Sep 29 01:44 PM

nice job, glatt

---

Sundae Thursday Sep 29 01:58 PM
I felt claustrophobic and I knew the only relief would be when I came out - but that would be high, high above the city...
Ditto the bell tower in Siena.
Something about Italian cities makes me feel the need to punish myself! I think it's because I can't face going home and giving the shameful response, "No. I was too scared."

---

Undertoad Thursday Sep 29 02:04 PM

I prefer our current Chi owners.

---

infinite monkey Thursday Sep 29 02:05 PM

What is a 'chi owner'?

---

Undertoad Thursday Sep 29 02:22 PM

chi



...huahua

---

Clodfobble Thursday Sep 29 02:58 PM

There was also one taken by seakdivers a long time ago, I think. Can't remember what it was; something in the water in Alaska, presumably.

---

infinite monkey Thursday Sep 29 03:16 PM

Ohhhhhhh...Hua Hua!

I didn't know the old chi owner but I like the current one too.

---

glatt Thursday Sep 29 03:59 PM

I just saw I've been Boing Boigned. I submitted some Flickr shots to their pool and they put one on their front page. Cool!

---

classicman Thursday Sep 29 04:45 PM

Wow - Thats awesome.

---

Sheldonrs Thursday Sep 29 04:56 PM

4 guys going down on a giant phallic symbol. Been there; done that.




---

HungLikeJesus Thursday Sep 29 06:38 PM

---

classicman Thursday Sep 29 06:42 PM

Pisa or Pizza?

---

HungLikeJesus Thursday Sep 29 07:01 PM

Oops! In must be hungry.

---

monster Thursday Sep 29 07:49 PM

congrats on your boinging, Glatt. and Sheldon.

---

ZenGum Thursday Sep 29 09:28 PM
Ahem, http://cellar.org/showthread.php?t=25001

I guess I didn't actually state that I had taken them.

Hang on, of three (known) IotDs that were taken by dwellars, we have one actual giant penis, one model giant penis and one symbolic giant penis.

Are we teh gay?

---

zippyt Thursday Sep 29 10:10 PM

Cool Pics Glatt

---

SPUCK Friday Sep 30 05:00 AM

For you guys who wonder about the inside here's a movie of the quake on a security camera at the top of the stairs. It's worth the watch.

http://www.youtube.com/watch?v=uJnet...yer_embedded#!

---

Pete Zicato Friday Sep 30 09:53 AM

Except for the guard checking her cell phone, the interesting stuff starts about 1:40.

What do you think the guy in the white hat came back up for?

---

Sundae Friday Sep 30 10:43 AM

Off to get a rainbow tattoo then...

---

BigV Friday Sep 30 10:50 AM

more shaking.

---

ZenGum Saturday Oct 1 07:29 AM

More than three shakes is masturbation.

---

Trilby Saturday Oct 1 08:23 AM

---

monster Saturday Oct 1 08:50 AM

http://cellar.org/showthread.php?t=17822

---

glatt Friday Jan 20 01:12 PM

Let me just say that David M. Rubenstein is the man.

This billionaire philanthropist is giving $7.5 million to pay for the Monument's restoration. Congress is paying the other $7.5M, but was looking for private donors to match the government's contribution.

Mr. Rubenstein has previously given millions of dollars in gifts to the federal government for stuff in the DC area. He just gave $4.5 million to the zoo's panda program. He gave $13 million to the National Archives to pay for a visitor center and a special display area for a copy of the Magna Carta he bought and lent to the Archives. Before that, he lent a copy of the Declaration of Independence to the State Department, a signed copy of the Emancipation Proclamation to the Oval Office and the first official map of the United States published after the American Revolution to the Library of Congress.

Way to go, rich dude!

The Washington Monument is expected to be closed for at least another year, because they haven't even begun the repairs yet.

---

infinite monkey Friday Jan 20 01:13 PM

I read that earlier. Good for him!

---

HungLikeJesus Friday Jan 20 01:19 PM

They just need some Sugru. Well, maybe lots of Sugru.

---

infinite monkey Friday Jan 20 01:22 PM

Is that like Bondo?

---

HungLikeJesus Friday Jan 20 01:31 PM

Did you read the Sugru story? It's quite inspirational.

---

glatt Friday Jan 20 01:42 PM

I bought a bunch of Sugru to give as stocking-stuffers last Christmas. Unfortunately, since it came from England, and I only bought it with about one month's notice, it got held up in customs or someplace and didn't arrive in time. So I ended up with all this Sugru. I couldn't think of enough ideas to use the stuff on, and since it has a short shelf life, It's probably mostly all gone bad by now. (ETA: It's been a year+)

I did put some on the underside of a picture frame that was just sitting on a shelf, leaning against the wall behind it, and kept slipping and falling over. That worked well. But I didn't have any other ideas. I felt like there was too much pressure to come up with something clever.

---

Spexxvet Friday Jan 20 02:42 PM

---

glatt Friday Jan 20 02:46 PM

Well, did you see the packaging? They come in these beautiful silver pouches. Once you tear a pouch open, that's it. It starts to set up. You're committed. It better be worth it.

---

HungLikeJesus Friday Jan 20 02:47 PM

I used some on a lid for a cast iron pan so I could pick it up without burning my finger, and some on my pellet stove door for the same purpose.

I also used some to mount a mirror to the brake hood on my bike.

I'll probably also use Sugru to fix my cell phone, which has a cracked case, but just won't die.

---

infinite monkey Friday Jan 20 02:48 PM

Sugru looks awesome, I must admit.

---

Pete Zicato Friday Jan 20 02:51 PM

---

infinite monkey Friday Jan 20 03:52 PM

What's updoc?















---

Pete Zicato Friday Jan 20 04:27 PM

Not much. What's up with you?




Thanks infi.

---

infinite monkey Friday Jan 20 04:32 PM

I can play the straight man from time to time.



I snorted out loud when I read your post, btw! 5 words. Snort-worthy!

---

BigV Saturday Jan 21 12:57 AM

---

glatt Tuesday Jul 10 11:00 AM

...and they have a plan.


The report from the engineers is complete and the park service now has a plan.

They're going to cover the monument with scaffolding and set up a tower crane to help remove the 1 ton external marble panels at the pyramidal top and re-attach them with metal brackets because the anchor stones underneath were cracked by the quake. The metal brackets will be hidden from view.

They also need to patch 50 panels, but don't expect to need to replace any of them. The work is going to last into 2014 and the monument will remain closed through then.
Attachment 39530

---

SPUCK Thursday Jul 12 05:52 AM

Closed the whole time? Just have the visitors run to the entry. They'll have a greater memory of their visits.

---

glatt Monday Mar 11 02:24 PM

I feel like I need to keep this thread updated.

They started erecting the scaffolding. It looks like just regular scaffolding. I'm surprised it's strong enough to reach that high. They have special cross bracing at the corners to tie it all together.
Attachment 43170

They still have a ways to go.

Attachment 43171

I wish I had a time lapse camera set up taking a picture every half hour. It would make a cool video.

---

xoxoxoBruce Monday Mar 11 02:34 PM

A lattice condom, very avant gardey.
Don't worry about the scaffold, you can be sure OSHA will be all over that sumbitch.

---

ZenGum Monday Mar 11 11:39 PM

I notice there seems to be a concentration of damage at around 200 feet high. I wonder why.

---

xoxoxoBruce Tuesday Mar 12 12:26 AM

Maybe because...




---

SPUCK Tuesday Mar 12 07:06 AM

Too bad this isn't in Hong Kong they'd probably be using bambo!

---

Happy Monkey Tuesday Mar 12 11:55 AM

---

BigV Tuesday Mar 12 12:49 PM

Scamp!

---

Adak Tuesday Mar 12 10:46 PM

---

ZenGum Wednesday Mar 13 07:04 AM

That was the sort of thing I was thinking, maybe involving some kind of harmonics in the building and the frequency of the earthquake waves.

---

BigV Wednesday Mar 13 03:07 PM

---

SPUCK Thursday Mar 14 07:18 AM

I'd always tell them "Hawaii". Many believed me.

---

Adak Monday Mar 18 03:52 AM

---
Your reply here?

The Cellar Image of the Day is just a section of a larger web community: a bunch of interesting folks talking about everything. Add your two cents to IotD by joining the Cellar.