CaliforniaMama Wednesday Sep 28 09:34 AM

September 28, 2011 Manta Ray Feeding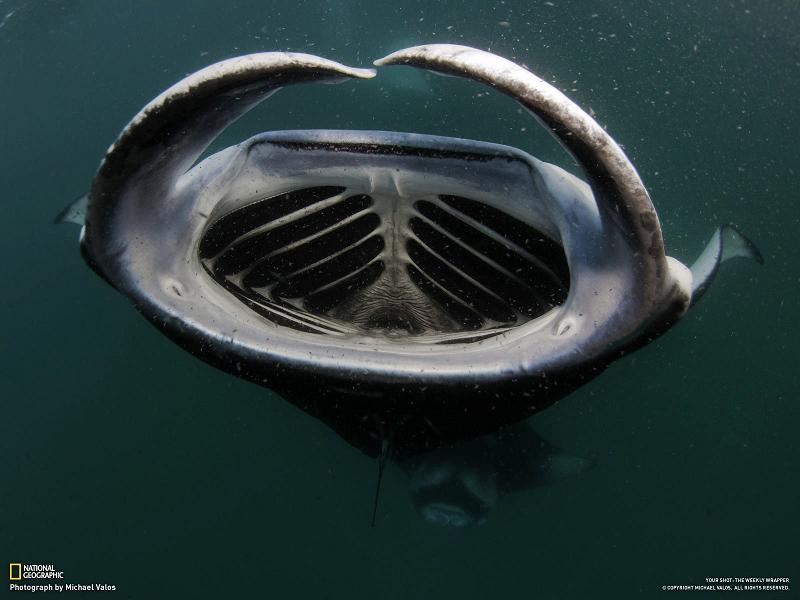 This image is from National Geographic, but I lost the link and can't tell you more than that.

---

DanaC Wednesday Sep 28 09:39 AM

It's just a swimming jaw and stomach.

---

Gravdigr Wednesday Sep 28 05:05 PM

I think it's upside down.

But you tell him.

---

Wombat Wednesday Sep 28 06:54 PM

Like some space alien. Cool.

---

Aliantha Wednesday Sep 28 07:40 PM

Those things are amazing. We were camping on an island in the middle of Hervey Bay a couple of years ago, and it was heavily populated with all different sorts of rays.

One morning we were swimming when there was a huge swirl in the water. At first we thought it was a shark as we were heading to shore, but once we were out and standing on the shore trying to calm our hammering hearts, this very curious eagle ray came right in to the shallows and just floated there looking at us. After a while, it moved up the beach a bit more, but as we walked beside it, it would stop and look at us for a while.

eta: In case you were wondering, this ray was wider than the span of my arms which would be 5'8.

It was one of the most amazing wildlife experiences I ever had. After that, we noticed it swam past at about the same time every morning, so we looked for it. It came in close once or twice again, but it mostly seemed to just keep to the deeper water.

Anyway, as to the other rays, did you know that manta ray's (and others too) can actually leap out of the water? That was another thing I found amazing. Especially if there were a couple swimming together and they leapt out at the same time.

---

Aliantha Wednesday Sep 28 07:44 PM

Check out this link for images of leaping manta rays. It's just google images, so if my link doesn't work, do it yourself.

---

HungLikeJesus Wednesday Sep 28 08:58 PM

Those are secret military underwater stealth bombers.

---

ZenGum Wednesday Sep 28 09:25 PM

It's an omnomnomnivore!

---

CaliforniaMama Thursday Sep 29 07:59 AM

Because i couldn't find my original link, I did a search for the image and all the images I found showed it the other way round.

---

CaliforniaMama Thursday Sep 29 08:06 AM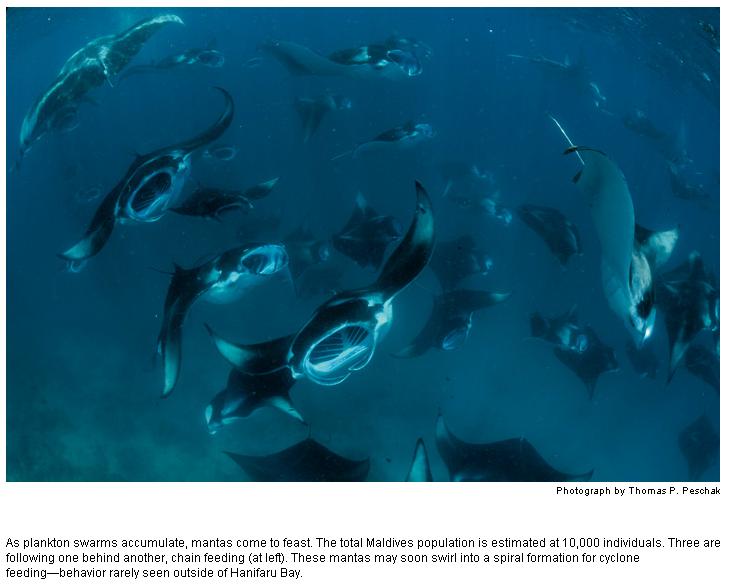 ---

ZenGum Thursday Sep 29 10:16 PM

---

monster Thursday Sep 29 10:50 PM

Pls consider the goatse done.

---

BigV Thursday Sep 29 11:41 PM

Manta rays feeding... pretty cool. Stingrays feeding from your hand...AWESOME.

A few years ago we were on a cruise through the western Carribean I think, and we had a stop in the Cayman Islands. One of the shore excursions was to go "Swimming with the Stingrays". I'm game. We took a big catamaran out to the edge of the atoll and though we were very far from shore, the water wasn't very deep. I could stand up easily in many places. My kids had to paddle around and hang on to me though. We were instructed to shuffle our feet along the bottom, and NOT to raise our feet to walk like you would on shore. The point was we were intentionally shooing the rays from our path rather than taking a chance at stepping down onto one and getting injured for our trouble.

So, there we were standing in about five feet of water and stingrays were EVERYWHERE. Hundreds of them. The guides were able to give us little pieces of cut up fish or squid as treats to feed them. We were told to hold the food firmly in our fist with a little tag hanging out. The discouraged the fish from swallowing your whole hand to get at the fishy treat. The experience of the stingrays trying to bite/suck/grab/gnaw/hoover the squid from your hand was amazing. They don't have teeth, but they do have two bony plates where you and I have gums, and the surface is like a rasp. They inhale and then chomp down on whatever flows in.

The mean trick of the day was to rub the bait on someone's arm or buttcheek. Yeah... you guessed it. The stingrat would smell it, sidle up and WHOOOOSHCHOMP! OUCHGODDAMMIT!. It could leave a nice bruise on the tenderest skin, but otherwise harmless.

They feel very strange. I held my arms out just under the surface and one of the guides carried/lured one of them into my arms. The upper and lower surfaces could not feel more different. On the top, it was pebbly, even sandpapery or .. like sharkskin, if you've ever had the chance. On the bottom it was like lubricated velvet, so smoooooth.

It was an incredible experience and I highly recommend it if you ever get the chance.

Hey, they're on the intarwebz: Stingray City.

---
Your reply here?

The Cellar Image of the Day is just a section of a larger web community: a bunch of interesting folks talking about everything. Add your two cents to IotD by joining the Cellar.