CaliforniaMama Sunday Sep 25 08:16 AM

September 25, 2011 Blow-up Wedding Gown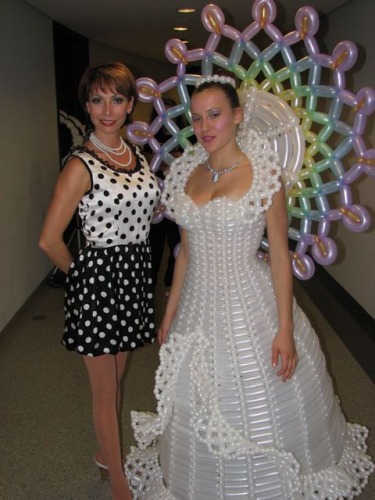 How's this for a unique wedding gown?

May I suggest a box of pins for some honeymoon fun?

via Shine

For more balloon fun, check out this Balloon Fashion Show.

---

DanaC Sunday Sep 25 08:19 AM

A jellybean wedding dress?

---

DanaC Sunday Sep 25 08:20 AM

*tilts head at slight angle and peers at the photo*

She looks an awful lot like the CIA chick in Torchwood. the one who [spoilers just in case] turned out to be a Family double agent.

---

Sundae Sunday Sep 25 08:33 AM

Wrong. Just wrong.
Imagine the noise of it?!

Way not to take your vows seriously!

Dana - I didn't properly recognise her in the church.
I had to pause, then recognised her eyes.
Bitch got her just desserts, and I don't mean cake at the wake.

---

monster Sunday Sep 25 01:49 PM

What should you wear to take your vows seriously?

Something made from material that is a little heavier?

Like meat or duct tape? Duct tape is very serious.

---

footfootfoot Sunday Sep 25 03:17 PM

how is virginity like a balloon?

One prick and it's gone.

---

Gravdigr Sunday Sep 25 03:18 PM

---

SPUCK Monday Sep 26 05:02 AM

You don't need pins.. Just a very light mist of citrus juice. A squirt gun maybe.

I used to work in a dart game at the Boardwalk. One day I'd just finished blowing up and tying a little more than a thousand balloons. I was standing waist deep in them. Another employee wades into the room sez, "Hi", and starts pealing an orange. The entire room erupted leaving only about 20 balloons unpopped. We were amazed - then I was annoyed.

Has to the plastic balloons not the rubber ones.

---

CaliforniaMama Monday Sep 26 08:05 AM

---

infinite monkey Monday Sep 26 08:37 AM

Then I saw this online. It's not quite scientific evidence but I certainly have an experiment for my nieces!



---

ZenGum Monday Sep 26 08:16 PM

Makes me wonder what other common household substances might work. I'd say vinegar would be likely.

---

footfootfoot Tuesday Sep 27 03:48 PM

latex + oil =

---

BigV Tuesday Sep 27 11:12 PM

fo. sho.

---

SPUCK Wednesday Sep 28 05:38 AM

I suspect any acid.

I will caution you that plastic balloons are dangerous. When they pop they are more like a breaking glass than a rapidly tearing rubber balloon. They go off with a very sharp crack and the fragments leave at substantially higher velocities. The fragments often hurt when they hit you and I suspect could hurt a kid's eye.

---

DanaC Wednesday Sep 28 05:43 AM

Plastic balloons? I don;t think I've ever encountered such a thing...

---

SPUCK Friday Sep 30 04:49 AM

They're very slippery, dry, and have a hard surface. Often they look shiny compared to the classical rubber balloons. I think they may cost less and leak less.

---

WayneDelgado Tuesday May 21 07:39 AM

. I will ask my bride to get same dress. She would look lovely


---

BigV Tuesday May 21 11:03 AM

Welcome to the cellar WayneDelgado!

I wonder what the lady in question would have to say about it.

---
Your reply here?

The Cellar Image of the Day is just a section of a larger web community: a bunch of interesting folks talking about everything. Add your two cents to IotD by joining the Cellar.