CaliforniaMama Sunday Sep 4 09:09 AM

September 4, 2011 Another Kind of Bee Man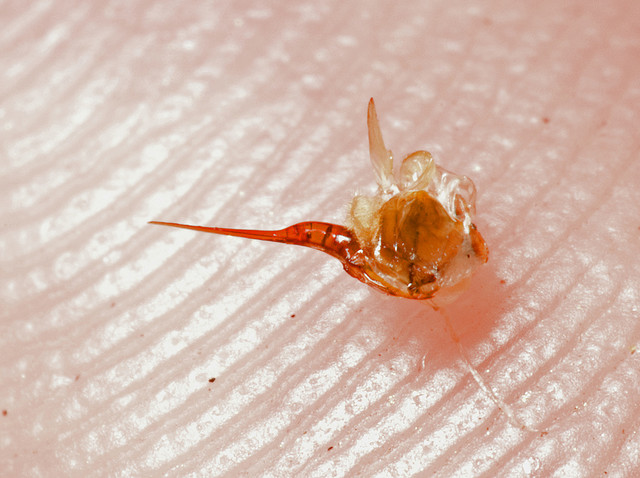 Schmidt likes to sting himself. He does it so he can rate the level of resulting pain. From this experience, he created the Schmidt Sting Pain Index. He rates the stings of hymenoptra on a scale of one to four.

1.0 Sweat Bee
1.2 Fire Ant
1.8 Acacia Ant
2.0 Black Faced Hornet
2.0 Yellowjacket (US) or Wasp (Europe)
2.0 Honey Bee
2.0 European Hornet
3.0 Red Harvester Ant
3.0 Paper Wasp
4.0 Tarantula Hawk Wasp
4.0+ Bullet Ant

About the Bullet Ant's sting:
"Pure, intense, brilliant pain. Like fire-walking over flaming charcoal with a 3-inch rusty nail in your heel." "Wave upon wave of burning pain which will not reduce for over a day."

Do not try this at home.

---

CaliforniaMama Sunday Sep 4 09:11 AM

Image credit: e_monk

via The Ark in Space

---

Griff Sunday Sep 4 10:38 AM

My most painful ever was a bald-faced wasp. Does he take suggestions? I'd like him to scale that for me.

---

Sundae Sunday Sep 4 11:04 AM

Fire ants sound horrific.
They're ANTS, but they are also BURNING.
But if they hurt less than a wasp then I can deal with them.

It's interesting, but subjective of course.
Mum & I swell up horribly from some bites, and itch for weeks.
Dad gets a small bump and barely notices it.

If I get a scratch from Diz while playing the area swells up and itches horribly too, but it passes with about 30 minutes.

Oh hang on, he rates the actual sting, not the after-effects.
Meh - never been stung by anything that really hurt.
It's all about the recovery for me.

And even that pales into significance compared to when I came out in hives from an unidentified food allergy.
Here (Cellar link)
and here (ditto).

---

Stormieweather Sunday Sep 4 12:10 PM

The worst I've had per that list is the paper wasp. They dive bomb you too, and intentionally sting to get you to go away! They're everywhere down here, always check doorways, outdoor lighting fixtures, nooks and crannies for hives before you stick your fingers in them.

Never heard of the bullet ant.

---

Diaphone Jim Sunday Sep 4 12:57 PM

Justin Schmidt's Pain Chart is written like some wine reviews. Really quite well done.
Another masochist, Christopher Starr, has made similar studies.
Wikipedia has articles on both.
In Vietnam, there are flat brown ants that live in leaf litter. Their stings, delivered right through clothing, felt like being hit by a baseball bat.

---

Gravdigr Sunday Sep 4 05:10 PM

That shit. Fuck all of it.

---

CaliforniaMama Monday Sep 5 10:11 AM

I hope you figured out what is was so you can avoid it in the future.

---

CaliforniaMama Monday Sep 5 10:29 AM

I hope you figured out what is was so you can avoid it in the future.

---

Sundae Monday Sep 5 01:00 PM

Actually, no.
It was my second attack and miles worse than the first.
Two different GPs said it wasn't worth testing. Then again, they were ten years apart, so it's not something I eat often...

I just hope not to get a third to see what the next stage is like.
Hives on my eyeballs probably.

---

Aliantha Monday Sep 5 08:38 PM

We get a lot of paper wasps around my part of the country here. You're right Stormie, they do exactly what you said, in squadrons! The dirty nasty little creatures.

Fire is my friend. :evilgrin:

---

BigV Tuesday Sep 6 01:32 PM

I got a slightly alarmed call from my girlfriend a couple weeks ago saying that there was a swarm of wasps trapping her in the house. She'd been stung once and now could not get in or out of her house from the front door. I came over and found these guys. They'd colonized the grill cover. We could see them flying down to the bottom and disappearing. I didn't know what I was facing at the time, so I stole this picture. I setup the camera and put it down on the ground and shot upward. These guards were not amused.

I would up capturing the whole colony in a bag (which I rebagged several times) and I'm just going to starve them. By the time summer's over, I'll be able to take the grill cover back out of the bags, clean off the bodies of these yellowjackets and cover the grill again.

For the record, in my capture and cleanup I was stung once. It didn't hurt very much, a little, but the next day the itching was fierce. I still have a red sore on the back of my hand ten days later.

---

SPUCK Wednesday Sep 7 04:24 AM

They just let you bag them??

---

Pico and ME Wednesday Sep 7 11:37 AM

I love the way the three in the middle are looking at you with their little antennas pricked.

---

BigV Wednesday Sep 7 11:51 AM

Why, yes, of course. They were very cooperative and helpful.

Well, that and the fact that I approached the grill cover with an large open trash bag. I put the opening of the bag over the opening of the grill cover and swallowed them up, so to speak. I repeated this a couple times with a couple more bags. As the yellowjackets out on patrol returned to find their hive home condemned, I sprayed them with -- hehehe -- window cleaner, since that's what I had in a spritz bottle, and when they were wetted and downed, I smashed them. This took care of the remaining twenty or so.

---

Undertoad Wednesday Sep 7 01:53 PM

I would just buy a new grill cover. Sometimes ya just gotta let go.

---

BigV Wednesday Sep 7 02:02 PM

New or not, the grill cover had to go. And in a way that severely restricted its airspace. I simply instituted a 4mil black plastic no fly zone.

---

SPUCK Thursday Sep 8 04:10 AM

I'd have burned the house down.

---

CaliforniaMama Thursday Sep 8 10:08 AM



I grabbed a garbage bag and threw it over the yellowjacket, shirt and all.

We didn't tie it up to suffocate the poor thing, though. I had my son take it outside and dump it out.

Apparently, the yellowjacket has been in his shirt for a couple of days, ever since hubby brought it in from the drying line.

Weird timing, isn't it, that it happens while we have this thread running.

---

BigV Thursday Sep 8 10:54 AM
Excellent!!! Once I got the yellow part out of my mind. The whole "shirt and all" part left an image of you with a bag full of shirt yellowjacket and son. Congratulations!

an interesting coda here, an hour later we were at the grocery store getting some dinner fixins and I felt something tickling my leg. I was wearing some light loose hiking pants with long zippers at the cuffs. I unzipped the cuff and pulled up the pant leg there in the store... Yup. There was the last of the yellowjackets crawling up my leg about six inches above my knee on the outside of my thigh. I was so surprised, I didn't take a picture. (I know, pretty surprised, eh?). Flick, squish. My genocidal satisfaction was finally complete.

---

Pico and ME Thursday Sep 8 11:36 AM

Awwww...the poor little guy was plotting to take his revenge on you for killing his family.

(He must have gotten the idea for what to target from the other bee thread..

)

---

CaliforniaMama Friday Sep 9 08:16 AM

Sorry, no, son wasn't wearing shirt yet.

---
Your reply here?

The Cellar Image of the Day is just a section of a larger web community: a bunch of interesting folks talking about everything. Add your two cents to IotD by joining the Cellar.