CaliforniaMama Friday Sep 2 10:10 AM

September 2, 2011 Going for a Walk

Or, going for a run, as the case may be: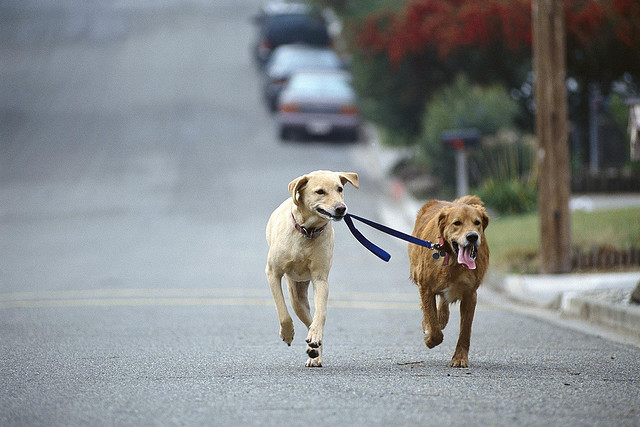 ---

BigV Friday Sep 2 10:58 AM

I guess we know who's the bitch in that relationship...

---

infinite monkey Friday Sep 2 11:24 AM

It's a dog-eat-dog leash world.

(sidebar: has anyone seen Modern Family? That show cracks me up. Among the funniest is the character Gloria, the much younger Columbian wife of Ed O'Neill's character. She always gets English wrong. When she said "It's a Doggy Dog world" I laughed my head off. Just tickled my funny bone. Probably because I know so many people who actually think the phrase is "doggy dog.")

---

Sundae Friday Sep 2 12:49 PM

Oh Infi - I make myself laugh when I look at our Sky Plus list and see Heir Hunters.
I say to myself "Hair Hunters".

That passes for humour in my head. So Doggy Dog is Oscar Wilde...

---

infinite monkey Friday Sep 2 12:59 PM



Another from Gloria:

"He scared the baby cheeses out of me!"

---

jimhelm Friday Sep 2 01:08 PM

I have to pee like a racist.

---

Sundae Friday Sep 2 01:11 PM

Don't worry, you got that phrase-worm in my head a long while back.

---

glatt Friday Sep 2 01:15 PM

---

infinite monkey Friday Sep 2 01:20 PM

Well, now you went and started it:

I've been keeping a list of misused words my friend uses. She's not dumb...she just uses the wrong words, or words that aren't even words, so much that I've taken to writing them down.

Discussing astrology: "My sister was born on the crisp. Right on the crisp"

"I don't have a long extensions span."

"L showed me how it works! She drew a diaphragm!"

"That fan is nice. It ovulates and moves air around."

"I need something to accentuate the pain."

"I can't even phantom that."

"I'm at a conjecture here."

"That is SO juvial."

"He gave him a Browns shirt. It's a momentum!"

Well, they're true.

---

infinite monkey Friday Sep 2 01:21 PM

---

Gravdigr Friday Sep 2 05:54 PM

---

Sundae Saturday Sep 3 06:23 AM

Wow - cute nails.

---

Trilby Saturday Sep 3 06:30 AM

yeah, but that boy is teh ick.

---

Sundae Saturday Sep 3 06:32 AM

Boy?
She kissed a girl and she liked it.

---

jimhelm Saturday Sep 3 09:31 AM

Our list is much longer, but... those are quality, right there.

I want to introduce them to each other! Can you imagine the children.

---

CaliforniaMama Saturday Sep 3 02:09 PM

Just found the credit for the photo: Thang Nguyen

---

monster Saturday Sep 3 03:41 PM

Just saw this while scheduling a Purple Heart Pick up:

Fill in the information below:
Fields with an astrick (*) are required.



ass-trick ....har har har

---
Your reply here?

The Cellar Image of the Day is just a section of a larger web community: a bunch of interesting folks talking about everything. Add your two cents to IotD by joining the Cellar.