Big Sarge Wednesday May 25 08:06 PM

May 25, 2011 The Shrinking Lake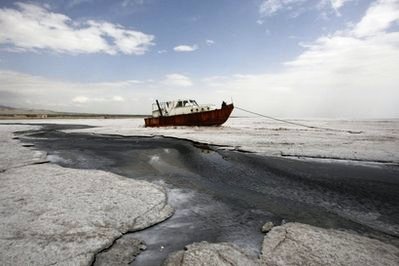 OROUMIEH LAKE, Iran – From a hillside, Kamal Saadat looked forlornly at hundreds of potential customers, knowing he could not take them for trips in his boat to enjoy a spring weekend on picturesque Oroumieh Lake, the third largest saltwater lake on earth.

"Look, the boat is stuck... It cannot move anymore," said Saadat, gesturing to where it lay encased by solidifying salt and lamenting that he could not understand why the lake was fading away.

The long popular lake, home to migrating flamingos, pelicans and gulls, has shrunken by 60 percent and could disappear entirely in just a few years, experts say — drained by drought, misguided irrigation policies, development and the damming of rivers that feed it.

Until two years ago, Saadat supplemented his income from almond- and grape-growing by taking tourists on boat tours. But as the lake receded and its salinity rose, he found he had to stop the boat every 10 minutes to unfoul the propeller — and finally, he had to give up this second job that he'd used to support a five-member family.

"The visitors were not enjoying such a boring trip," he said, noting they had to cross hundreds of meters of salty lakebed just to reach the boat from the wharf.

Other boatmen, too, have parked their vessels by their houses, where they stand as sad reminders of the deep-water days. And the lake's ebbing affects an ever-widening circle.

---

monster Wednesday May 25 08:23 PM

Salt Lake in Utah is shrinking too, isn't it? It was a long way from the "shore line" when we visited a couple of years ago....

---

CaliforniaMama Thursday May 26 11:05 AM

Maybe they could harvest the salt for a second income?

---

newtimer Thursday May 26 01:14 PM

Instead of growing grapes, he should grow chili peppers. Then use them with all of that free salt to make his own Tabasco sauce. The recession-proof condiment that never goes out of style.

---

SPUCK Friday May 27 06:54 AM

Think of the fuel he's saving!

---

ZenGum Friday May 27 07:39 AM

A lot of inland seas and large lakes are shrinking. Lake Chad, The Aral Sea, even the Dead Sea is dying. So to speak.

We're diverting lots of water for human use including irrigation, which is likely the cause. I note this in a judgement-free way.

---

BigV Friday May 27 02:36 PM

Fresh water will become more precious and rarer and more bitterly fought over than oil is now. This will happen in my lifetime.

---

HungLikeJesus Friday May 27 03:45 PM

There's plenty of fresh water, it just isn't always where it's wanted.

---

monster Friday May 27 05:52 PM

Right now it's in Basements all over Ann Arbor.

---

Griff Saturday May 28 01:45 PM

Quote:

Originally Posted by

ZenGum


We're diverting lots of water for human use including irrigation, which is likely the cause. I note this in a judgement-free way.

Not to worry, we'll insert the judgement.

---

HungLikeJesus Saturday May 28 01:55 PM

You mean like colonic irrigation? That's a lot of water!

---
Your reply here?

The Cellar Image of the Day is just a section of a larger web community: a bunch of interesting folks talking about everything. Add your two cents to IotD by joining the Cellar.