sandypossum Wednesday May 18 05:25 AM

May 18, 2011: planking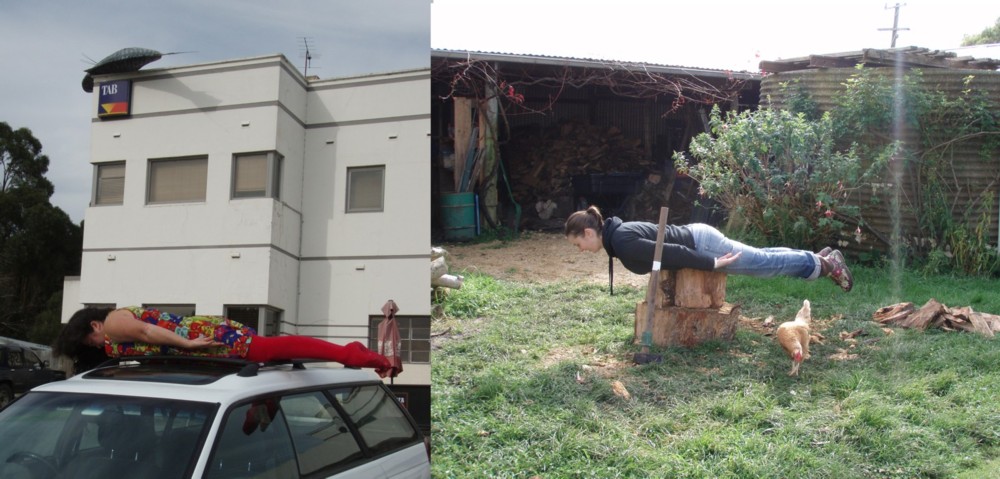 Planking is the new craze here in Australia. As soon as I saw it, I knew it: finally I had found the right sport for me.

This week we had the first death by planking in Queensland, and another planker in a coma in New South Wales. Both were, however, contenders for a Darwin Award.

My planking partner Emilie and I are strictly into Safe Planking. (Because we're sensible and also because we're not that intrepid.)

---

sandypossum Wednesday May 18 05:27 AM

Hey, why won't my uploaded photo show on the iotd page? Help?

---

SPUCK Wednesday May 18 06:21 AM

That chicken thinks you're crazy!

---

Griff Wednesday May 18 06:25 AM

She's next!

---

GunMaster357 Wednesday May 18 07:03 AM

Seems to me that planking is a nice recipe for disaster.

Maybe someone should write a book on it.

I have the perfec title : Planking for Plonkers

---

Trilby Wednesday May 18 08:04 AM

Finally - a sport even I could do.

I'd like to see this go Olympic.

---

sandypossum Wednesday May 18 08:46 AMfarmyard planking. We have great plans for sileage bales and water troughs. Would have loved to plank on a cow, but it was too energetic and dodgy for us. Perhaps the pig will be more amenable.

---

infinite monkey Wednesday May 18 08:57 AM

Hahahahaha. Funny what things catch on.

The current craze around here is resting on a surface, butt on the surface, knees bent, feet on the floor. It's called "sitting" and some people have gotten really good at it!

---

Sundae Wednesday May 18 09:35 AM

The fatality made the news here earlier this week and so I looked it up.

Some people certainly have made it into a high-adreneline activity. There are some where I find it hard to imagine how they got into those locations in the first place. Some are really cute and funny though - there was one of a whole row of planks on a train that I liked.

Still too much effort for me though.

---

Nirvana Wednesday May 18 10:48 AM

I have been doing this in my living room for years its called YOGA. plank pose

---

Undertoad Wednesday May 18 10:49 AM

Images don't show up immediately as attachments until I come and upload them and host them as hosted images. Thanks Sandy!

---

ZenGum Wednesday May 18 11:03 PM

I was somewhat amused by the news stories about the Planking death. Not the death itself, but the way everything was followed the patterns of comments that are usually used for some new lethal drug craze.

Friend: It was just a bit of fun, we didn't thnk anyone would get hurt...
Cops: These young people are just out for some fun, but please, think about the consequences...
etc. etc.

Planking itself is fine, IMHO, but 7th floor balconies are not the place for it. Of course, as soon as this hit the news, twits were planking on 45th floor balconies and such.

Of course, sensible people like dwellars would only plank across, say, a white generation three Subaru outback limited edition model. Nice.

---

footfootfoot Wednesday May 18 11:39 PM

I'm fixing to do some Olympic planking on a Tempurpedic mattress in a few minutes.
Going for the gold!

---

sandypossum Thursday May 19 02:55 AM

---

SPUCK Thursday May 19 05:02 AM

For all yous edumacation here's some planks:
http://planking.mobi/

---

casimendocina Thursday May 19 09:45 AM

---

Spexxvet Thursday May 19 09:49 AM

---

footfootfoot Thursday May 19 11:28 AM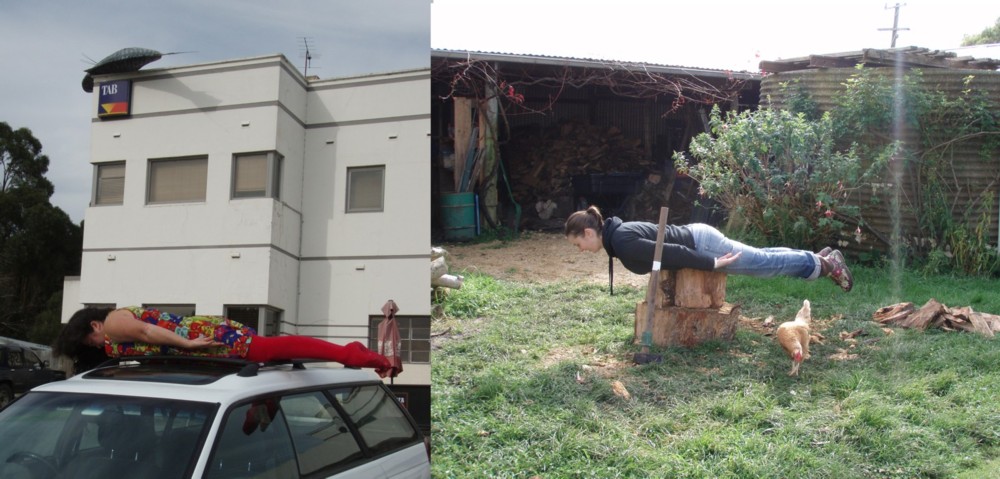 ---

infinite monkey Thursday May 19 11:30 AM

If I am ever that bored, I'm going to dig out my old Pet Rocks for fun.

eta: or shoot myself in the face

(snort---bored, board...pun not intended, but hey...)

---

HungLikeJesus Thursday May 19 11:46 AM

Oh, she's on top of the car.

Than what's that thing planking on top of the building?

---

infinite monkey Thursday May 19 11:50 AM

Plankton

---

Pete Zicato Thursday May 19 12:08 PM

---

monster Thursday May 19 12:58 PM

---

Sundae Thursday May 19 02:10 PM

I know all you chaps are joking.
But if you're ever really interested, check out planking and Australia.
Eventually you'll find something death-defying.

I know it's funny to suggest it's the same as sleeping.
But the Ozzies are pretty full of spunk.
And lager.
And stupidityness.

Photos do go from ha ha ha you're lying down, to ha ha ha you're about to die.

---

Gravdigr Thursday May 19 02:53 PM
---

Gravdigr Thursday May 19 02:55 PM

---

Gravdigr Thursday May 19 02:56 PM

---

classicman Thursday May 19 02:59 PM

DOLPHINNNNNNNNNNNNNNNNNNNNNNNNNNNNNNN

---

lookout123 Thursday May 19 03:39 PM

Is that a swordfish or a manta planking on the top corner of that building?

---

sandypossum Thursday May 19 08:06 PM

'tis a mullet:

"The grandly named Promontory Gate Hotel, better known throughout the world as the Fishy Pub. It was built in 1939 to replace a former timber building destroyed when Victoria was ablaze with bushfires. History tells us that it is the fourth hotel on that present site since 1893. The seven metre long mullet that reclines on the hotel roof is the work of Venus Bay artist Colin Suggett. Colin saw his fish as a stunned mullet, something that had been valued but discarded and left to die, abandoned. The mullet is built on a steel frame with aluminium, iron and fibre scales. It was created on site at a Mount Gambier quarry in 1990 and transported to Fish Creek where it has found a home on the roof."

Picture from a better angle here.

---

casimendocina Friday May 20 05:47 AM

Call me unimaginative, but somehow, I can't see Zen in red leggings.

---

infinite monkey Friday May 20 08:22 AM

I could sit on the wing of a flying plane, that would be death defying.

Everyone's doing it: SITTING. Don't be left out! You can practice almost anywhere, to build up to the plane.

---

casimendocina Friday May 20 12:37 PM

---

ZenGum Friday May 20 08:09 PM

Okay, this is getting silly.

Students have been disciplined in several schools, in South Australia and Queensland, for planking in school grounds.

At least four shop assistants have been fired for planking at work.

And Casi seems to have missed that the car I was describing is the one featured in the original post i.e. Sandy's Possum-mobile.

---

casimendocina Saturday May 21 01:07 AM






---

ZenGum Saturday May 21 01:53 AM

Seriously, this is following all the patterns of a new drug craze and the resultant hysteria. I have a sensitive sense of the absurd and this is making me



ETA especially the guy planking across two camels. Camels make everything funnier.

---

BigV Saturday May 21 11:33 AM

---

BigV Saturday May 21 11:35 AM

(I said it nicely, I could have said "Cite.")

---

wolf Saturday May 21 05:05 PM

Once again, The Cellar is ahead of the local news curve. There's some wack-job in Philadelphia that planks around 30th Street station and gets security called on her a lot. She was interviewed, and filmed planking in a number of extremely uninteresting places (floor of main concourse and on a table in the food court. ho hum). The story ran last night (Friday. Or maybe it was Thursday. In any event, it was after the initial IOTD post).

---

Aliantha Saturday May 21 08:09 PM

All the kids are planking these days. It's just a passing fad, and taken in the correct context, it is pretty funny.

I think the hysteria is stupid.

Here's a couple of pics of my kids planking.

Attachment 32482

Attachment 32483

---

ZenGum Saturday May 21 08:28 PM


From Friday May 19th



---

ZenGum Saturday May 21 08:35 PM


---

Pete Zicato Sunday May 22 12:30 AM

That one picture reminds me of flagpole sitting - a 1920's fad.

---

DucksNuts Sunday May 22 03:50 AM

One of the local guys at Dick Smith's was sacked for planking at work.

Its sooooo addictive, I walk along and see some random object..."I could plank that shit".

---

SPUCK Sunday May 22 05:55 AM

sandypossum; If you want to increase the impact of a planking may I suggest you add something to make it seem more permanent.

With respect to your farmyard style something like putting a live chicken on your back. Maybe sprinkle some feed on your back. That'll add zaniness and some animal interest. It'll look like you've been like that for hours or days. If you could have something like a pygmy goat standing on your back that would be spectacular.

For the non-farm yard effect something like a potted plant would do it. The squirrels in my yard would do it for a walnut. Perhaps a dog just sitting.

---

HungLikeJesus Sunday May 22 10:00 AM

How about a monkey, riding a dog?

---

Pete Zicato Sunday May 22 05:43 PM

---

classicman Sunday May 22 09:56 PM



---

casimendocina Monday May 23 04:47 AM

(Stating the obvious here, but I'm going to go ahead and post anyway) The planking by the Santos guys...now that is just stupid.

---

ZenGum Monday May 23 05:19 AM

I'm not so sure. Firstly, he might have some kind of safetly line on, but it is hard to tell. Secondly, there is probably some kind walkway beneath him, just out of shot. So, not that stupid. Maybe.

Then again, he was goofing off at work, took photos of it, posted them on the web and so got fired. Yeah, okay, that's dopey.

---

SPUCK Monday May 23 06:10 AM

Looks like two even. I'm sure he thought his argument would be, "I took all safety precautions!"

Boss:
"Yeah, but if we don't fire you we look lax on safety fool!"

---

sandypossum Monday May 23 07:54 PM

---

ZenGum Monday May 23 09:01 PM

I'm starting a campaign to warn people about planking. My slogans:

Planking: are you really that board?*

Plankers: as thick as two short ones.

Planking: get over it.

Plankers are a splinter group.

Planking: just because I did, wood you?

Plankers are not level-headed.


* with acknowledgement to Infinite Monkey.

---

footfootfoot Monday May 23 09:18 PM

Planks for the memories

---

infinite monkey Tuesday May 24 09:10 AM

Plankers: half a bubble off plumb

---

Trilby Tuesday May 24 10:08 AM

---

BigV Tuesday May 24 12:33 PM

Planking--like wanking, but when you got a pee instead.

---

casimendocina Sunday Jun 5 06:51 AM

A 5 second film on how to deal with friends and acquaintances who are addicted to planking.



http://5secondfilms.com/watch/planking/

---

DucksNuts Sunday Jun 5 07:33 AM

hahaha

---

Aliantha Sunday Jun 5 07:46 AM

That's funny!

---

BigV Sunday Jun 5 12:06 PM

ROFLMAOuch!

---

Lola Bunny Sunday Jun 5 05:25 PM

OMG!

---

ZenGum Monday Jun 13 10:17 PM

I'm only surprised it took so long before someone did this:

Attachment 32754

See http://www.news.com.au/national/woma...-1226073252652


Let's see you do that with an UNTIED crocodile, ya sissy!

---

CaliforniaMama Friday Sep 9 12:16 PM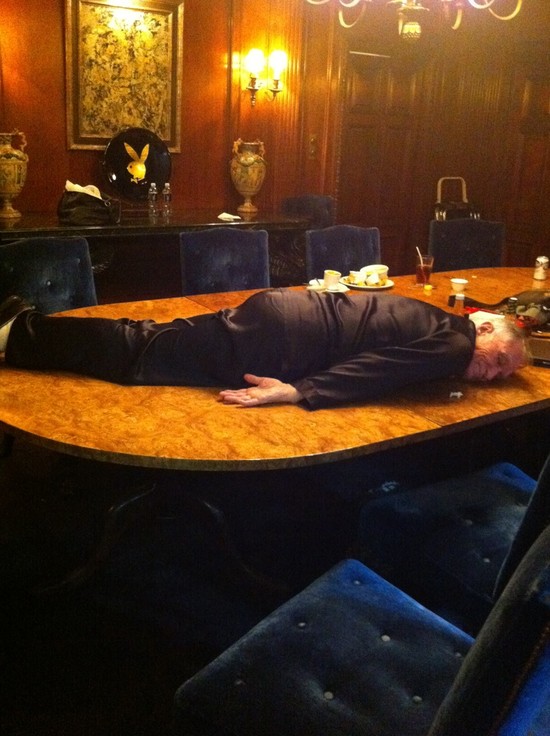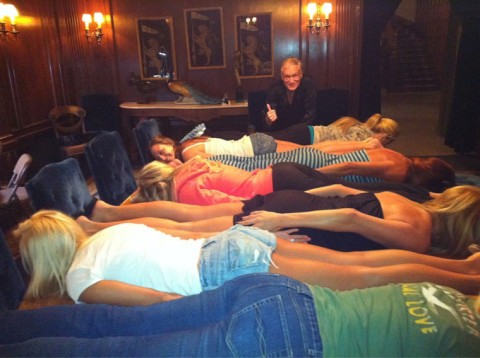 On August 3, 2011, Hugh Heffner's girlfriend, Anna Sophia, talked the 85 year old into planking after a game of Uno. He was all for it, laying on the dining table in his silk pajamas.

If he was going to plank, than so were his Playgirls. He got them all arranged and gave a thumbs up for Anna Sophia's picture.

Posted on The Superficial and E Online, to name a few.

Photos credit: Anna Sophia Berglund

---

infinite monkey Friday Sep 9 12:47 PM

Wow! It's even stupider when rich people do it. I thought it was only stupid when dumb bimbos did it.

I call it "laying on a table." It's all the rage.

---

classicman Friday Sep 9 03:24 PM

Too funny Mama. It does show how removed from the rest of us the uber rich are.
Took them months to catch on to a fad thats already dying off.

---

Aliantha Friday Sep 9 06:54 PM

Actually, planking has just been in the news again. A couple of workers down south who took pictures of themselves planking at work have just been fined after losing their jobs months ago.

---

SPUCK Saturday Sep 10 04:45 AM

Why do those Playgirls have their clothes on??

---

Aliantha Saturday Sep 10 05:40 AM

Yeah...

---

CaliforniaMama Saturday Sep 10 10:03 AM

Planking is still in the news . . .

In May, a 20 year old in Brisbane fell off a seven story balcony trying to plank on the balcony rail and in August, a man was sent to the hospital from planking on a golf cart. The golf cart stunt was one part funny, one part sad and one part plain old dumb.

This article lists a planking anthem, as well as 11 planking videos. My favorite video is the Planking Chihuahua. The planking anthem, rap style, is pretty good with lots of good planking pictures, including one of Obama

, but don't watch it around the kiddos.

---

classicman Thursday Sep 15 01:33 PM

!

---

CaliforniaMama Friday Sep 23 09:03 AM

Last night, 12 year old son says he has a trick he wants to show me.

He lays down on the floor, arms at his sides.

11 year old son (who knows everything worth knowing) asks, "What's he doing?"

Mom, surprisingly informed, replies, "He's planking. A lot of people do it while balancing on things. It's more impressive that way."

12 year old quickly goes for kitchen step-stool (library stool - small round stool on rollers - maybe 20"-24" in diameter). I can't grab my camera fast enough.

11 year old couldn't quite get it. His body was kinda sagging.

12 year old got pretty close. He just didn't get his head up and in line with the rest of his body.

Dad was in perfect form. And he's never even heard of it before.

Can't wait until they hear about owling.

---

TaraHarrison Friday Sep 23 10:22 AM

They will simply be liberated where they can be studied. Hawking has long proven that mini black holes must exist if the rest of black hole theory is reasonably correct,


---

Perry Winkle Friday Sep 23 03:20 PM

Finally, another human endeavor more retarded than flag-pole sitting.

---

CaliforniaMama Saturday Jan 14 10:44 AM

Ever since Mom (my mother-in-law, the woman who barely tolerated the few pets her children were allowed to have, and who swore she would never have one of her own) has gotten herself Corgi, my world has become inundated with Corgi-this and Corgi-that. So naturally, this planking Corgi just had to come up!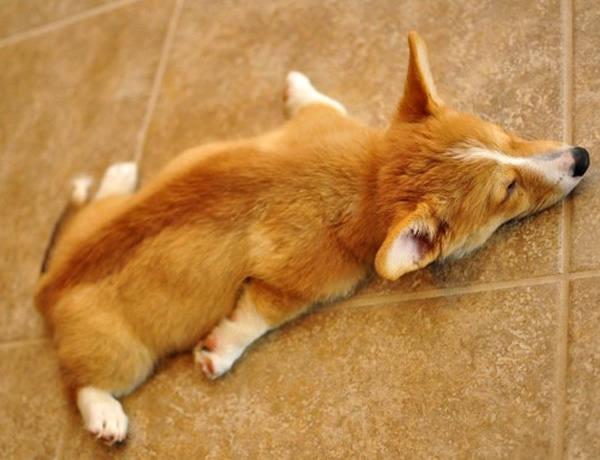 ---

Gravdigr Sunday Jan 15 01:20 PMClick.

---

Gravdigr Sunday Jan 15 01:21 PM

The Hef rocks.

---
Your reply here?

The Cellar Image of the Day is just a section of a larger web community: a bunch of interesting folks talking about everything. Add your two cents to IotD by joining the Cellar.