Wombat Wednesday May 4 08:32 PM

May 5, 2011: Ghost of executed murderer

Joseph Paul Jernigan (January 31, 1954 – August 5, 1993) was a Texas murderer who was executed by lethal injection at 12:31 a.m.

The image below is a real photograph of him, taken years after his death.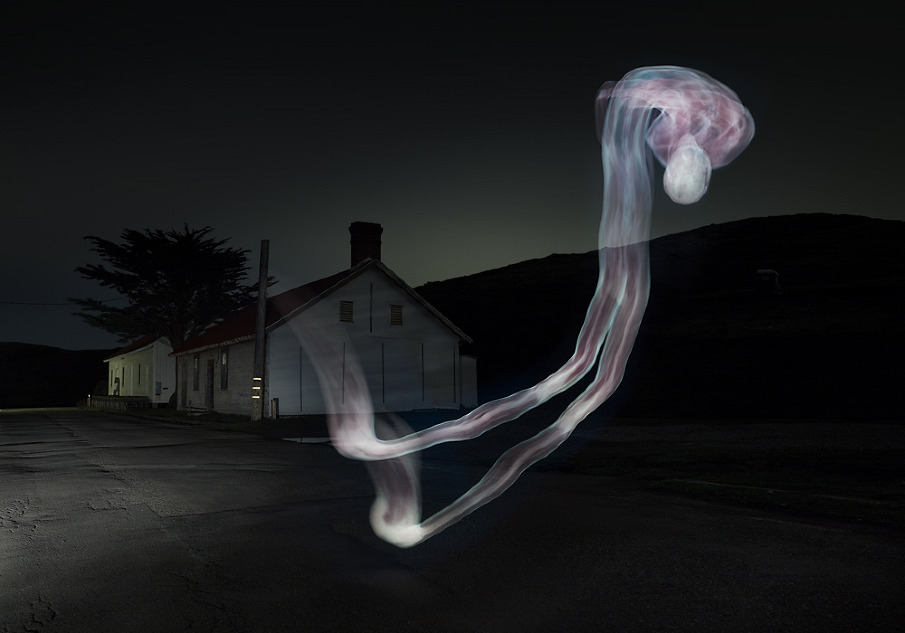 How it was done:


Quote:

The Visible Human Project is an effort to create a detailed data set of cross-sectional photographs of the human body, in order to facilitate anatomy visualization applications. Jernigan's cadaver was encased and frozen in a gelatin and water mixture in order to stabilize the specimen for cutting. The specimen was then cut in the axial plane at 1 millimeter intervals. Each of the resulting 1,871 slices were photographed in both analog and digital, yielding more than 65 gigabytes of data.

The images were then turned into an animation, which played them one after the other, moving from the head down to the toes....


Quote:

The animation was played fullscreen on a computer, which was moved around by an assistant while being photographed in a dark environment. The resulting images are long-exposure "light paintings" of the entire cadaver. Variations in the movement of the computer during each exposure created differences in the shape of the body throughout the series.

More images and the full story at the artist's website: http://www.project1231.com/

---

monster Wednesday May 4 09:54 PM

is it wrong of me to find this funny?

---

TheMercenary Thursday May 5 12:39 AM

Well they need to kill him again I reckon.

---

mizzie Thursday May 5 07:35 AM

The Science Museum of Minnesota has a real cross section of a human body. (actually, two, one side to side and one back to front) They are encased in gel and on display. I found it fascinating, my husband found it disturbing. lol

---

infinite monkey Thursday May 5 10:20 AM

And he would've got away with it if it weren't for those pesky cross-sections!

---

glatt Thursday May 5 10:24 AM

That's a really neat picture, but the explanation kind of spoils it. Knowing how the magician does his tricks takes away from the entertainment value.

The photographer should have just said something vague about how the images were done.

---

Clodfobble Thursday May 5 01:49 PM

Does this mean the backgrounds were just pasted in? If not, a blurry assistant would be part of the image, right?

---

Nirvana Thursday May 5 02:29 PM

Anyone else think this should be in the bacon thread?

---

glatt Thursday May 5 02:31 PM

I think the assistant was holding the monitor in front of them, so the assistant stayed in the relative darkness. Then after the image made it into the camera from the monitor, they could shoot off a flash to illuminate the whole scene without the assistant in the shot. The only light source during the time it took to make the image was probably that street light, but if they set the exposures right, they could have made it so the assistant wasn't lit up enough to appear in the final image.

I'm probably not explaining it too well, but it's all about controlling the exposure levels and having the assistant move around. No photoshop needed.

edit: A similar trick is to make a busy highway appear to have no traffic on it by taking a long exposure. Like this.

---

blueboy56 Thursday May 5 05:10 PM

This may not be a good thing, either he(it) will come back 1871 times to haunt us or "Ghost Hunters" will have a 1,871 marathon (one hour for each slice.)

---

Happy Monkey Thursday May 5 05:28 PM

Quote:

Originally Posted by

glatt

I'm probably not explaining it too well, but it's all about controlling the exposure levels and having the assistant move around. No photoshop needed.

I bet some of the diagonal streakiness on the large light area of the side of the house is the assistant.

---

toranokaze Friday May 6 02:41 PM

It doesn't look real

---

Cyber Wolf Friday May 13 01:38 PM

These are some beautiful pictures. I'd like to see more of them. It's interesting, however, that the designer/coder for the website didn't disable the ability to pull and save the images off the page, considering they're asking $700 for each print.

---

infinite monkey Friday May 13 01:43 PM

I ordered a bunch of them. They haven't arrived. Ah well, some day my prints will come.

---

glatt Friday May 13 02:11 PM

You'll have to kiss a bunch of frogs first.

---

Elspode Monday May 16 12:09 AM

There was an entire traveling display of plasticized human bodies and parts of bodies here in KC awhile back. It was interesting, although the ones riding bicycles, playing tennis, etc, were kind of unsettling.

---
Your reply here?

The Cellar Image of the Day is just a section of a larger web community: a bunch of interesting folks talking about everything. Add your two cents to IotD by joining the Cellar.