Undertoad Thursday Mar 17 05:22 PM

Mar 17, 2011: Acapulco schools of fish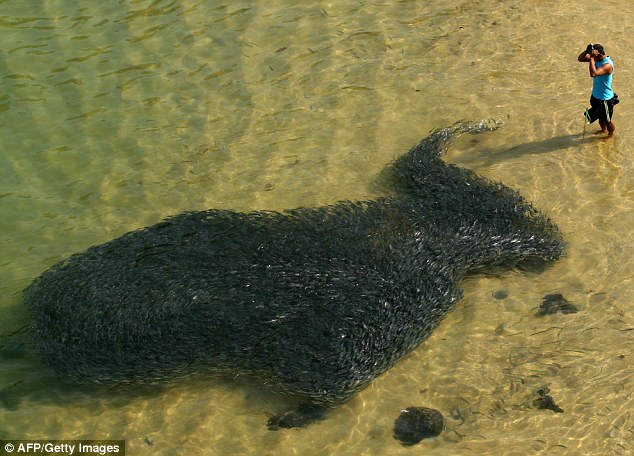 Live fish this time instead of dead ones: Acapulco is experiencing weird schools of fish, so thick that they blacken the water. They think it must be related to the tsunami halfway around the world... but how??

More amazing pics at the link.

---

monster Thursday Mar 17 06:01 PM

Looks like a shark

---

Wombat Thursday Mar 17 06:11 PM

Fish swim in schools for protection, right? So these fish are trying extra hard to protect themselves by swimming in an extra tight school: they are frightened of something. Yes it seems reasonable that they could be frightened as a result of the tsunami.

---

Aliantha Thursday Mar 17 07:34 PM

We get schools of bait fish here like that. You should see the sharks going crazy for them.

This is a picture from a particularly large school from a couple of years ago.


---

capnhowdy Thursday Mar 17 09:48 PM

I'm sure these will taste a lot fresher. The last fish fry left stains on my eyeballs.

---

SPUCK Friday Mar 18 06:04 AM

Neat pictures.

---

infinite monkey Friday Mar 18 09:11 AM

It looks like the magnet thingies in Wooly Willie.

---

newtimer Friday Mar 18 09:25 AM

---

Coign Friday Mar 18 12:20 PM

---

infinite monkey Friday Mar 18 12:29 PM

Imma gonna tell you sort of the same thing I told my friend who insisted that the fish in her tank was swimming upside down and weird because the fish "wanted us to know" that it was pregnant.

Fish don't really give a hoot whether you know about them or not. I don't even think they know you exist, let alone that they would get in a group to warn the humans of the upcoming apocalypse.

Fish are selfish like that.

Egocentric little fishies.

---

Queen of the Ryche Friday Mar 18 03:43 PM

---

monster Friday Mar 18 05:51 PM

---

Aliantha Friday Mar 18 10:44 PM

Fish swim upside down because their swim bladder is out of wack.

---

xoxoxoBruce Sunday Mar 20 10:37 AM

The tsunami changed the currents, and water temperatures, along the shoreline.

---

SPUCK Monday Mar 21 04:36 AM

The fish are infected with Facebook.



Bahhh baahhh baaah baaaa
baaah
baaah

baaah
baaah


baaah

baaah
---

capnhowdy Monday Mar 21 07:10 AM

Very enlightening, to say the least.

HUMBUG

---

infinite monkey Monday Mar 21 10:13 AM

*raises hand*

Professor Spuck? How did you do that?

---

SPUCK Tuesday Mar 22 06:51 AM
Picked one.
Copied the link to it.
Pasted it in here using the 'mountain' button.
Spattered words around using spectacular artistic talent and lots of <Enters>

---

infinite monkey Tuesday Mar 22 08:27 AM

Oh, I thought you used existing Cellar smilies and somehow drew the sheep bodies around them.



Ha! The mountain button. Took me a second on that one too. Why, it is a mountain!

---

footfootfoot Wednesday Mar 23 09:58 PM

Do those fish qualify for a PELL grant?

---

infinite monkey Thursday Mar 24 12:30 PM



---

kerosene Friday Apr 1 07:45 PM

And if they default on that, they will be considered "sub-prime", since that krills their credit.

first time trying this pun thingy. Don't throw anything at me!

---

Sundae Saturday Apr 2 10:41 AM

Sea Kelp

---

kerosene Saturday Apr 2 01:42 PM

I otter

---
Your reply here?

The Cellar Image of the Day is just a section of a larger web community: a bunch of interesting folks talking about everything. Add your two cents to IotD by joining the Cellar.