coolcat Wednesday Mar 9 09:45 PM

Mar 9, 2011: Millions of dead fish at King Harbor in Redondo Beach, California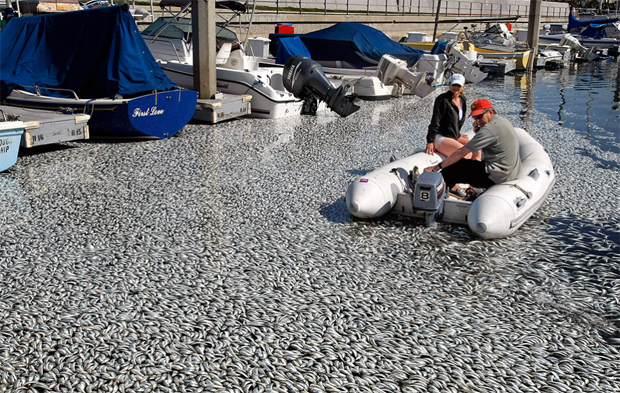 Authorities in Redondo Beach are investigating what killed millions of fish over the last day at King Harbor Marina. Fish, including anchovies, sardines and mackerel were floating lifeless in Basins 1 and 2 of the north side of King Harbor Marina.

"There's basically fish everywhere you go in the harbor," said the harbor's assistant manager, Jason McMullin, who added that there were reports that a red tide may have driven the fish into the harbor in massive numbers where they died because of limited oxygen.

http://latimesblogs.latimes.com/lano...4e5fb9fc9f970c

---

footfootfoot Wednesday Mar 9 11:08 PM

lately there's been a rash of massive bird die-offs too

---

Aliantha Thursday Mar 10 12:11 AM

The end is nigh!

---

zippyt Thursday Mar 10 12:36 AM

Charlie Sheen went swimming

---

ZenGum Thursday Mar 10 04:25 AM

Suppose they revved up that outboard and let her rip. Eeeiiuuuwww!

If the fish died from natural causes (hypoxia, eg) that would make excellent fertiliser.

ETA: thanks for the IotD, coolcat.

---

SPUCK Thursday Mar 10 06:22 AM

I'm amazed they're making such a hullabaloo of this. It happens all the time. Our harbor had it happening every other year until they fixed it.

They installed large motors with propellers on them all over the harbor. When the fish show up they turn them all on. It thrashes the water into an aerated foam and simultaneously reduces the incentive for the fish to hang around in the maelstrom. While the fish show up regularly there's never been another big die off.

BTW when those fish die? They rapidly decompose into an oily mess. The oils strip the very expensive paint off the bottoms of all the boats. This causes great hues and gnashing of teeth.

---

Adak Thursday Mar 10 09:11 PM

News today says they've removed over 20 tons of the dead fish. Still working on that, but concerned also about the fish that are dead and NOT floating on the surface.

Considering bringing in a "vaccuum" boat, possibly with a diver, to help remove the dead fish from the bottom of the marina.

Yes, it's all going to be sold to a fertilizer company, to help defray the costs of the clean up.

Sounds like the hull repainting business will be picking up!



Off-topic, but is Charlie Sheen the biggest space cadet of the last decade, or what? I thought Lindsay Lohan might top the list, but she's suzy stable, compared to Charlie.

---

wolf Friday Mar 11 11:34 AM

They heard the tsunami was coming and decided to take themselves out early?

---

SPUCK Saturday Mar 12 06:01 AM

Adak: Agreed there on Charlie.

Well wouldn't you know it? Our harbor was the one that got creamed by the tsunami today. You know. The one on all the national news channels all day.

Those network ass-clowns had a helicopter hover over it from 8am to 8pm. Sheesh. (or should I say Sheen!)

---

capnhowdy Saturday Mar 12 08:35 AM

I think we should break it down in smaller batches. All those fish will never cook at once.

---

wolf Saturday Mar 12 02:32 PM

Is zippyt on vacation again? Wouldn't be the first time he went fishing with dynamite ...

---

onetrack Saturday Mar 12 08:46 PM

Woo-Hoo! .. The Road Kill Grill, will now be able to broaden the menu, to include seafood .. with fresh anchovies, sardines and mackerel listed as being immediately available!

---

Flint Monday Mar 14 05:33 PM

...

---

SPUCK Tuesday Mar 15 06:44 AM

LOL!! Nice one Flint

---

Pete Zicato Tuesday Mar 15 10:01 AM

You know how they say animals can tell when an earthquake is coming? Maybe these guys suicided rather than face the tsunami.

---

Shawnee123 Tuesday Mar 15 10:02 AM

They all ate out of the same powdered kool-aid packet?

---

monster Tuesday Mar 15 10:20 AM

Pining for the Fjords?

---

monster Tuesday Mar 15 10:43 AM

Ingested Neurotoxins, apparently

---
Your reply here?

The Cellar Image of the Day is just a section of a larger web community: a bunch of interesting folks talking about everything. Add your two cents to IotD by joining the Cellar.