Undertoad Monday Mar 7 11:27 AM

Mar 7, 2011: Antarctic booze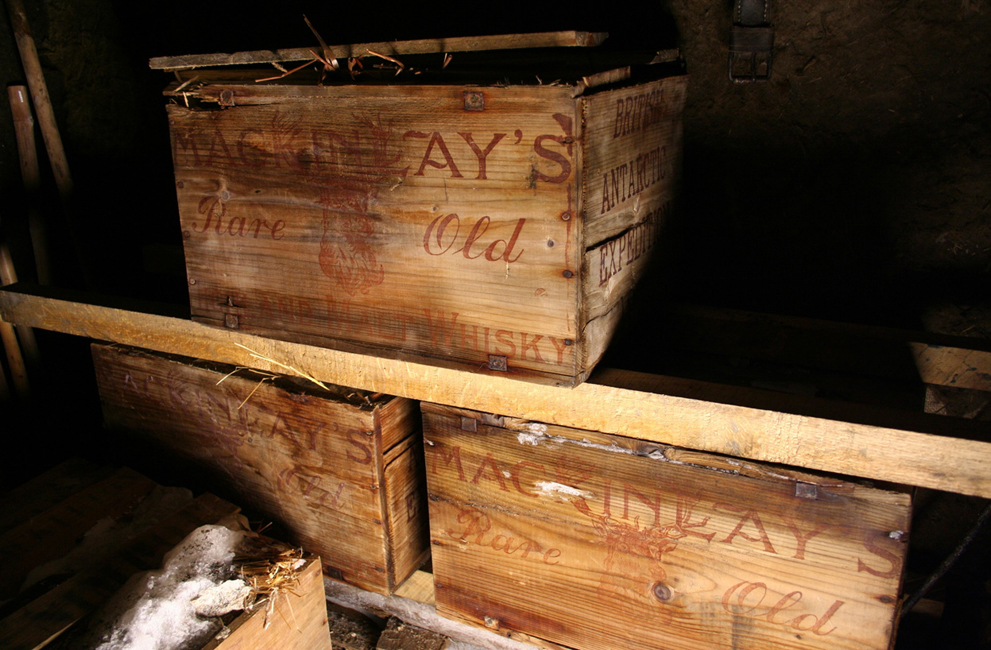 In 1907, one Sir Ernest Shackleton set out with a group of explorers, destined for the South Pole. Nobody had made it there before, and Shackleton had failed a few years earlier. With three mates along he made it further south than anybody else had, but they never made the Pole, because in January 1909 Shackleton made an executive decision that their team was in too much danger. He had made it about 100 miles away. But this was still considered a great achievement, and he was knighted for his attempt. If not for his decision to turn around, he and his team would almost certainly have died.

Now, over 100 years later, researchers excavated the hut where Shackleton made his northern base for the trip... and amazingly, underneath, they found five crates: three labeled "whisky" and two labeled "brandy".

The whisky itself is considered invaluable because it's a window into booze history: what were blends like back in the day? The brand itself, Mackinlay, is still made today after Mackinlay and Co were acquired by Whyte & Mackay, who consequently now own the Mackinlay label.


BBC story

The Atlantic photoset

---

Spexxvet Monday Mar 7 11:48 AM

Shack is awesome!

---

Happy Monkey Monday Mar 7 11:53 AM

They certainly were precient when labelling the crates.

---

Sheldonrs Monday Mar 7 12:22 PM

I guess they planned to drink and then do some pole dancing.

---

Shawnee123 Monday Mar 7 12:30 PM

Right next to those were crates of Rare Old Mountain Dew VOLTAGE.

---

Sundae Monday Mar 7 03:21 PM

You can add ice to a cheap blended whisky, or an American bourbon, but don't be adding it to a decent malt. Shackleton had no choice of course!

The whisky industry started chill-filtering their whiskies to cater for the American market; "real" whiskies used to go cloudy when ice was added. My Grandad remembers it as the sign of good whisky, but across the pond it was seen as an imperfection. However the filtering downgraded the flavour and made the introduction of an artificial colourant necessary.

The tide has turned on this, as Americans have finally been recognised as a discerning market, as opposed to an homogenous one. Top end Scots whisky distilleries once again glory in the fact a real uisge beath will cloud if you add ice (accept it or don't add it.)

Just in case I sound like an intolerable purist here, if I drink any whisky at all it will be drenched in Diet Coke. With ice.
Dads' is the whisky expert, not me.

---

GunMaster357 Wednesday Mar 9 04:45 AM

Ice and Diet Coke?

Vade Retro

---

onetrack Wednesday Mar 9 07:46 AM

Whisky mixers

I recall a story from a colleague about a crusty old Wing Cdr who, whenever a social event was on, and he was mine host, how he'd walk around and ask, "and what will you have with your Scotch?".

If the answer came back, "Diet Coke" .. "Dry Ginger Ale" .. "Coke" .. or some other pollutant .. the Wing Cdr would ensure that the recipient received a run-of-the-mill, low-grade Scotch, about on a par with cooking Sherry.

If the recipient stated, "just water", or "just a little ice" .. the recipient received some of the finest single malt in the house ..



I wonder who the lucky individual will be, that gets to taste some of that over-100-yr-old Scotch?



The crates alone would be worth the equivalent of a couple of bottles of the finest single malt, at todays values.

---
Your reply here?

The Cellar Image of the Day is just a section of a larger web community: a bunch of interesting folks talking about everything. Add your two cents to IotD by joining the Cellar.