coolcat Saturday Mar 5 04:52 PM

Mar 5, 2011: Euthanized puppy rises from dead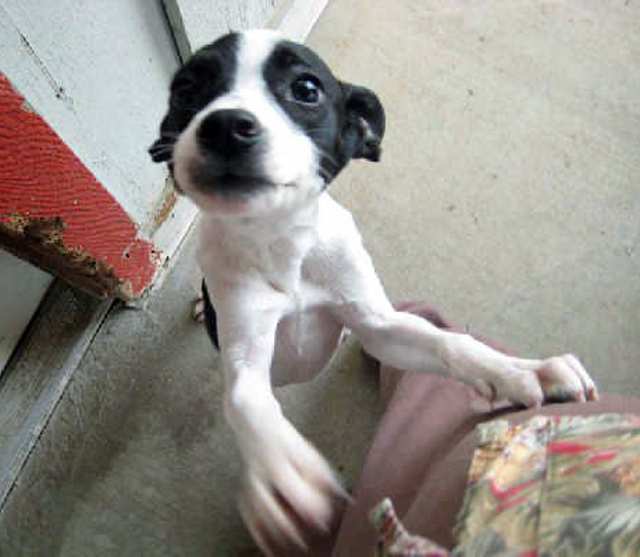 Talk about a real survivor.
Three-month old pup, Wall-e was euthanized, declared dead and left in a dumpster. But somehow he survived and is now looking for a forever home.
Named after the Pixar robot who was the last of his kind, Wall-e and the rest of his littermates were put to sleep by a Sulphur, Oklahoma dog shelter because they appeared to be very sick. After they were all put down, the vet checked their pulse, declared them all dead and then left them in an outside dumpster
Thankfully, the next morning, Animal Control Officer Scott Prall looked in the dumpster and saw Wall-e wandering around.
"He was just as healthy as could be," Prall said

http://latimesblogs.latimes.com/unle...anization.html

---

Undertoad Saturday Mar 5 07:18 PM

Here is his Petfinder page.

---

Griff Saturday Mar 5 07:46 PM

want

---

ZenGum Saturday Mar 5 08:21 PM

Yeah, you think he's all cute an innocent and adorable, don't you? Here's what he's really thinking.

Attachment 31356

---

jimhelm Sunday Mar 6 12:02 AM

put in a dumpster?

is that what they do?

---

Flint Sunday Mar 6 01:32 AM
"The puppy-killing poison used in this dead puppy has been found to cause cancer in the state of California."

---

Slight Sunday Mar 6 02:38 AM

I think Flint makes a good point. Why not eat them? Tender juicy young meat. If you didn't want to spend 10 years feeding him horse meat, why not spend 10 minutes eating his tasty meat? Waste not, want not. Why just be callous, when you can be callous and full. Instead of disposable pets, America should be famous for edible pets. I'm not necessarily calling for canine cookery, just responsibility. Or for you to come to terms with your animal hierarchy hypocrisy.

Or maybe - this being the Cellar and all - you guys have already tried puppy veal with butter and a nice wine sauce, and it was all stringy and gamy; and that's why you threw it out.

Shouldn't his name be Lazarus?

For the record: "Forever Homes" sound like a good idea.

---

Sundae Sunday Mar 6 07:14 AM

I think Zen makes a good point.
He's all cute and lovely now, but he will end up hiding under the bed with a scalpel in those innocent looking paws... I've seen it happen.

---

DanaC Sunday Mar 6 08:21 AM

Somewhere in Oklahoma there's a guy with a glowing syringe:


(nsfw)



---

Sundae Sunday Mar 6 09:36 AM

NSFW

Tis a bit grim too.


---

footfootfoot Sunday Mar 6 12:40 PM

Be god he revives, see how he rises, euthanised puppy rises from the dead
saying "Whirl your kibble around, like blazes, d'anam don diabhal, do ya think I'm dead?"

---
Your reply here?

The Cellar Image of the Day is just a section of a larger web community: a bunch of interesting folks talking about everything. Add your two cents to IotD by joining the Cellar.