monster Wednesday Mar 2 07:17 PM

Mar 2, 2011: Baby Aadvark

You're right, it's not Friday, but who could resist this?

Baby Aadvark Roxanne was born at the Detroit Zoo on January 8th and will soon be meeting her public.

Who name her though? Roxanne? Srsly? Or is that just her stripper name? I want to campaign for a better name. but first I need to come up with one. Artemis would be good....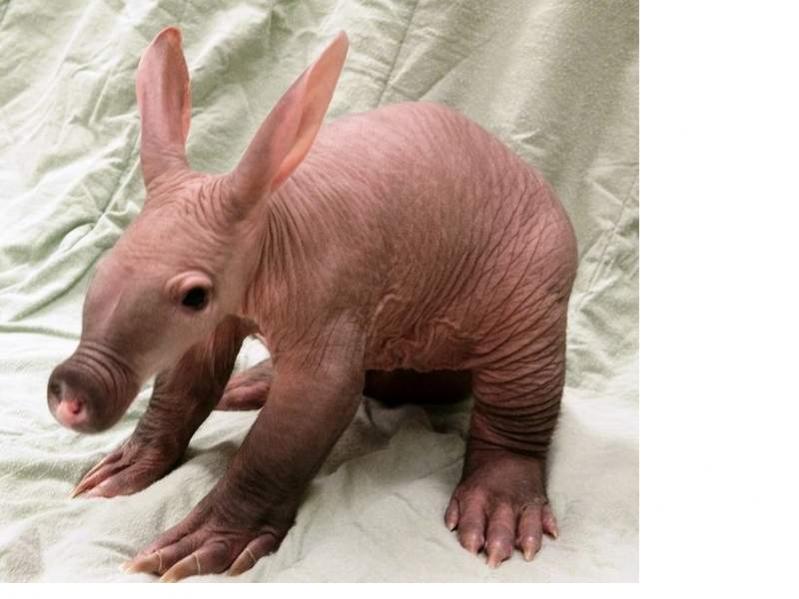 http://www.freep.com/article/2011030...xt|FRONTPAGE|p

---

footfootfoot Wednesday Mar 2 08:13 PM

I am successfully resisting it

---

monster Wednesday Mar 2 08:16 PM

I want to knit it a fluffy all-in-one to snuggle up in -it's seriously cold up here. 9 degrees tonight -all those little wrinkles will be freezing!

---

Nirvana Wednesday Mar 2 08:45 PM

Artemis Gordon from Wild Wild West

---

Tanalia Wednesday Mar 2 10:41 PM

That's Artemus Gordon.

---

monster Wednesday Mar 2 10:42 PM

Is it male or female? This Gordon character?

---

monster Wednesday Mar 2 10:44 PM

And wow, nice 13th post in 8 years! have you been watching forever and only very occasionally feel compelled to post, or do you remember us for a week here and there and then take a couple of years off? I guess I could look, but I'm itching to get you to post again... please?

---

502shellbell Thursday Mar 3 04:37 AM

Hi everyone, I am a big fan of your "image of the day" page - I've been checking it out for about 18months now - nearly every day. I always get such a laugh out of all your comments. I thought it was about time I registered so I could leave the odd comment too. I'm just going to check out the rest of the site now. Cheers from Australia - Shell

---

ZenGum Thursday Mar 3 05:38 AM

G'day Shell!

to the cellar

---

SPUCK Thursday Mar 3 05:59 AM

A face anyone could love! But the feet? Shuddder.

---

Cloud Thursday Mar 3 10:06 AM

Takemetoyourleader.

---

Sheldonrs Thursday Mar 3 10:11 AM

Looks like an uncircumcised penis with legs.

---

Shawnee123 Thursday Mar 3 10:27 AM

He's so darn cute!

Too bad he'll grow up to look like this:

---

Nirvana Thursday Mar 3 12:40 PM

---

Shawnee123 Thursday Mar 3 12:43 PM

Wow, you almost gotta feel sorry for someone who didn't watch The Wild Wild West reruns as a kid. I think they were on Saturdays or something. Those animated panels...such fun!

---

glatt Thursday Mar 3 12:57 PM

after school.

---

footfootfoot Thursday Mar 3 02:26 PM

---

Perry Winkle Thursday Mar 3 02:35 PM

and two holes on the end

---

jimhelm Thursday Mar 3 03:10 PM



---

Shawnee123 Thursday Mar 3 03:12 PM

---

Sundae Thursday Mar 3 03:25 PM

Otis.
No, really, it has history.

Or Aaron.
(Aaron A Aaronson, Hot Fuzz)
(well, The Simpsons)

---

monster Thursday Mar 3 04:24 PM

---

monster Thursday Mar 3 04:25 PM

---

Sundae Thursday Mar 3 04:39 PM

Don't get all gender-fascist on me!

---

lupin..the..3rd Thursday Mar 3 10:46 PM

---

ZenGum Friday Mar 4 02:52 AM

I hereby remind you all of the four-holed dong on the Exhibitionist Echidna.

---

Griff Saturday Mar 5 02:01 PM

beer batter

---

toranokaze Saturday Mar 5 04:05 PM

Smoked on a mesquite fire for at least 24 hours, then sliced thin to make sandwiches.

---

Gravdigr Saturday Mar 5 05:05 PM

---

Elspode Sunday Mar 6 05:55 PM

---

zippyt Sunday Mar 6 06:28 PM

Yeah Splode I rember it to

---

BigV Tuesday Mar 15 06:37 PM

yeah.. but do you remember it when it was first broadcast on telegraph?

---
Your reply here?

The Cellar Image of the Day is just a section of a larger web community: a bunch of interesting folks talking about everything. Add your two cents to IotD by joining the Cellar.