Undertoad Tuesday Mar 1 05:04 PM

Mar 1, 2011: Tilt-shift Van Gogh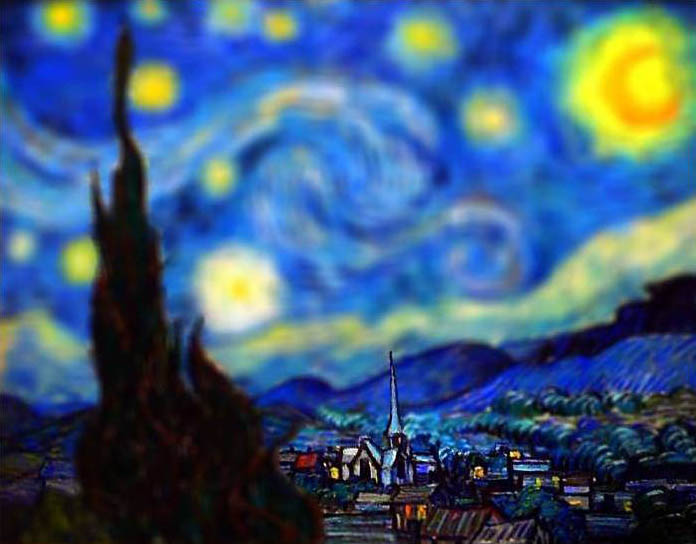 A little background first: "tilt shift" is a photoshoppy technique where an ordinary photo of something wide in range, such as a landscape, is converted into what looks like a model. Aw hell, this page explains it better than I can, and has examples.

So, Serena Malyon came up with the idea of performing tilt-shift manipulations on iconic Van Gogh paintings.

This is the fine art version of remix artists and DJs taking old, familiar songs and turning them into something new, in a way that maintains artistic integrity.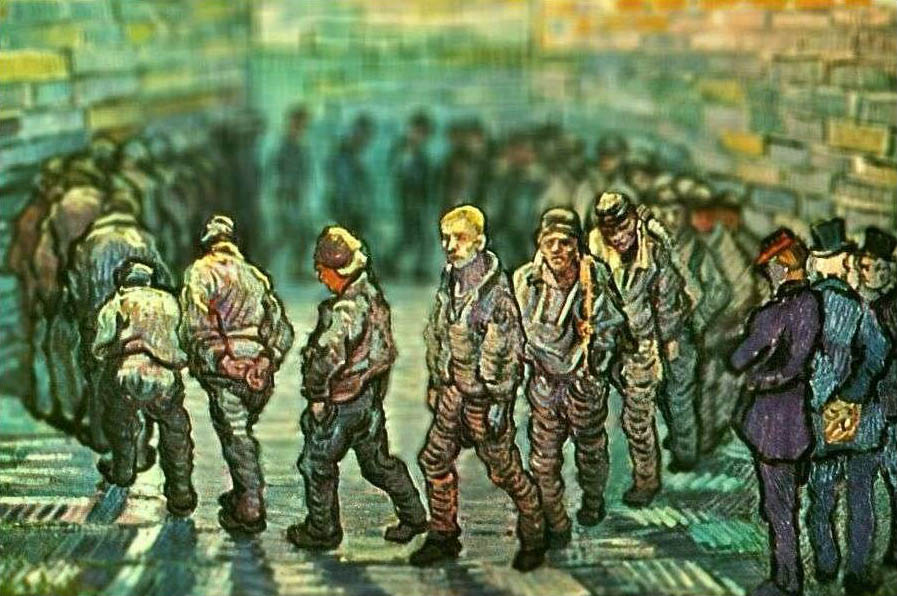 link

---

zippyt Tuesday Mar 1 05:13 PM

I dream like that some time

---

jimhelm Tuesday Mar 1 08:55 PM

because Van Gogh needs more color saturation.

I really like it though. very very cool

---

monster Tuesday Mar 1 10:07 PM

I like it.

---

Alluvial Tuesday Mar 1 11:15 PM

I like it too.

---

Gravdigr Wednesday Mar 2 12:00 AM

New tech, applied to old medium.

---

Elspode Wednesday Mar 2 12:19 AM

Essentially, changing the f-stop setting of the camera the photo was painted with.

---

Trilby Wednesday Mar 2 02:01 AM

I like!

---

SPUCK Wednesday Mar 2 06:28 AM

Why all the blur? Is that an artifact of the process?

Makes me think they're trying to hiding something.

---

monster Wednesday Mar 2 08:02 AM

---

Shawnee123 Wednesday Mar 2 08:45 AM

Coolamundo!

My ex's roommate (a jeweler/artist) painted a version of Starry Night for me. It's quite good.

I don't care what anyone says: I luvz Van Gogh. I woulda been his girlfriend had I been alive then.

---

glatt Wednesday Mar 2 08:50 AM

Not a lot to say about these, but I think they are cool, and I like them. In hindsight, it's obvious that this can be done to paintings, but I think the person who thought of it is brilliant.

---

Sundae Wednesday Mar 2 10:24 AM

I keep seeing this as Tit-Shift. But that was Titian.

---

Diaphone Jim Wednesday Mar 2 01:00 PM

OK. A hundred years of model makers trying for the most realistic look possible.
These guys take reality and make it look fake. Now that's progress.
I am sure van Gogh would wish he had been able to make his pictures just like these.
I am afraid I can't understand all the superlatives in the various descriptions of the technique.

---

Adak Friday Mar 4 12:48 PM
<< Exactly!! >>

---

ZenGum Friday Mar 4 07:12 PM

Tit-shifting was Picasso. Philistines.

---
Your reply here?

The Cellar Image of the Day is just a section of a larger web community: a bunch of interesting folks talking about everything. Add your two cents to IotD by joining the Cellar.