Undertoad Wednesday Feb 23 02:05 PM

Feb. 23, 2011: Titian suffers prude vandalization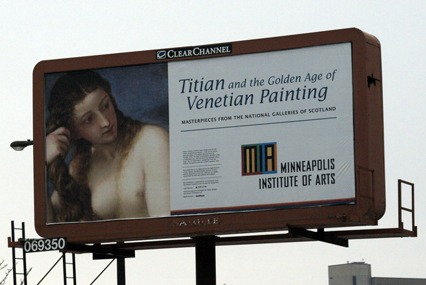 Before.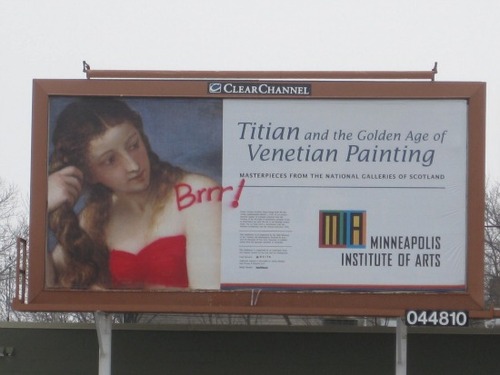 After.

The MN Institute of Arts has decided to leave this billboard up as is, rather than removing it as the result of its recent vandalism. No matter how cold it is.

link

---

Leus Wednesday Feb 23 03:46 PM

That's cold.

---

TheDaVinciChode Wednesday Feb 23 03:57 PM

Sadly, it has since been taken down / replaced.

http://blogs.citypages.com/dressingr...iti-bombed.php

Some people have no sense of humour.

---

ZenGum Saturday Feb 26 01:55 AM

Well the guy's name is Tit-Ian.

If it's that cold, her nipples should be erect.

---

Shawnee123 Saturday Feb 26 02:29 PM

Wish I could find the video of this, but I was reminded:

http://snltranscripts.jt.org/77/77hmiller.phtml


[ E. Buzz holds up painting of naked woman lying on a bed ]

E. Buzz Miller: Now, the first one here is called Venus of Irbino, and it was painted in 1538 by a guy in Venice. And, this is for real, his name is spelled T-I-T-I-A-N. Titian! Honest to God!

______________________________________________
E. Buzz Miller: Okay, here's another one, painted by the same guy - Titian. He painted these broads in 1555, so.. it's a classic! As you can see, he was a master of lights, colors and shapes. And, uh, we blew up this picture here with a little more detail. [ holds up superimposed painting of the sole naked woman in the original painting ] What do I see there, Christie? I see something there. Do you see something there?

Christie Christina: Yes, I do! [ giggles profusely ]

E. Buzz Miller: [ points to the woman's pointed nipple ] Right.. there! You see? He didn't leave a thing off, did he!

---

Sundae Saturday Feb 26 02:55 PM

I'd rather see a vandalised billboard than a vandalised painting.
It is quite amusing and very well done.

Isn't this a movement in America, not by prudes but by feminists? (without googling I think it's called "cover up"?
Which is basically against the idea of female nudity being used to sell items/ tickets/ ideas? I'd be very much against this kind of amending of posters if it happened in this country. Anyone can see titties on Page 3 of the tabloids every day so why penalise art? But in the confusing (to me) moral climate of America I can see how it could be a feminist message, not Philistine prudery.

---

Cloud Saturday Feb 26 04:18 PM

whew! I thought it was the actual painting, which would have been a tragedy.

---
Your reply here?

The Cellar Image of the Day is just a section of a larger web community: a bunch of interesting folks talking about everything. Add your two cents to IotD by joining the Cellar.