Undertoad Friday Feb 18 12:52 PM

Feb 19, 2011: Identity-preserving ski mask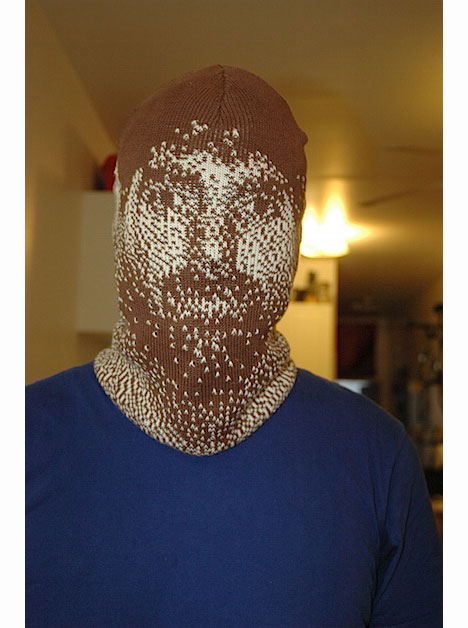 Ah, the ski mask, or balaclava. It's the ideal thing to wear in the extreme cold, because it protects your entire face and head, where most of your warmth is lost.

But wearing one, you have the problem that every cop on the street expects you to dodge into the next bank and rob it. And when you say hello to friends, they think you're a scary person about to do them harm, not the friend they hoped to see.

Above, the solution: the self-portrait ski mask. Developed by Andrew Salamone, from his own face, and "printed" with a hacked knitting machine.

---

Nirvana Friday Feb 18 02:06 PM

Oh yah that does not look creepy or anything



---

Adak Friday Feb 18 02:27 PM

What fun, your personalized death mask, today.



Inside part looks VERY fragile. Props for creativity on the hack of the knitting machine!

---

Shawnee123 Friday Feb 18 03:00 PM

Andrew's mask makes him look like a terrorist. What does a terrorist look like, you might ask? Exactly like that mask! Underneath, he's just a slightly doofy looking guy.

---

glatt Friday Feb 18 03:10 PM

---

Shawnee123 Friday Feb 18 03:16 PM

Wait'll the young'uns get their hands on this technology!

---

Sundae Friday Feb 18 04:05 PM

He should sell that mask on eBay.
That normal balaclava looks exactly like the death mask of Jebus.

Shaw - the Knitting Jenny is a modern contraption.
We grew up with the Raddling Nancy.
Times was hard but bread was harder.

---

toranokaze Saturday Feb 19 05:14 PM

It wasn't a death mask it was just a hat his face was cold

---

Adak Saturday Feb 19 09:24 PM

Well, to be honest, wearing it, it looks like the dude died, and went to the dark side of creepy.

It might be a great idea, but it needs some serious re-thinking.

---

Clodfobble Sunday Feb 20 12:31 AM

How can he possibly breathe or see through that thing?

---

Adak Sunday Feb 20 02:06 PM

It has spaces between the rows of yarn. That's also why we can see the lighter yarn that makes the shape of his mask face.

If you took a picture of him wearing it, with a special camera set to use certain wavelengths of light, you could actually see right through his balaclava.

Sony had a video camera some years back, that used this technique for ultra low light video recording, and had to change it - it had the ability to look right through some types of clothes - especially thin swim suits and knit cloth.

---

wolf Sunday Feb 20 03:20 PM

I am having a hard time deciding if that would look more or less creepy if it had the eyes and mouth openings that it's supposed to.

---

Diaphone Jim Monday Feb 21 07:59 PM

Is it OK to ask what happened to Bruce?
I don't spend much time on anything but IOTD.
Are the changes here talked about someplace else.
I guess I don't handle change well.

---

Clodfobble Monday Feb 21 10:56 PM

He's taking a sabbatical to pay attention to real life. Word is he'll be back around on the board eventually, but I haven't heard specifically whether he intends to get back into doing IoTD. Anyone can submit one, it was purely voluntary and unofficial on his part.

---

Griff Tuesday Feb 22 07:17 AM

I wonder if we should post an out-line for IOTD submissions to get the ball rolling? I don't think I've ever posted one but I did point Bruce and/or Tony toward a couple. I've always been concerned about the permissions aspect of it, but I know they've always handled it.

---

Sundae Tuesday Feb 22 09:30 AM

Go-go-Gadget-Griff.
Anything you can do would be appreciated.
It's our shop window after all, and has landed some lovely Dwellars.

Not that I came in that way. Uh-uh. No way. Not me.

---

Shawnee123 Wednesday Feb 23 12:18 PM

I don't know the protocol. For one thing, how can you know 7 other posters don't have one lined up? I sent one towards UT last week or so, use it or not, me not care, because I don't really know the procedure. Mebbe I should have posted it myself, but...(see lines 1, 2, and 3.)

---
Your reply here?

The Cellar Image of the Day is just a section of a larger web community: a bunch of interesting folks talking about everything. Add your two cents to IotD by joining the Cellar.