Undertoad Saturday Feb 12 09:13 AM

Feb 12, 2011: Egyptian laptop flock in the middle of revolution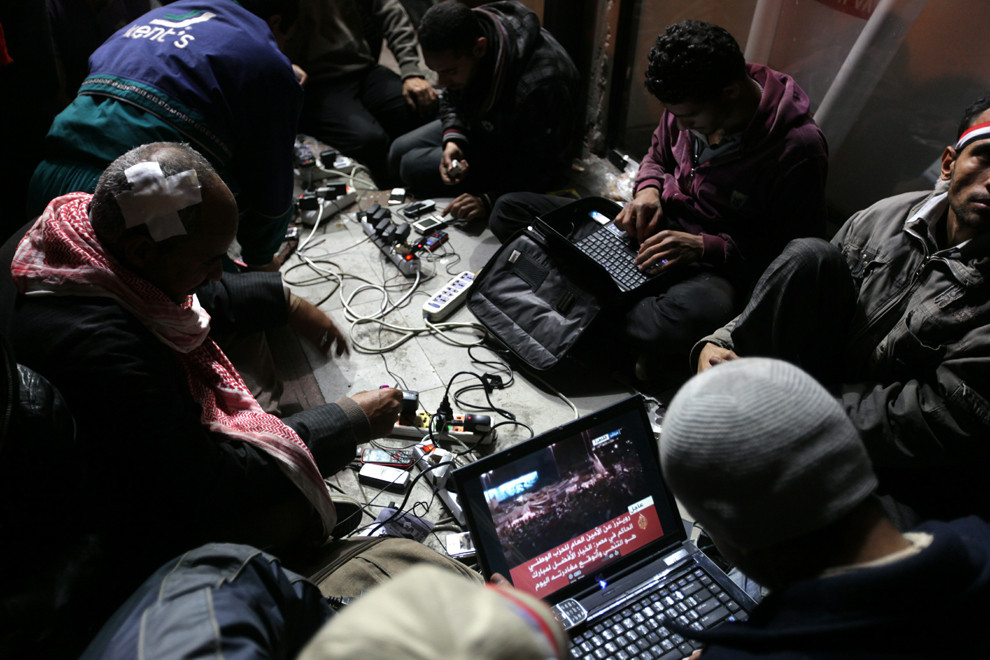 From the Boston Globe's Big Picture comes this shot of anti-government bloggers, working from Tahrir Square. The official caption says "Despite government attempts to shut down the Internet and limit communications, organizers have been adept at using a variety of media and electronic workarounds to coordinate the rallies."

It looks like they've been using the cell network to do tethering; despite government's attempts to shut off the net, somebody left the lights on... and somebody managed to get power and outlet strips so this group could charge up and get word out to the world.

---

Undertoad Saturday Feb 12 09:18 AM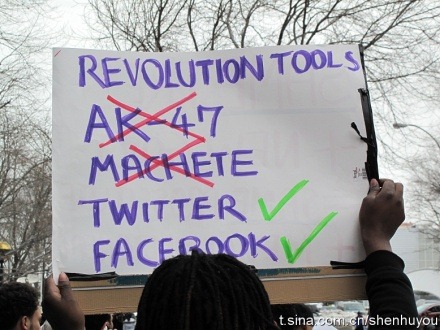 ---

Griff Saturday Feb 12 09:57 AM

Amazing paradigm shift...

---

Sundae Saturday Feb 12 10:07 AM

Was the second one taken in Egypt?
It should be scorching out there this time of year, instead it looks more like England

---

lupin..the..3rd Saturday Feb 12 10:49 AM

But it does make for a clever sign.

---

Spexxvet Saturday Feb 12 10:55 AM

In the middle of all that, they're taking time to play a multiplayer first person shooter. Amazing!

---

Griff Saturday Feb 12 11:05 AM

---

Perry Winkle Saturday Feb 12 02:09 PM

---

Sundae Saturday Feb 12 02:32 PMEgyptians. They're geographically Africans y'see.

But thanks for the possible answer. It makes sense to me.
And yes, London is full of Arabs (Elvis Costello)

---

Bullitt Saturday Feb 12 02:56 PM
http://en.wikipedia.org/wiki/Arab_people

---

SPUCK Sunday Feb 13 06:12 AM

Now let's all hope it doesn't turn into another inept "student", enabling radical religious dominated government.

Iran comes to mind... They kick out someone undesired and eventually end up with a pathological idiot who's religiously backed as a President for Life - who's much worse.

---

Wombat Sunday Feb 13 06:38 AM

---

Sundae Sunday Feb 13 06:40 AM
I was just showing off because I've been there.

---

Bullitt Sunday Feb 13 12:00 PM

Nice, Egypt is on my list one day.

---

FloridaDragon Sunday Feb 13 01:58 PM

What makes me chuckle is that just about every sign you see held up in the crowd is in English .... and if there is Arabic on it, it is smaller and almost a subtitle ... So all the signs are just made for the journalists and CNN, not for the people of Egypt.

---

Stormieweather Sunday Feb 13 02:17 PM

I spent a month there, and have some close friends from the country. I'm very proud of them for finally standing up for themselves.

I do think the internet was a big influence on their ability to mobilize and coordinate, as well as keep spirits up. I would think it would be easier to face tanks and tear gas when you know people around the world are behind you (in spirit).

I followed every moment with live streaming broadcasts, multiple live blogs and twitter feed.

---

Perry Winkle Sunday Feb 13 04:11 PM

---
Your reply here?

The Cellar Image of the Day is just a section of a larger web community: a bunch of interesting folks talking about everything. Add your two cents to IotD by joining the Cellar.