xoxoxoBruce Sunday Jan 2 12:30 AM

Jan 2, 2011: Who Are You?

You are what you eat? Yeah sort of, but that's long term and hard for others to detect.
There are many choices you make, hair, clothes, posture, expression, jewelry, tattoos, etc, that affects their opinion of you.
Clues they compare to their experience bank, that form their opinion of who you are, what you're about.
At least until they know you for awhile, and can make better judgment from your actions.

What can you tell about the people in these eight pictures?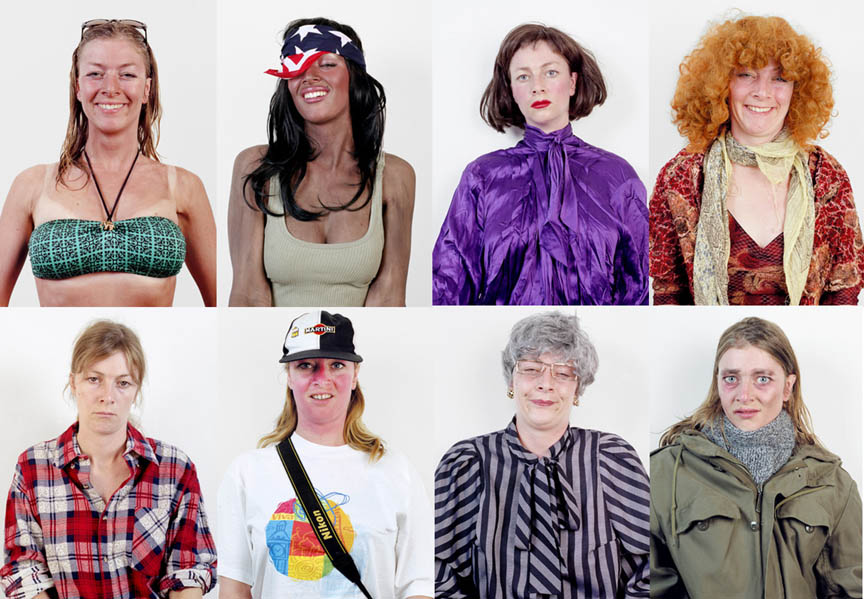 Did you notice it's eight pictures of the same woman?
Actually, they are 8 out of 36 portraits of the same woman, in a "sequence" called "Community", by photographer/artist Nienke Klunder.
It's a good example of how your choices affect the way people will perceive you.

You can see the rest, and several other "sequences" worth veiwing at her website. I liked "Leaving Hollywood".



via

---

Sundae Sunday Jan 2 07:18 AM

Sitting there and staring at the photos with a question in my head, I did guess that they might be the same person.
Had I seen her on the street in those different guises I would have been none the wiser, as I wouldn't have a side by side comparison, and anyway it's rude to stare.

One of the giveaways that something was off was the brown bob wig though. It screamed WIIIIG! WIIIG! so loudly I had to turn the sound off.

Interesting stuff.

---

skysidhe Sunday Jan 2 11:30 AM

I don't believe those are 'real' people, except for #1.

EDIT [OH]

---

xoxoxoBruce Sunday Jan 2 12:16 PM

Oh ye of little faith.

---

Sundae Sunday Jan 2 12:19 PM

From left to right, top to bottom:

Australian, Ghetto Ho, Transvestite Artist, Farmer
Mum, Halfwit, Tranvestite with Grandchildren, Junkie

---

Clodfobble Sunday Jan 2 02:20 PM

How fascinating. Some of those are completely different from the stereotypes they'd be assigned in the US, Sundae. For example:

"Australian" - Okay, I can see this one, though my initial thought would have been more along the lines of "beach volleyball player" rather than the nationality.

"Ghetto Ho" - given

"Transvestite Artist" - transvestite yes, but definitely not artist. Would have said low-level customer service rep, as dismally unhappy with her job as she is with her gender.

"Farmer" - Ooh, way off for me. Childless aging hippie. Maybe an artist, or a midwife, or a juice bar owner.

"Mum" - Redneck white trash. Probably is indeed a "mum" in the sense that she has offspring, but not the average overtired stay-at-home mother image you are seeing. This one slaps them around when they start misbehaving towards the end of her shift at WalMart.

"Halfwit" - Heh. She's a tourist. Which may very well equate to halfwit after all...



"Transvestite with Grandchildren" - Except her own children and grandchildren shun her, so she toddles about in the grocery store stopping every random woman with young children to irritatingly fawn over them as a substitute.

"Junkie" - a junkie's a junkie, the world 'round.

---

Sundae Sunday Jan 2 02:34 PM

Part of it is to do with our climate.
Only a limited amount of people can live an outdoor life in this country.
You don't get British beach volleyball players. Well, not ones that can play year round.

Complexion also has to do with my Farmer pigeonholing.
She could be a hippy with an allotment I suppose.

And Mum was a bit mean of me.
She looks miserable, tired and harrassed


And the sort to take her kids to the supermarket in order to shout at them and smack them. She looks like she has hard hands too.
But she's not a traditional chav, which is our version of redneck (urban rather than rural and on benefits rather than self-sufficient) because she's not wearing knock-off designer gear and cheap jewellery.

Tourist again is climate. Perhaps people in Devon/ Cornwall would identify her as such (they call them grackles), but to me she's just someone who sat in the pub garden all afternoon, wearing too many labels.

---
Your reply here?

The Cellar Image of the Day is just a section of a larger web community: a bunch of interesting folks talking about everything. Add your two cents to IotD by joining the Cellar.