xoxoxoBruce Friday Dec 31 12:21 AM

Dec 31, 2010: Cute Overload

OMG, OMG, it's like a double cute rainbow all the way across the sky!
Look at all the cuteness, couldn't you just hug them all?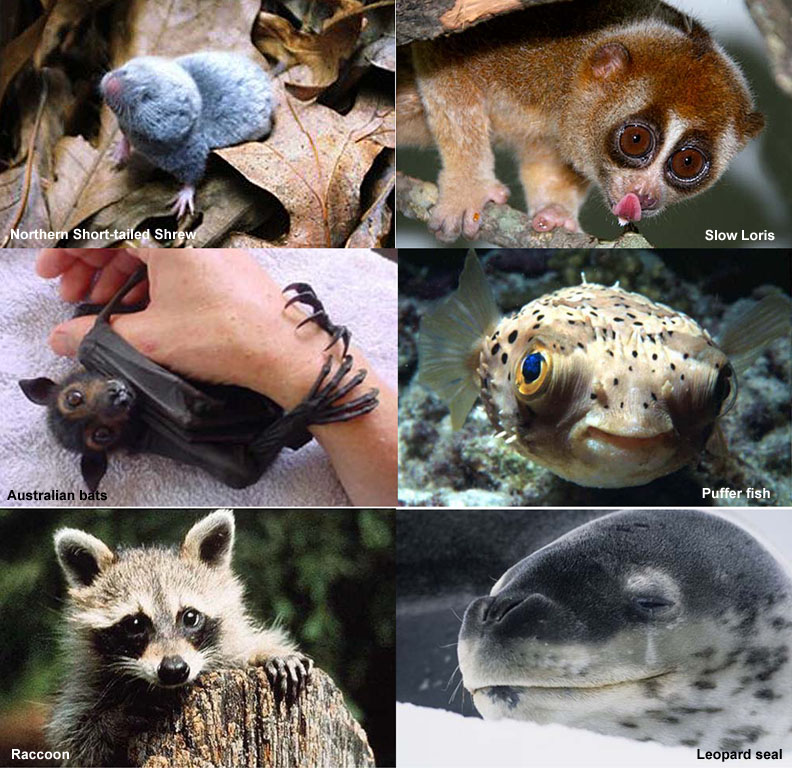 Don't do it, hug them I mean, 'cause they'll kill ya... no kidding.

The Loris and Shrew have nasty venomous bites.
The Raccoon is the #1 rabies carrier, even a scratch can get you.
Australian Bats, even Flying Foxes, Lyssavirus, Hendra virus, Nipah virus and Menangle virus... nasty.
The Puffer you have to eat to die, but all those pokey points don't hug well.

That leaves the cuddly Leopard Seal, no viruses, no venom, no poison... great.
He'll just kick your ass, eat part of you, and play with the rest.



But hey, they are cute, right?

link

---

casimendocina Friday Dec 31 12:57 AM

Incredibly so.

---

Sundae Friday Dec 31 06:05 AM

So what are you saying Bruce?
If it's venomous, will make you sick, can kick your arse or make you spend lots of money on various treatments then you shouldn't hug it?

Damn, there go my plans for New Year's Eve then!

---

xoxoxoBruce Friday Dec 31 06:35 AM

Just trying to help you make an informed decision.

---

Trilby Friday Dec 31 07:49 AM

---

ajaccio Friday Dec 31 09:44 AM

Yes, all very cute but I gotta admit the claws on that bat really creep me out!!




---

xoxoxoBruce Friday Dec 31 11:33 AM

Since y'all, well most of ya, been good this year, here's a bonus cute.
This one will only cut ya.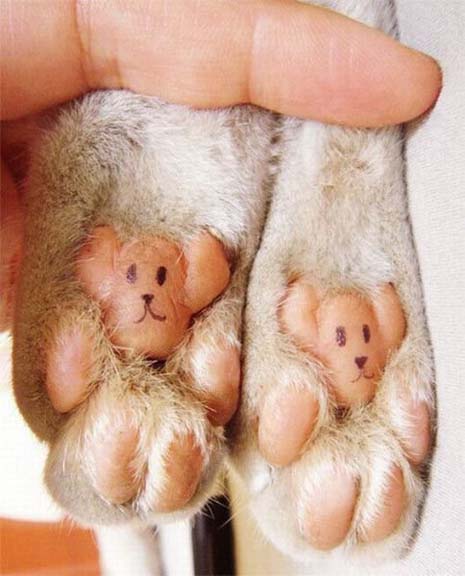 Oh, and the first one with a 'shot my paw' joke, is on report.

---

HungLikeJesus Friday Dec 31 11:49 AM

The sand puppy (aka naked mole rat) wants to know why she was left out.



---

morethanpretty Friday Dec 31 12:00 PM

start by stuffing the australian bat into the puffer fish
take your fibat and stuff it into the shew
take the shefibat and stuff it into the loris
take the loshefibat and stuff it into the raccoon
take the coonloshefibat and stuff it into the leopard seal
season your leocoonloshefibat with salt, pepper, garlic. Slice some onions over the top.
bake your leocoonloshefibat in a 350deg (F) oven 30min for every pound of meat, make sure the internal temperature reaches 200deg
remove, let rest 10min and then slice and serve

Side dish suggestions: Jalapeno corn bread, potatoes au gratin, fried butternut squash, avocado salad

---

morethanpretty Friday Dec 31 12:01 PMmight be considered.

---

HungLikeJesus Friday Dec 31 02:11 PM

She's not fat - she's pregnant! (Which means it's a queen naked mole rat, as mole rats are like bees in that only the queen can reproduce.)

There's a better picture on Wikipedia, but I don't want to link to it as it's too large.

---

Gravdigr Friday Dec 31 02:13 PM

I did not know the loris had a venomous bite.

---

xoxoxoBruce Friday Dec 31 04:57 PM

---

casimendocina Friday Dec 31 06:58 PM

She looks like she has large bones rather than "chunk".

---

HungLikeJesus Saturday Jan 1 04:26 PM

---
Your reply here?

The Cellar Image of the Day is just a section of a larger web community: a bunch of interesting folks talking about everything. Add your two cents to IotD by joining the Cellar.