xoxoxoBruce Wednesday Dec 22 12:42 AM

Dec 22, 2010: Ramming Texas

This is the extreme, most photogenic, part of the reintroducing Bighorn Sheep in Texas.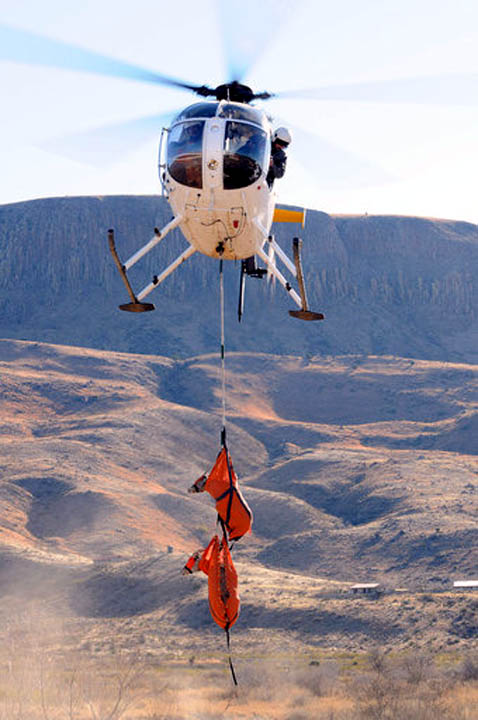 link
link
---

morethanpretty Wednesday Dec 22 07:38 AM

As long as they don't get in the way of the ranchers...

---

Trilby Wednesday Dec 22 09:00 AM

cover my eyes! I can't look!

---

xoxoxoBruce Wednesday Dec 22 09:59 AM

---

Lamplighter Wednesday Dec 22 10:21 AM

---

xoxoxoBruce Wednesday Dec 22 10:29 AM

Why is that? 40 years ago the sheep had been decimated. Now, through this program, they are back to 2/3 of the original levels.

---

Coign Wednesday Dec 22 10:37 AM

Hunters have traditionally been the biggest supporters of animal habitats. We know, if you don't take care of the cute little bambis in the woods, you will not get to go out and shoot them to make delicious, delicious venison sausage.

It is farmers that usually hate the wildlife messing up their lands. (If that farmer is not a hunter. But in Minnesota, most farmers are hunters and so understand animal conservation too.)

---

Lamplighter Wednesday Dec 22 10:49 AM

I guess they didn't have permit auctions back then



But I do like the names of the two groups...
"The WILD Sheep Foundation" and the "Dallas SAFARI Club"
They conjure up such romantic images.

I can just see myself prowling through the skyscrapers of Dallas,
spotting the animals on ledges with my $1K Leupold scope,
and after the kill, mounting the beast on the wall of my den.
Oh, there's Mrs Palin and her caribou on TV

Ah, such sweet memories of "the hunt"

---

TheMercenary Wednesday Dec 22 11:27 AM

So I get from your post Lamplighter that you are adverse to hunting rights and don't support the environmentalism that is conducted through hunting taxes, license plates, and other things. You have sufficiently demonized a right to hunt.

I think they are great programs. Our hunting programs in GA support tons of wildlife conservation programs, many that have little if anything to do with hunting, and I am glad to do it. I also support the Rocky Mountain Elk Foundation.

Here is an example of some of their work.

http://www.rmef.org/NewsandMedia/NewsReleases/

---

morethanpretty Wednesday Dec 22 12:39 PM

I think Lamp is saying the oxymoron is that the funding from hunting wouldn't even be needed if the animals hadn't been over-hunted in the first place.

---

Lamplighter Wednesday Dec 22 12:45 PM

Come on Merc, lighten up.
Do you really think that living in Oregon and being married
to a girl from Montana, I would demonize the "right to hunt" ?

I do have a problem with hypocrisy when it's essentially only the landed-gentry
and the wealthy that can afford the "right".
If you follow the news about "trophy" hunts you already understand what I mean.

Public hunting of bighorn does occur in very limited numbers and the chance for a hunt is highly prized.
[Texas] Parks and Wildife issued a total of 15 permits in 2008-09,
11 of which went to private landowners near wildlife management areas.
Of the remaining four permits, one Elephant Mountain permit was donated to a
Wild Sheep Foundation auction and brought $70,000;
one was a part of the Texas Grand Slam drawing and two were public hunter drawings.

And the results are....

As the lucky winner of this year's Big Time Texas Hunts crown jewel, the Texas Grand Slam hunt package,
Garcia receives four separate guided hunts for Texas' most prized big game animals
- desert bighorn sheep, white-tailed deer, pronghorn antelope and mule deer.

All told, hunters bought 64,759 Big Time Texas Hunt entries during this year's sales period through the Oct. 15 deadline.
This generated about $620,000 in gross revenue to support wildlife research, habitat management and public hunting.

---

Sundae Wednesday Dec 22 12:56 PM

---

morethanpretty Wednesday Dec 22 12:56 PM

I'm against hunting unless you're going to eat/sell the meat.

---

morethanpretty Wednesday Dec 22 12:57 PM

---

Diaphone Jim Wednesday Dec 22 01:01 PM

I'll bet those orange bags had lots of little brown things to empty out.
Do you suppose they gave them the choice of scanning or patting down before the flight?

---

TheMercenary Wednesday Dec 22 08:56 PM

---

TheMercenary Wednesday Dec 22 08:59 PM



---

TheMercenary Wednesday Dec 22 09:08 PM

You frigging bleeding hearts are all about the Gooberment supporting your pet projects. See I am more on the side of the Gooberment would never support the conservation projects we support. So you want to take my tax dollars to support your little wart worm in the desert of Oregon, and we want to save the Elk with private dollars.

---

kerosene Wednesday Dec 22 10:06 PM

I don't think I have met anyone who hunts, but not for the meat and most of the time also the hide. I suppose those kinds of people probably exist, but I don't see the point.

I think the program in the OP sounds great.

---

Lamplighter Wednesday Dec 22 10:41 PM


---

xoxoxoBruce Wednesday Dec 22 11:11 PM



---

ZenGum Wednesday Dec 22 11:46 PM

---

Griff Thursday Dec 23 09:17 AM

PA has a similar situation when it comes to Elk hunting but has a lottery system where everyone pays a small fee to enter and a limited but growing number of permits are handed out. They have had great success rebuilding the elk herd with the money raised. The Game Commission has helped bring back a lot of wildlife, beyond game animals, in PA using hunting generated dollars. They also avoid the Texas scene where the richest guy in the room always gets the hunt. That seems like a recipe to build resentment and keep hunting a marginal activity.

Giving an economic value to wildlife may offend some sensibilities but in a place like PA with a lot of private land it helps to have a lot of stake-holders. It isn't much different from what the Costa Rican's have done with eco-tourism.

---

Phage0070 Thursday Dec 30 03:26 PM

---

Lamplighter Thursday Dec 30 04:01 PM
Hunters and fishermen do pay taxes and fees, etc., and I have no problem with that. I pay my fair share too.
But hypocrisy comes in when you look at the tiny numbers of "common folk" who get the permits for rare or trophy game.
It's very similar here in Oregon, as in Texas, Montana, Idaho, etc.

Here is the rest of that same quote... I just added the bold type



---

TheMercenary Thursday Dec 30 06:55 PM

None of that reflects the amount of money donated to conservation asshole.....

---

morethanpretty Thursday Dec 30 07:43 PM

@bruce and merc:




There are many reasons for ranchers to hunt them, sure they're not a real danger to their livestock, but they do eat the grass/ect that they want to use for their own animals. I've never tried sheep, but it might taste good, and then you get the added bonus of those trophy horns. They could like destroy fences the ranchers put up, ect.

Link

---

Elspode Thursday Dec 30 09:36 PM

They could sell the rights to shoot at them as they were dropped from the slings for an extra $50k. I mean, hey...when do you get a chance to shoot a flying bighorn?

---

Clodfobble Thursday Dec 30 11:31 PM

---

morethanpretty Friday Dec 31 08:20 AM

from wiki:
The meat of an animal in its first year is lamb; that of an older sheep is hogget and later mutton.

---

Sundae Friday Dec 31 09:30 AM

Interesting - never heard of hogget.
Over here we almost always eat lamb, unless you are eating in an Indian restaurant; the longer cooking times used in marinated recipes mean mutton can be used. It comes under the term gosht, which can mean lamb, mutton or even beef.

---

xoxoxoBruce Friday Dec 31 11:28 AM

I've never heard of hogget either.
But then we don't cotton to them stinkin' sheep punchers and their root pullin' sheep, 'round these parts anyway.

---

Sundae Friday Dec 31 03:17 PM

We get most of our sheeps from Wales or from New Zealand.
They come with a nice salty basting, if you know what I mean...

---

Lamplighter Tuesday Apr 3 10:03 PM

Seattlepi.com
ANGELA K. BROWN, Associated Press
Tuesday, April 3, 2012

Rule restricts hunting of rare exotic antelopes




---

Coign Wednesday Apr 4 11:23 AM

I hate when hippies go after hunters. Being originally from Minnesota I can tell you with certainty two facts. Minnesota hunters are the BEST animal conservationists. And from knowing loggers that went to school with me, if you love trees, buy paper and use wood. Loggers in Minnesota plant more trees then they cut down.

---

Aliantha Wednesday Apr 4 05:34 PM

I don't understand why a country foreign to an animal would think it should give the animal protection. It seems a bit odd.

Over here, most introduced species are hunted all year round in an effort (failing) to eradicate introduced animals. Off the top of my head, I can't think of any introduced species which are protected under Australian law.

---

Aliantha Wednesday Apr 4 05:35 PM

Oh, and I'm still dumbfounded that mtp has never tried lamb or mutton! That was two years ago though. I wonder if things have changed...

---

xoxoxoBruce Sunday Apr 8 11:46 AM

It's fucking stupid, brought to you by asshole vegans.

---

Aliantha Sunday Apr 8 07:41 PM

We do have deer here which are protected from hunting in that there is a bag limit of two, but they're still classed as a Class 3 pest which means you can't feed them or encourage them, but as a land holder you're not required to eliminate them by law.

---

Sundae Monday Apr 9 03:24 AM

I understand there was another large volunteer cane toad cull just this week.
Although from what I gather that's another species whose eradication is pretty much year round.

---

Aliantha Monday Apr 9 04:52 AM

They're worst in the summer, and you can go out and kill 20 or 30 in an hour or so without too much trouble if you live in the northern states. They tend to hibernate a bit in the winter when you get a bit south, but they're still around if you look a bit harder. They're easy to find all year round right up north though. They're a menace and should be eliminated.

---
Your reply here?

The Cellar Image of the Day is just a section of a larger web community: a bunch of interesting folks talking about everything. Add your two cents to IotD by joining the Cellar.