xoxoxoBruce Friday Nov 19 02:33 AM

Nov 19, 2010: Hip Hippo Hooray

Hippopotami are said to be the most dangerous critter in Africa, and kill more people than any other. Big and dangerous, plus they hang out at the water where every animal, including people, have to come eventually.

But there seems to be a traitor in their midst, caught on camera helping a baby Gnu ford the river.







Quote:

The strong current separated a wildebeest, or gnu, from her calf and she watched helplessly as it was swept away.
'To everyone's amazement the hippo came to the gnu's rescue and pushed it gently to the river bank,' said Abdul Karim, the head guide at Sanctuary Olonana in the Masai Mara, Kenya.
The infant panted for a moment before getting up and running to its watching mother.

A fluke? Nope, 10 minutes later it rescued a baby Zebra.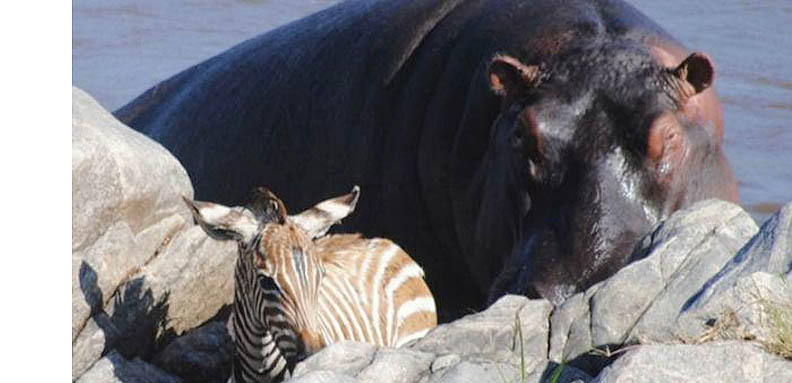 And they all lived happily ever after... fat chance, when you and your stew pot are lurking over the next rise.

link
---

Trilby Friday Nov 19 07:27 AM

*wipes tear from eye*

Aw! Thanks, bruce, for a heart-warming Friday IotD.

Tho she's red in tooth and claw, Nature can also be honey sweet.




Now.

Let the cynical recipes begin!

---

footfootfoot Friday Nov 19 07:44 AM

So many choices but I'll vote for baby gnu brined in Brianna's tears.

---

monster Friday Nov 19 08:06 AM

I'mm'a take the baby zebra -live- and I promise I'll call you all when it's ready to eat. I call my recipe Zebra Surprise.

---

Sheldonrs Friday Nov 19 08:24 AM

It's not rescueing them. It's storing them up for Winter.

---

xoxoxoBruce Friday Nov 19 08:49 AM

I guess this isn't the crossing they always show on nature programs, where the crocs ambush the swimmers.

---

Sundae Friday Nov 19 11:59 AM

Baby zebra probably isn't much different than horse.
Therefore I suggest a cassoulet.

---

Cloud Friday Nov 19 12:01 PM

not-a-hungry-hippo!

---

classicman Friday Nov 19 12:20 PM

Crocs get their asses kicked repeatedly by Hippos.

Momma Hippo tried to save it, but it died anyway.

Since she already tenderized it for you... I suggest a nice Merlot.

---

busterb Friday Nov 19 06:42 PM

Just wtf is this??? Someones head?

---

xoxoxoBruce Friday Nov 19 06:52 PM

Naw, that's his/her eye.

---

darkwing duck Friday Nov 19 11:00 PM

I think it's more of a 'get out of my lawn/pond!' sort of thing. Cranky old hippo.

---

xoxoxoBruce Saturday Nov 20 02:35 AM

I hadn't thought of that, you might be right. Investigate anything that doesn't move right through like the rest of the herd, and if it's nonthreatening, just help it out of the water.



But don't tell Brianna.

---

Clodfobble Monday Nov 22 02:23 PMI had no idea these were the same thing! Good to know next time I'm on safari.

---

Gravdigr Friday Nov 26 03:49 PM

Yeah, she's saving 'em alright...for later.

---

xoxoxoBruce Friday Nov 26 08:10 PM

The 3 ton Hippo doesn't even know a 5 ft Croc is hitching a ride.
But when the Hippo gets into a fight with another Hippo, the Croc bails out.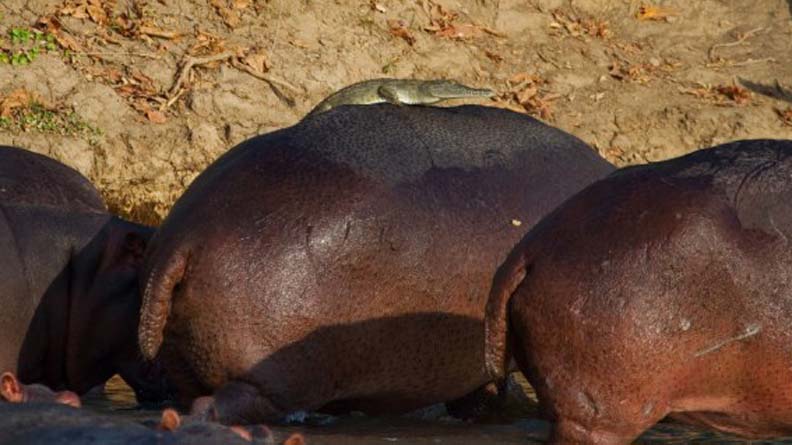 ---

Sundae Sunday Nov 28 09:19 AM

Quote:

Originally Posted by

classicman

Crocs get their asses kicked repeatedly by Hippos.
Momma Hippo tried to save it, but it died anyway.

Mama Hippo went a strange way about saving that animal! Nom nom nom keep you underwater.... I think she was just cleaning house.

Personally, I feel sorry for the croc - fairly won meal being stolen from a hippo which won't even eat it. Bad wasteful hippo.

---

wolf Sunday Nov 28 03:02 PM

Baywatch is sure different in Africa.

---
Your reply here?

The Cellar Image of the Day is just a section of a larger web community: a bunch of interesting folks talking about everything. Add your two cents to IotD by joining the Cellar.