xoxoxoBruce Wednesday Nov 17 04:23 AM

Nov 17, 2010: Dumalla

A dumalla, in this case the worlds largest dumalla, is warrior turban.

This is Baba Major Singh, he's a Nihang Sikh, an order of monk-warriors.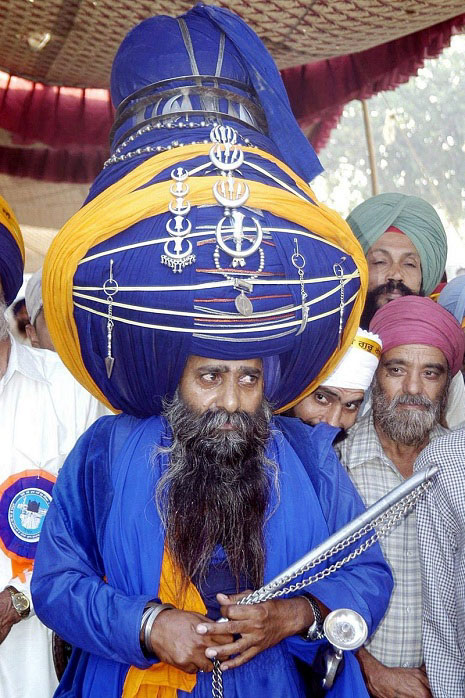 I would think it would be a little hard to fight with that turban on, so it must be ceremonial.
1300 feet of fabric, plus all the hardware, would be kind of heavy.
He must walk like those charm school girls with a book on their head, like in the old movies.

link

The assembly.


---

DanaC Wednesday Nov 17 05:20 AM

Awesome.

He looks like he's walked off the set of a Harry Potter movie. Amirite?

---

Sheldonrs Wednesday Nov 17 08:25 AM

I think I sat behind this guy at a movie once.

---

Spexxvet Wednesday Nov 17 09:19 AM

Looks like a dumb-alla to me.

---

newtimer Wednesday Nov 17 10:21 AM

---

classicman Wednesday Nov 17 10:22 AM

---

Spexxvet Wednesday Nov 17 10:22 AM

---

ToastyOhs Wednesday Nov 17 12:01 PM

Did anyone else see those medallions and think Rebel Alliance?

---

Diaphone Jim Wednesday Nov 17 02:54 PM

Isn't the NFL looking for better helmets?

---

Cloud Wednesday Nov 17 04:13 PM

tribal safety pins. like!

---

Gravdigr Wednesday Nov 17 05:00 PM

Where is his neck?

---

Sheldonrs Wednesday Nov 17 05:31 PM

Maybe he's a wizard just starting school and that's the sorting hat.

---

kerosene Wednesday Nov 17 05:39 PM

---

Clodfobble Wednesday Nov 17 07:55 PM

Only 100 hairpins? That's not much. I've had 30+ in a hairstyle for just a foot and a half of hair.

---

monster Wednesday Nov 17 08:18 PM

I promise, I'll call for help in the morning. First thing.

---

footfootfoot Friday Nov 19 10:20 AM

good one monster!

---

monster Friday Nov 19 05:08 PM

I think this might be what i was thinking of


---

lupin..the..3rd Friday Nov 19 06:43 PM

I like Sikh's, they're good people, very friendly. Too bad most Americans are ignorant about them; they see the beard and turban and assume they are Muslim.

---

xoxoxoBruce Friday Nov 19 06:50 PM

What makes you say that?

---

monster Friday Nov 19 08:31 PM

So you don't like muslims, then, Lupin?

---

footfootfoot Friday Nov 19 09:53 PM

I have a good friend who is a Sikh and he gets that shit all the time. Maybe once or twice a day. That seems like all the time, but I bet he doesn't keep track of all the people who don't say anything to him.

Right after 9/11 I felt uncomfortable around him due to the stares of nearly everyone. A mutual friend of ours begged him to not wear his turban for a while and it was difficult for him. I think he wore a ball cap for a few months.

---

monster Saturday Nov 20 06:42 PM

I can't believe someone who claimed to be a friend would ask a person not to wear something that's so important to them.

I'm getting really pissed off with this anti-Muslimism. There are Christian, Jewish an atheist assholes too. And all of them represent a tiny proportion of the population as a whole. Timothy McVeigh -an American Veteran-fucked up a whole load of lives, but there isn't an outpouring of hatred for US Vets or even people from New York..... Hell, yeah, they're harder to spot on the streets. Male muslims aren't even that easy to spot. let's pick on the Sikhs and pretend they're muslims.... is that how it goes?

---

footfootfoot Saturday Nov 20 08:09 PM

---

monster Saturday Nov 20 08:37 PM

It still ain't right.

---

monster Saturday Nov 20 08:38 PM

He shoulda wore a shirt that said

<my buddy is OK. (He's a Sikh, btw)

---

Trilby Sunday Nov 21 05:47 AM

well, I'm Sikh of it.


I'm also Siq of Iraq.

And Afghanistan.

But I'm not sick of France! Still a nutty place.

---

DanaC Sunday Nov 21 05:50 AM

Nah: Britain's a nutty place; the French are more fruity.

---

Sundae Sunday Nov 21 08:09 AM

Sikhs are natural warriors - you should be scared of them!
The biggest Sikh Temple (Gurdwara) in the UK is about to be completed, funded solely by community donations. It's beautiful.

Anyone who confuses Muslims with Sikhs is as likely to confuse paedophiles with paediatricians. Oh wait, the British public

---
Your reply here?

The Cellar Image of the Day is just a section of a larger web community: a bunch of interesting folks talking about everything. Add your two cents to IotD by joining the Cellar.