What's IotD?

The interesting, amazing, or mind-boggling images of our days.
xoxoxoBruce Tuesday Nov 16 03:16 AM

Nov 16, 2010: Amber's Last Meal

In Gujarat on India's west coast, they mine lignite, which is the red-headed step child of coal.
It's possibly closer to peat, but I wouldn't recommend making Scotch with the soft, brown, nasty burning stuff... but I digress...

The Cambay Shale has produced more than lignite, it's also produced tons of this...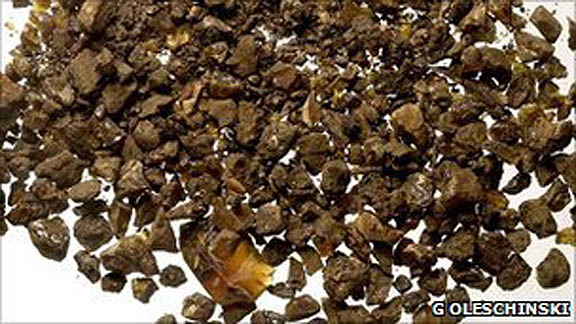 That dirty looking pile is chunks of Amber.

The 300 lbs they've polished up so far, reveals the Amber's last meal... insects, millions of years old.
They may even contain Dinosaur blood.






Quote:

More than 700 new species of ancient insect have been discovered in 50-million-year-old amber. The discoveries come from some 150kg of amber produced by an ancient rainforest in India. Scientists say in the journal PNAS that many insects are related to species from far-away corners of the world. This means that, despite millions of years in isolation in the ocean, the region was a lot more biologically diverse than previously believed.

So they just look through the Amber, and check out the bugs, right?
Nope, that would be too safe and sensible.



Quote:

But besides the rainforest's age and India's biogeography, the most astonishing part of the discovery was the huge number of perfectly preserved specimens of insects, most of which have never been seen before.

Unlike other types of amber found in deposits in the north, the Indian amber is much softer. This unique property allowed the scientists to completely dissolve the amber using solvents - toluene and chloroform - and extract the ancient insects, plants and fungi. "We have complete, three-dimensionally preserved specimens that are 52 million years old and you can handle them almost like living ones," said Dr Rust.

"Of course they are very fragile, but it is still astonishing. "We have several examples where it is possible to get a complete specimen out. And of course this opens a new dimension in investigations of this material.

Yeah, well just don't open Pandora's box while you're at it.

link
---

SPUCK Tuesday Nov 16 05:09 AM

Quote:

And of course this opens a new dimension in investigations of this material.. cough cough urp cough gurgle



---

Cloud Tuesday Nov 16 01:21 PM

they should start an amusement park with live dinosaurs. that would be kewl!!!!!

---

classicman Tuesday Nov 16 02:35 PM

HAHAHAHAHA @ Cloud...but what would you call it?

---

Cloud Tuesday Nov 16 03:09 PM

dunno . . . Pleistocene Park?

---

newtimer Wednesday Nov 17 10:24 AM

Start making the dinosaurs already. I want my dinosaurs!

---

Beest Thursday Nov 18 02:43 PM

brontosaurus burger

---
Your reply here?

The Cellar Image of the Day is just a section of a larger web community: a bunch of interesting folks talking about everything. Add your two cents to IotD by joining the Cellar.